Exchange traded funds that invest in Indonesia have been profiting from signs of robust growth in the economy.
Investors are piling into Indonesia's markets as improvements in the country's economic fundamentals might help raise the country's sovereign debt rating.
International ratings agencies Moody's Investor Service, Standard & Poor's and Fitch Ratings may review the country's investment status for a possible upgrade, reported Esther Samboh for The Jakarta Post.
"Optimism over the prospect of receiving the investment grade rating was an extraordinary factor that was not enjoyed by other bourses in the region," stated Nico Omer Jonckheere, vice president of research and analysis at Valbury Asia Futures.
Bank Indonesia recently projected that the economy could expand an upwardly - revised 6.8% this year, compared to its previous estimates of 6.4% to 6.6%. Inflation is also projected to drop down to 5% from 6.96% in 2010, which has "made foreign investors comfortable with Indonesia," said Andry Asmoro, an economist at Bank CIMB Niaga.
Foreign investors acquired almost $500 million in Indonesian stocks over the past month, and foreign funds added holdings of government debt by 2.8% so far this month to $28.2 billion, reported Kahlid Quyam for Bloomberg.
"Funds are coming into Indonesia's capital markets because the general sentiment is positive," commented Lindawati Susanto, head of treasury at PT Bank Resona Perdania in Jakarta. "The economic fundamentals look good so the currency is quite stable."
Indonesia funds:
Market Vectors Indonesia
Click to enlarge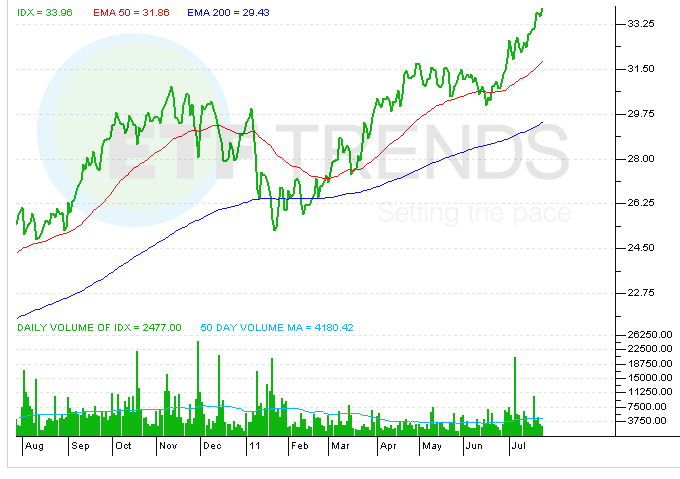 Max Chen contributed to this article.