Overview
The next two weeks will be filled with FY 2014 earnings releases from most major publicly-traded railway companies including Union Pacific Corp. (NYSE:UNP), Canadian Pacific Railway (NYSE:CP), Canadian National Railway (NYSE:CNI), Kansas City Southern (NYSE:KSU), Norfolk Southern Corp. (NYSE:NSC), and CSX Corporation (NYSE:CSX), which already released results on 1/13/15.
These FY 2014 results are preceded by speculation on increasing profits following the collapse in oil prices, however the results this week should be uneventful. Oil prices have only been deflated for 4 months and due to the use of futures and forwards in these industries, price fluctuation hedges will likely hamper any ability to recognize immediate cost savings. Also, a relatively average industrial production in Q4 that was on par with expectations indicate that demand and revenue surges are unlikely.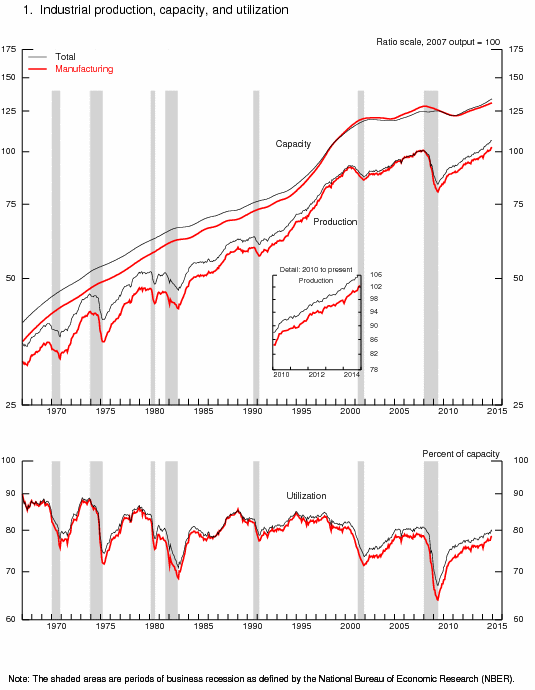 Source: Federal Reserve
The markets appear to have already recognized these factors as they move to a middle-of-the-road stance as indicated by short-term price movements and investor interest.
Relative Strength Index (14 Day) and 1 Month Returns

Ticker

RSI (14)

1 Month Return

UNP

40.85

-5.86%

CP

40.29

-6.71%

CNI

48.00

-1.19%

KSU

35.68

-1.33%

NSC

42.94

-4.96%

CSX

48.54

-3.33%

*RSI of 70 or greater is considered over bought, 30 or less is considered over sold
Source: StockCharts.com
For investors, the real value from the FY 2014 earnings calls and presentations will be in how railways layout plans and targets for 2015.
The Current Industry Status
For most major railways the oil price fallout has not fueled short-term price increases with 3-month returns averaging between +/- 5%.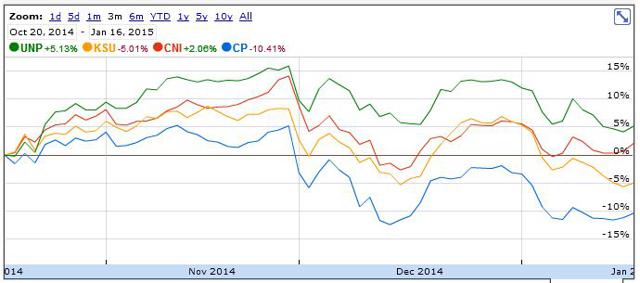 Source: Google Finance
The stock returns for Q4 2014 are a reflection of the risks that the industry faces in 2015. Many railways will struggle with obstacles that they face, but some will surely capitalize on the huge opportunities. Corporate strategy and positioning will be key to overcoming these risks and capitalizing on the changing environment.
In 2015, the key obstacles to the industry will come from two fronts. The first obstacle for railways will be dealing with managing their profit margin in light of lower oil prices. As oil prices drop, transport volumes should rise, but the payments per unit on the business will drop eroding profits. The second risk is the potential for alternative forms of transportation to undersell railways in light of cheap oil prices. This is a valid concern, but is likely overshadowing significant upside in the industry. For example, as oil prices drop industrial output should continue to increase and demand for transportation services should continue to exist. Capacity to meet this demand will have to be meet by several segments of the transportation industry potentially bolstering many. Railways also have the ability to lower costs as fuel prices drop. Therefore, the companies that are appropriately positioned should be able to capitalize on the opportunities in 2015.
Key things to look for coming out of earnings call and analysis:
1) Diversity in Business Mix
Every railway will cover their current business mix and talk about how diverse their exposure is to client industries. Most will even share a pie chart showing the diversity by segment. It's really important to note that diversity goes beyond diversity in products related to the oil industry. Success in 2015 will require a shift in focus towards the industries that will boom and drive output. Specifically, looking at industries that will demand services as oil prices stay low. Industries such as automotive, manufacturing, and industrial inputs should also see increasing business as long as oil is cheap. It is easy for railways to say they have a diverse portfolio of clients, but it is critical to actually position the diversity towards the opportunities and growth in 2015 and beyond.
2) Shifting Supply to Areas Generating Demand
Look for leadership's emphasis on moving towards demand, especially from the hard to reach Utica and Marcellus shale regions towards the traditional Texas and import corridors.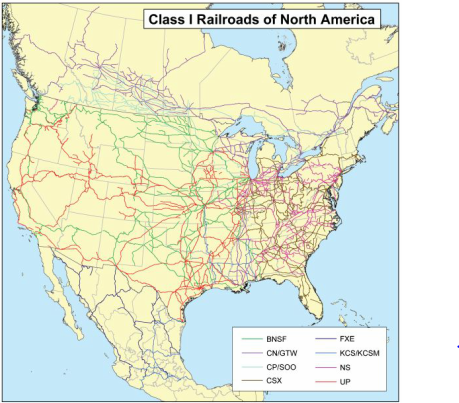 Source: AWC Railway
Oil will continue to move from production and import sites through the supply chain all the way to the consumer. Companies that have bet on new oil supply areas will be hard hit unless they truly begin to shift focus. Flexibility will be key. If these companies cannot adapt fast enough competition from other segments will surge to meet the demand.
3) Focus on Disrupting Competitive Forces
Competition must be attacked. The railways may not frame individual events this way, but rest assured these types of actions are part of a larger corporate strategy. Strategies include offensive moves to slow market share loses to trucking and the Keystone XL pipeline. It's one thing to dismiss competition, and to say that politics will stop the Keystone XL pipeline, or to say that social factors will lead to the decline in truck drivers. It's another thing to attack the threats. The Lincoln Journal Star reports BNSF moving trains towards key areas in Nebraska. By moving trains to key parts of the oil supply chain BNSF is not only capitalizing on current opportunity they are underselling and devaluing the pipeline, closing off future competition. Watching for this trend across the industry will be key to long-term outlooks.
4) De-emphasis on merger and acquisition activity
In light of the CSX and Canadian Pacific merger fallout, according to a NY Time's Dealbook, Canada Pacific stated, "CP is convinced that the significant problems that beset the industry now will only worsen over time if solutions are not put in place immediately." Continued interest in consolidation in the industry likely indicates that many railways actually plan on shrinking margins and are looking for long-term solutions to the headaches that are ahead. On the other hand, if companies indicate no interest they are likely positioning themselves to go at it alone, compete, and rake in profits.
Summary
There are very significant opportunities ahead in FY 2015 for railways. The companies that are taking steps today and addressing them in their earnings call present the best opportunities for investors. Pay close attention to what is being said by individual companies in the industry and great investments should be easy to spot.
Disclosure: The author has no positions in any stocks mentioned, and no plans to initiate any positions within the next 72 hours.
The author wrote this article themselves, and it expresses their own opinions. The author is not receiving compensation for it (other than from Seeking Alpha). The author has no business relationship with any company whose stock is mentioned in this article.