If you closely follow the cable and broadband industries, you've likely noticed price wars. Most recently, AT&T (NYSE:T) decided to offer $200 in rewards for consumers who sign up for its Broadband/TV services, otherwise known as U-verse. For those who followed the telecom space last year, this move sounds similar to what T-Mobile (NASDAQ:TMUS) and most recently Sprint (NYSE:S) did to lure customers by paying early termination fees. That said, all signs indicate that broadband Internet and cable services will be the next industry deeply affected by price cuts, which could be bad for several companies.
As I explained in a previous article, Verizon (NYSE:VZ) faces a huge risk of eventually losing 10% of its business. That business is FiOS, which delivers TV and broadband services to Verizon customers. This is because Verizon's broadband speeds have become inferior next to the one gigabit per second (Gbps) speeds some competitors are developing. But on the flip-side, Verizon's top speeds of 500 megabits per second (Mbps) remain 50 times faster than many competing services.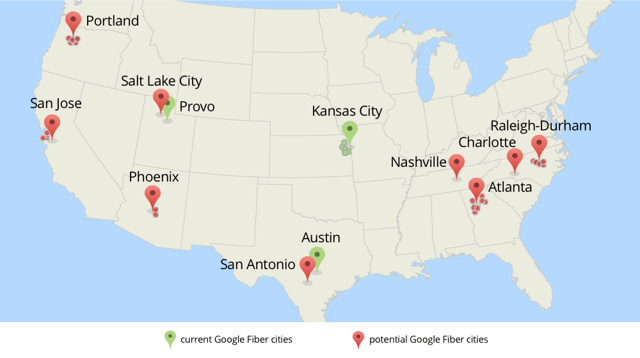 In essence, there is a huge disconnect between the fastest and slowest broadband speeds in the U.S. However, the disconnect in price hasn't yet caught up. This notion is one reason I suggested Verizon could eventually find its growing FiOS business losing customers rapidly, as its 500 Mbps speeds cost subscribers north of $250 per month. Meanwhile, AT&T and Google (NASDAQ:GOOG) (NASDAQ:GOOGL) are charging just $70 per month for 1 Gbps broadband speeds; the only difference is Google includes TV services at that price point. Yet, in looking throughout the industry, Verizon is not the only company that has a lot to lose.
For example, other companies with inferior broadband speeds, such as Frontier Communications (NYSE:FTR), can't very well charge $70 per month for service if a competitor is offering 50-100 times faster services for the same price. This has put broadband service providers in a dilemma: Either upgrade, lower prices or risk extinction. The fact of the matter is that there must be a proper balance between performance and price for a company to succeed. And with Google and AT&T pricing their high speed services at just $70, that bar for pricing has been set very low.
That said, Google and AT&T started the 1 Gbps broadband movement, but companies with wide service distribution that have the most to lose, such as CenturyLink (NYSE:CTL) and Comcast (NASDAQ:CMCSA) (CMCSK) have also joined the party to offer 1Gbps broadband. Unfortunately, there is also a rather significant dilemma for companies that choose to upgrade broadband speeds. This includes the mind-boggling costs associated with upgrading a network, combined with the expectations for lower service prices. In essence, these 1Gbps service providers might be fighting a losing battle, trying to attract or keep the highest number of customers as possible without sacrificing margins. As we saw in the telecom space last year, this goal is not really possible once a price war flares up.
Goldman Sachs estimates it will cost Google $140 billion for Fiber to be offered to every household in the U.S. For companies like Comcast and CenturyLink, who already have infrastructure in place, those costs won't be as great, but significant nonetheless. Therefore, we are talking about an industry that's seeing higher costs due to construction, but at a lower price as service providers try to attract the highest number of customers as possible.
This also affects TV services. Each of these high speed broadband service providers offer TV services as a bundle. Unlike satellite companies DIRECTV (NYSE:DTV) and DISH Network (NASDAQ:DISH), the TV services associated with AT&T's GigaPower or Google's Fiber are created from the broadband connection. At 1 Gbps, TV performance will be lightning fast.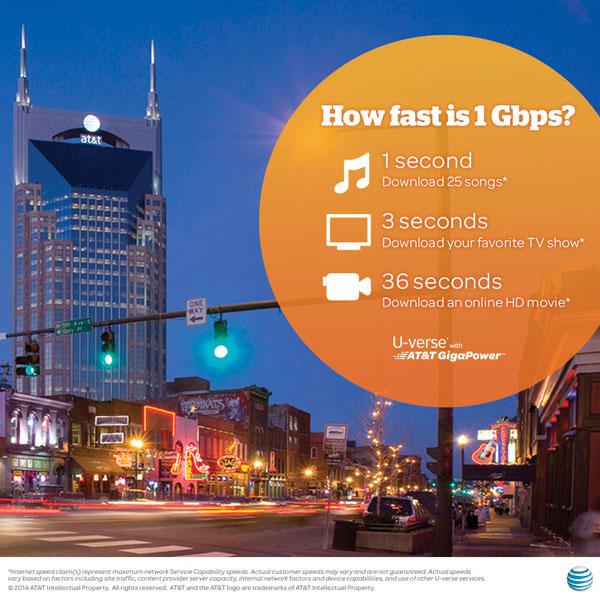 Current broadband TV speeds, like those offered by Cincinnati Bell (NYSE:CBB) at 30 Mbps, tend to load slower, the picture often skips and sometimes recorded shows on the DVR are unwatchable due to interference (I am saying this from experience). However, 1 Gbps speeds will allow for more simultaneous DVR downloads than competing services, the picture will be clearer and channels will load instantly without any interference.
The problem, as noted, is the price point at which these speeds will ultimately be offered to customers. Netflix (NASDAQ:NFLX), Amazon.com (NASDAQ:AMZN) and other streaming services continue to gain ground in the TV space for less than $15 a month. Meanwhile, the cost for content continues to rise, including the price subscribers must pay to access networks such as ESPN, AMC and other high traffic, popular programming.
When you put it all together, there are clear similarities between the wireless industry last year and the risks broadband providers face in 2015. In regards to wireless services, the price cuts started with T-Mobile, but then grew to the offer of early termination fees and the doubling of data in conjunction with lower service prices. Meanwhile, higher costs remained, as evident by the recent AWS spectrum auction and the lofty CAPEX figures from each of the four nationwide carriers.
Therefore, like T-Mobile in the wireless industry, AT&T and Google have opened the door for an all-out price war in the broadband space. Google Fiber and AT&T GigaPower are currently in just a few cities, but have expansion plans that will intensify in the coming quarters, especially as competitor CenturyLink rolls out 1Gbps speeds into 16 cities. Comcast will launch a similar service in an unconfirmed number of cities. Currently, Comcast and Time Warner Cable (TWC) have the most broadband subscribers among cable companies, making it imperative than the former hits a homerun with 1 Gbps services, as these companies have the most to lose.
However, with more companies planning to upgrade speeds, success won't be measured by how fast the networks are built, or which service provider has the most subscribers right now, but rather which company sets the lowest price and is willing to sacrifice the most margin. With the exception of CenturyLink, each of the four service providers have a current operating margin north of 21%. Given the pricing changes we're seeing throughout the industry, along with the high costs associated with construction, I can't imagine how any of these companies could generate double-digit margins from broadband services over the next five years.
All things considered, 1Gbps broadband speeds might just cause more harm than good for the four companies aggressively pursuing them. Unfortunately, 1Gbps speeds are also bad news for companies that offer slower broadband speeds at higher price points, such as Verizon and Frontier, as these companies will also have to lower prices to survive. As a result, investors shouldn't be too bullish on companies in this space, especially those that create a large percentage of revenue and profits from broadband and TV (e.g., Comcast, Time Warner, and Frontier). Like telecom stocks last year, broadband Internet and TV service providers might very well have a tough stretch in 2015 and beyond.
Disclosure: The author is long T.
The author wrote this article themselves, and it expresses their own opinions. The author is not receiving compensation for it (other than from Seeking Alpha). The author has no business relationship with any company whose stock is mentioned in this article.