The ugly budget fight on Capitol Hill took a toll on the markets last week. While the broader indices took a steep 4% dive, it is important to note that we are in the 30th month of the current rally and within 5% of the rally highs set just three months ago.
As an investor, it is imperative to keep a cool head, especially in such turbulent times, and keep scouting for new opportunities while keeping an eye on both the price movements and news flow. Our daily and weekly coverage analyzing the top movers for top buy and sell ideas is aimed at enabling you in that effort. You can access the rest of our daily, weekly and quarterly mover series from our author page. This article covers our analysis of the top movers in the basic materials sector last week.
The Basic Materials Sector SPDR Fund (NYSEARCA:XLB) was down 4.9% last week. The sector includes companies involved in such industries as chemicals, construction materials, containers and packaging, metals and mining, and paper and forest products. Of the approximately 700 stocks in the basic materials sector, ten stocks trading above $1 at closing on Friday, July 29th, went down more than 15% during the week and another three went up more than 15% during the week (see table). These eleven stocks were analyzed to determine if they would continue in the same direction, or if they would reverse their moves going forward. The following are the best buy and sell ideas based on that analysis.
Sell Miller Energy Resource (NYSE:MILL): MILL is engaged in exploration, production and drilling of oil and natural gas in the U.S. It primarily holds interests in approximately 600,000 lease acres located in the Cook Inlet area of Alaska; and 54,500 acres of lease holdings located in the Appalachian Basin, Tennessee. Its shares were down a steep 23.3% on Thursday, and down another 18% on Friday.
MILL was down last week on concerns over a negative Street Sweeper article on Thursday, that, among other things accused the company of over-inflating the value of some Alaska energy assets that the company acquired from their actual worth of $4.5 million to $350 million on its books. Furthermore, the Street Sweeper article also cast significant negative doubts on the CEO Scott Boruff's and former CFO Troy Stafford's ethics, and it expressed concern over the company's modest cash resources given significant legal liabilities. For those interested, the Street Sweeper article linked above details all the allegations. We, however, go by the old adage of, "Where there is smoke, there is (probably) a fire." From our viewpoint, with thousands of companies trading in the U.S. public equity markets, there are simply far too many other opportunities to consider in preference to what would be putting your entire capital at risk if these investigations about MILL turn out to be true. In our daily coverage of big movers on Friday, we advised that we would steer clear of this stock. We stand by that viewpoint.
Buy Patriot Coal Corp. (PCX): PCX is a leading coal exploration and production company in the Eastern United States, with 14 active mining operations in Appalachia and the Illinois Basin. Its customers include electric utilities, industrial users and metallurgical coal customers, and it controls approximately 1.9 billion tons of proven and probable coal reserves.
PCX shares traded down 13.9% last Tuesday, and were down 24.0% for the week, on account of the company missing consensus estimates in the June quarter. Specifically, the company reported $632 million in revenue and a 14c loss for the June quarter versus analyst estimates of $604 million and 7c profit. This was due, mainly to an increase in cost per ton in both the thermal and metallurgical or "met" coal market, due to new met mines coming online, met coal which has a higher cost becoming a larger proportion of their total sales mix, higher sales-related costs and the idling of the Panther longwall for about two weeks for an equipment component upgrade. While cost increases will lead to losses in the current September quarter, analysts estimate that the company will be profitable and will generate a 23c profit in the December quarter, and annual earnings will explode from a 52c loss in 2011 to $1.97 in earnings in 2012. The stock meanwhile trades at a forward 10 P/E.
The move to increasing met coal proportion from 30% to 35% by year-end, with the opening of the new mines, is part of the company's "Met Build-Out" project to take advantage of the generally agreed-upon consensus view that the global coal industry is at the beginning of a long-term super-cycle, driven by economic growth in China and India. And of the two end markets for coal, the demand for met coal is expected to grow even faster at 50% from 2010 to 2020 versus 30 percent growth for thermal coal, while supply may not keep pace with that, leading to a tight market and higher prices and profits for companies like PCX that operate in the met coal business.
While PCX may weaken and remain range-bound in the interim due to the poor June quarter report, we believe that we may be approaching an attractive buy point for long-term investors, as company profits will be boosted in the future by their investment in adding more met coal capacity and the rising prices for met coal. We would buy here in stages, so as take advantage of any further weakness in the share price as the stock moves lower fishing for a bottom.
The mean analyst target for PCX is $26, with a high of $32, well above the current $19 price; and of the 17 analysts that currently cover the company, ten rate it a buy/strong buy, four rate it hold, and three rate it at underperform/sell. Furthermore, high alpha or guru investors that have a track record of generating high returns for their investors are bullish on PCX as they added $17 million to their prior $24 million position in this company.
Avalon Rare Metals Inc. (NYSEMKT:AVL): AVL is a Canadian company engaged in the exploration and development of rare metals and minerals. Its primary asset is the Nechalacho Rare Earth Element Deposit located in the Northwest Territories, Canada. Its shares fell 15.4% during the week, and they are down 11.9% YTD. AVL shares were lower on account of the company filing on Wednesday before market-open to sell 7.1 million shares at $6.15 per share, a 7% dilution and also the pricing at $6.15 was 10% below Tuesday's closing price. Furthermore, shares may also have reacted to a negative earnings report for the May quarter that was released by the company on Tuesday after the market closed. AVL reported an 8c loss, both missing street estimates of a 2c loss as well as being a negative outlier to their prior losses over the last two years that have stayed in a tight range between 1c and 3c.
Buy Rubicon Minerals Corp. (RBY): RBY is a Canadian company engaged in the acquisition, exploration, and development of gold properties in Canada and the U.S. It controls over 65,000 acres of prime exploration ground in the prolific Red Lake gold camp of Ontario, over 500,000 acres surrounding the Pogo Mine in Alaska, and 225,000 acres in northeast Nevada. It is news on its Red Lake property that was responsible for the 24.6% surge at the end of last week as Agnico-Eagle Mines (NYSE:AEM) announced it will make a strategic investment of C$70 million, making it a 9.2% institutional investor in RBY.
More importantly, the deal includes a technical services agreement that would allow RBY access to AEM's considerable geological and environmental engineering expertise to help advance its Red Lake project in Ontario. This deal demonstrates confidence that a bigger and more established miner such as AEM has in the RBY's assets, and it should enable RBY to pursue a faster-track to production. We believe that the rise in RBCN last week may just the beginning, and it could see continued momentum going forward and catch up with the rest of the group that is up 15% YTD, versus RBY that is down 26.4% YTD even with last week's surge.
Uranium Resources Inc. (URRE): URRE is engaged in the acquisition, exploration, development and mining of uranium properties in the U.S. Its shares were down 16.2% during the week, and they are 57.4% down YTD. However, they remain range-bound for the week, between $1.38 and $1.81. There was no significant news that hit the stock last week, but it was down along with many of its peers last week as Uranium Energy Corp. (NYSEMKT:UEC) slid down 10%, Uranerz Energy Corp. (NYSEMKT:URZ) slid down 9%, and Titanium Metals Corp. (TIE) slid down 9%. Furthermore, the stock and its peer group continue to be under pressure due to concerns about the long-term outlook for nuclear energy, in light of the tsunami in Japan's impact on the country's nuclear reactors and Germany's decision to phase out nuclear energy by 2022.
Cobalt Energy Corp. (NYSE:CIE): CIE is engaged in the exploration and production of oil in the deepwater of the U.S. Gulf of Mexico, and in offshore Angola and Gabon in West Africa. Its shares fell 16.6% during the week, and they are up 0.9% for the quarter. CIE fell on Wednesday after announcing better-than-expected June quarter results, revealing later that morning that it was abandoning one of two exploration wells in its offshore Angola due to technical difficulties in drilling upon encountering over-pressured water sand. CIE currently loses money every quarter, and is projected to continue incurring losses at least through 2012. Analysts have a mean target of $18 on CIE, with a high of $23, well above the current $12 price; and of the ten analysts that cover CIE, seven rate it at buy/strong buy and three rate it at hold.
Gastar Exploration Ltd. (NYSEMKT:GST): GST is an exploration and production company focused on finding and developing natural gas assets in North America and Australia. The Company owns and controls development acreage in the Deep Bossier Sand gas play of East Texas and in the deep Trenton-Black River Marcellus Shale in the Appalachian Basin. GST stock was up 16.4% on last week on news after the market-close on Wednesday that tests on two wells in the Marcellus wells in West Virginia yielded a combined stabilized rate of 15.5 MMCD of 1285 Btu natural gas and 1,100 barrels of condensate per day. The CEO indicated that the tests confirmed their earlier assumption for reservoir characteristics in that portion of the Marcellus shale, and may exceed their individual well assumptions on deliverability and condensate yield.
BPZ Resources Inc. (NYSE:BPZ): BPZ is engaged in the exploration and production of oil and natural gas primarily in Peru and Ecuador. It was down 15.2% last week on no significant new news, and it is down 23.9% YTD.

[Click to enlarge]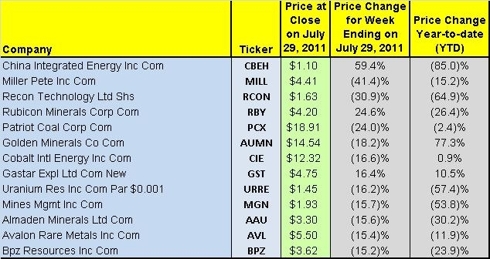 Credit: Historical fundamentals including operating metrics and stock ownership information were derived using SEC filings data, I-Metrix® by Edgar Online®, Zacks Investment Research, Thomson Reuters and Briefing.com. The information and data is believed to be accurate, but no guarantees or representations are made.

Disclosure: I have no positions in any stocks mentioned, and no plans to initiate any positions within the next 72 hours.
Disclaimer: Material presented here is for informational purposes only. Nothing in this article should be taken as a solicitation to purchase or sell securities. Before buying or selling any stock you should do your own research and reach your own conclusion. Further, these are our 'opinions' and we may be wrong. We may have positions in securities mentioned in this article. You should take this into consideration before acting on any advice given in this article. If this makes you uncomfortable, then do not listen to our thoughts and opinions. The contents of this article do not take into consideration your individual investment objectives so consult with your own financial adviser before making an investment decision. Investing includes certain risks including loss of principal.