Outlook: Once the smoke clears on the artificial debt crisis, investors will have to deal with the oncoming train of demonstrably slower domestic growth. This situation will only be further exacerbated by sharp cuts in government spending which has been the only recent, major economic stimulus. A vitriolic presidential campaign and the uncertainty of a major tax overhaul will just heighten the cautiousness of business. The due bill has just been delivered for decades of consumer excesses.

CEF Weekly Review: On average, the 13 closed-end fund (CEF) types registered a share price decrease of 3.2% for the week ending 7/29/11. The high-low spread registered this week was +2.6% versus +1.4% on an average price change of -3.2% versus +0.5%, respectively. On an aggregate unweighted basis, the weekly average price change for the 500 plus CEFs in the GrowthIncome database was down 3.1%.

The PowerShares CEF Income Composite (NYSEARCA:PCEF), an ETF that invests in taxable income CEFs, decreased 3.8% for the week. The S&P 500 ended the week down 3.9% on political turmoil over debt concerns both here and in Europe. The S&P 500 has now cut its YTD advance to 2.8%.

Trading Volume: The average daily volume for the iPath S&P GSCI Total Return Index Callable ETN (GSPC) ticked up 6.4% (excluding Monday's data which looked suspect) from its previous week's to 4.11 billion shares.

The Eqcome CEF Fear Index increased for the week on the downside. The average CEF unweighted price declined 3.1% and the related NAV decreased 2.4%. After retreating 10.3% to 17.52, the VIX surged 44.1% increasing to 25.25.

CEF Weekly Fund Type Performance: It was a grim week for CEF share price performance. All fund categories experienced significant declines. With the exception of WrldEqFnds which appeared to be a refuge from the domestic political and economic problems. Fixed-income fund types performed better than the average, albeit the tallest midget. Anything that embodied a hint of equity was punished—including HiYldBndFnds and LoanPartFnds.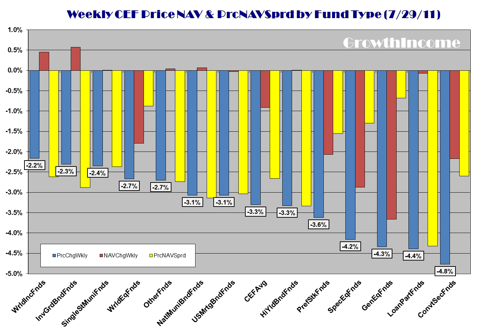 There were no fund type positive spreads of weekly share price change versus weekly change in NAV per share due mostly to the large average share price declines. There were only two fund types that registered meaningful positive weekly changes in NAV: WrldIncFnds and InvGrdBndFnds. These positive NAV changes may have been a function of the lag in the valuation mechanism for fixed-income investments; or, in the case of the former, a relief rally from last week's euro debt ceasefire. In the case of the latter, equity investors failed to buy debt related investment funds.

Economic & Earnings Outlook: (Click here for next week's economic calendar; click here for earnings' announcements and estimates.)

ETFs: For a more detailed EFT performance by sectors, click here.

Insider Trading: There was significant insider trading in the final week for July for CEFs. A significant component of that insider trading appeared to be acquisitions of auction rate preferred shares (ARPS) at a discount. Western Asset Managed Muni Fund (NYSE:MMU) and Alliance Bernstein National Muni Fund (NYSE:AFB) acquired $1.6 million and $1.2 million, respectively.

William H. Gates, II, and Cascade Investment, LLC, one of the investment vehicles of Mr. Gates, again added to their position in Western Asset/Claymore Inflation-Linked Opportunity Fund (NYSE:WIW) purchasing an additional $1.5 million of stock culminating in $1.9 million in acquisition for the month of July. Mr. Gates now owns 10.9% of WIW.

There was also some insider buying and selling at TCW Strategic Income (NYSE:TSI). TCW's management company was a seller and several of the portfolio managers were buyers. There were 106,782 shares of TSI exchanging hands.

CEF Distribution Announcements This Week: The following is a link to a table of CEF distribution announcements this week as well as the previous week's with yet expired ex-dividend dates. The list is not intended to be inclusive.

Significant CEF Corporate Events: Not scanned.

[*] All things being equal, price and NAV should move in tandem. A price movement greater than the NAV generates a positive PrcNAVSprd and may be interpreted as negative on a near-term basis and indicate that the stock is overvalued relative to its NAV which in theory is the stock's intrinsic value. The opposite would be true for a negative PrcNAVSprd.
Disclosure: I am long PCEF.