When an income investor decides it's time to add or make a change to their portfolio, they are usually presented with a large laundry list of all types of investment vehicles. Within this list one will inevitably find Closed End Funds (CEFs), but usually they do not make the initial cut.
It's an interesting dynamic as retail income investors will focus their time and energy on such items as trusts, partnerships, mREITs, and high dividend producing companies while leaving the CEFs on the side. I guess this is a natural reaction due to the characteristics of CEFs and how they have performed as a whole in one of the worst economies since the Great Depression. But before we push these investment vehicles to the back burner, we should take a closer look and see what they have to offer the income investor.
Before we jump into the CEF pool so to speak, we need to make sure that everyone has a good understanding of what a Closed End Fund is. Lots of retail investor have heard of them and quickly lump them into the same category as the Exchange Traded Fund (ETF). The two share lots of similar traits but are distinctly different animals.
Both ETFs and CEFs are traded on a stock exchange much like shares of your favorite stock. They also contain a portfolio of stocks, bonds, and other instruments that are designed to closely track a particular index, sector or group, but after that the similarities end.
For the CEF, the term "Closed" means that once the capital is raised for the initial creation of the fund, no more shares are available and it is closed to new investment. CEFs tend to be actively managed and therefore can have all kinds of strategies and unique investing practices in place. That being the case, the holdings of a CEF are often unknown to the investing public at all times.
In contrast, ETFs are usually passively managed and the holdings that make up the fund are usually widely known at any point in time. This distinct difference is important as it makes it easy for institutional investors to create arbitrage opportunities with the transparent ETFs. That being the case, ETFs will trade fairly close to their net asset value (NAV). Closed-end funds rarely trade near their NAV and can range all over the board from steep premiums to bizarre discounts.
Finally, ETFs tend to be extremely tax efficient as their portfolios are far less subject to change. CEFs, on the other hand, can have radical trading inside the fund which could increase the likelihood of having capital gains passed through to you via their distributions. Lastly, the funds can have high management fees that will eat into the distributions that are due to the shareholders.
Now that we have a greater understanding of CEFs let's talk about how they can fit into an income investor's portfolio. There are a plethora of CEFs that are geared towards income so the number of choices is great. As mentioned above, these CEFs can have diversified goals and very unique tracking practices that you cannot find in other investment vehicles. Since they're traded on stock exchanges they can be sold quickly so you do not have to wait until the end of the trading day like open ended mutual funds. But what I like best is that some of these CEFs have very specific and narrow target objectives that can fill any empty niches of most any income investor's portfolio.
Be warned that not all CEFs turn out to be great investments, but if you pick the right ones they can really give you the income stream you may be looking for. Due to the fact that there are so many CEFs I have decided to concentrate on the ones that have very specific criteria which include:
Trade at close to NAV or at a discount.
Have a yield of at least 5%.
Have an income stream that is not solely based upon Return of Capital (ROC).
Are not leveraged in any meaningful way.
Now let's discuss these a bit. Numbers 1 and 2 above are easy to understand. The ROC (#3) is a concept that might throw some people.
ROC boiled down to its basic idea is that the fund is making a distribution to the shareholders from its cash reserves and not based upon the operations of the fund. Right away people think that ROC is a bad thing as the fund has to raid the piggy bank to make the payment.
Sometimes this thinking is right and it can be a warning sign that something is wrong. But other times ROC is a positive. For example, if a fund is deriving its dividend via writing LEAP options, it might not be able to complete the trades in time to get the funds into place for distribution. The fund will want to show a stable dividend so they might use ROC until such time that the option trades clear.
Another example could be if a fund has holdings that have greatly appreciated in value and the manager does not want to liquidate them, but at the same time needs to make a distribution. In this case the fund might dip into the cash reserves to make the distribution and you get another example of a return of capital. As for #4 (leverage), I opted to not take on any meaningful leverage percentages in my choices. Several funds will issue preferred shares or even borrow more money and take on debt against the fund to further "juice" the returns for shareholders. Changes in interest rates and market conditions can play havoc on these CEFs thereby making an already volatile stock price even more so if things go bad.
So listed below are some CEFs that fit the bill. Also in the mix are CEFs that are presented merely to show income investors how diverse and unique the funds can get. Not all are going to be right for every income investor, but hopefully this post will present even more options for those hunting for better yields.
MFS Intermediate Income Trust (NYSE:MIN): MIN is a fixed income fund launched and managed by MFS Investment Management, Inc. The fund invests in the public fixed income markets across the globe. MFS Intermediate Income Trust invests in the securities of companies operating across diversified sectors. The fund primarily invests in short and intermediate-term U.S. Government and foreign sovereign and high-grade securities. It benchmarks the performance of its portfolio against the Barclays Capital Intermediate U.S. Government Bond Index and Intermediate Income Trust Blended Index which is a blended index comprising of 75% Barclays Capital Intermediate U.S. Government Bond Index and 25% of the JPMorgan Global Government Bond Index U.S. The credit quality of the bonds held was decent at 62% of them were rate A or higher. Government bonds made up 34.7% of the asset allocation while corporate investment grade bonds accounted for 47.7% of the total. The fund is basically trying to stay short to intermediate in maturity dates, so if you are someone who thinks interest rates will remain steady this might be the fund to for you.
Share Price/NAVPremium/Discount: $6.24/$6.45

/3.26%

Distribution Rate:

8.84%

Distribution Amount

: $0.0461

Distribution Frequency:

Monthly
The Gabelli Global Gold, Natural Resources and Income Trust (NYSEMKT:GGN): GGN is a closed ended equity fund launched by GAMCO Investors, Inc. and managed by Gabelli Funds, LLC. First of all, the fund is not an investment in gold. It is an income investment that happens to be using gold, silver, and natural resource stocks to derive income off the selling of covered calls.
If one wants an actual gold investment then buy the actual metals or the miners who produce it. GGN will not have the same type of returns as the actual physical metals. But remember, we are looking at these CEFs for the income aspect, not the speculative one.
GGN invests in the public equity markets across the globe. The fund makes investment in equity securities of firms operating in gold and natural resources industries including companies in exploration, mining, fabrication, processing, distribution or trading of gold, financing, managing, controlling or operating of companies engaged in gold-related activities. It also invests in companies principally engaged in the exploration, production or distribution of natural resources, such as gas, oil, paper, food and agriculture, forestry products, metals and minerals as well as related transportation companies and equipment manufacturers.
The fund does have an 8.99% leverage rate but I think that it is manageable as opposed to other funds who measure in the 30% area. Finally the fund does log lots of ROC in its distribution. In response the funds management has stated that this is due to the desire for a steady income stream while longer covered call option plays take time to finally come to term.
Share PriceNAVPremium/Discount: $18.10/$17.9/6

0.78%

Distribution Rate:

9.20%

Distribution Amount

: $0.1400

Distribution Frequency

: Monthly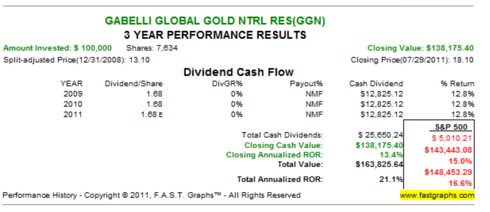 The BlackRock Energy and Resources Trust (NYSE:BGR): BGR commenced operations in December 2004 with the investment objective of providing total return through a combination of current income and capital appreciation. Under normal market conditions, the Trust will invest at least 80% of its total assets in the equity securities of energy and natural resources companies and equity derivatives with exposure to the energy and natural resources industry. Companies in the energy and natural resources industry include those companies involved in the exploration, production or distribution of energy or natural resources, such as gas, oil, metals and minerals as well as related transportation companies and equipment manufacturers.
Currently 100% of the holdings are US based companies. This CEF is a play on commodities and earns its income via the selling of covered calls on its portfolio.
Share Price/NAVPremium/Discount: $29.71/$32.01

/7.19%

Distribution Rate

:5.46%

Distribution Amount

: $0.4050

Distribution Frequency

: Quarterly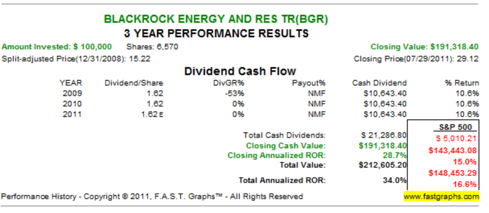 Nuveen Municipal Value Fund, Inc. (NYSE:NUV): NUV is a closed-ended, fixed income fund launched by Nuveen Investments, Inc. and managed by Nuveen Asset Management. It invests in the fixed income markets of the United States. The fund also invests some portion of its portfolio in derivative instruments. It invests in undervalued municipal securities and other related investments the income, exempt from regular federal income taxes that are rated Baa or BBB or better. When it comes to investments with tax free implications, one of my favorite holdings is NUV. The fund's assets are made up of 345 holdings and the breakout is as follows:
Tax Obligation/Limited 19.23%
Health Care 18.59%
US Guaranteed 15.08%
Transportation 12.28%
Tax Obligation/General 8.52%
Consumer Staples 6.82%
Utilities 6.57%
Water and Sewer 4.37%
Education and Civic Organ 2.37%
Materials 1.34%
The fund has been around for long time so they have experience on their side. If you believe in tax free bonds then NUV might be right for you.
Share PriceNAV/Premium/Discount: $9.03/$9.53

/5.25%

Distribution Rate

:5.09%

Distribution Amount

: $0.0390

Distribution Frequency:

Monthly

Taxable Equivalent Yield:

7.83%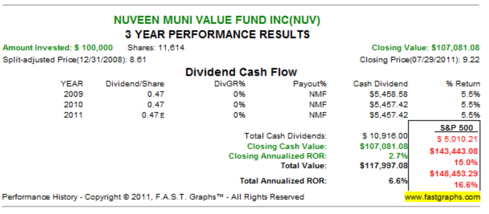 H&Q Life Sciences Investors (NYSE:HQL): HQL is a close ended equity fund launched and managed by Hambrecht & Quist Capital Management, LLC. The fund invests in the public equity markets across the globe. It invests in stocks of companies operating in the health technology and life sciences industries. It also invests in stocks of early and later stage financing of privately held companies, private placements by public companies.
HQL has been around for a long time and usually is not considered a dividend income payer. In 2010 that changed as the company started to pump out distributions based upon capital gains. If one thinks that healthcare and life sciences are the ticket, then maybe a small investment here is the way to go. Needless to say the distributions could make radical changes based upon the future capital gains received by the fund.
In recent news, the Board of Trustees authorized a share repurchase program. The program will allow the Fund to purchase in the open market up to 12% of its outstanding common shares for a one year period beginning July 11, 2011. The Board authorized the share repurchase program as a result of its periodic review of the options available to enhance shareholder value and potentially reduce the discount between the market price of the Fund's shares and the net asset value per share. The share repurchase program is intended to increase the Fund's net asset value per share and could also have the benefit of providing additional liquidity in the trading of shares.
Share Price/NAVPremium/Discount: $11.99/$13.36

/10.25%

Distribution Rate:

8.70%

Distribution Amount

: $0.2600

Distribution Frequency:

Quarterly

Cohen & Steers Closed-End Opp (NYSE:FOF): If you ever want to know how extreme things can get in the closed end fund world, then check out FOF. This fund's investment objective is total return, consisting of high current income and potential capital appreciation.
The fund seeks to achieve its objective by investing in the common stock of closed-end funds, selected by Cohen & Steers that invest significantly in equity or income-producing sectors, strategies and securities. That's right, we have a CEF whose holdings are made up of other CEFs. Once you wrap your brain around that, try to consider how one would truly try to figure out the management fees as each holding will have their own fee, plus the one overall fee for FOF itself. As silly as the fund may seem, they are actually an interesting choice as they throw out lots of income and have little ROC and no leverage on the fund itself. Of course the CEFs they hold have leverage so it is an interesting mix once you get into the results.
Share PriceNAV/Premium/Discount: $13.01

/$14.15/8.06%

Distribution Rate:

7.99%

Distribution Amount

: $0.2600

Distribution Frequency:

Quarterly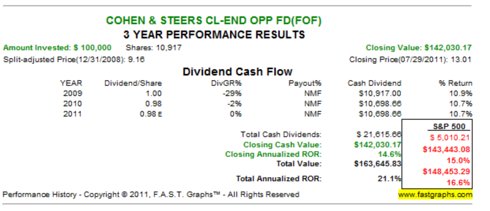 Cohen & Steers Total Return Realty Fund (NYSE:RFI): Finally, maybe you want your CEF to be based upon the most hurting sector, real estate. If so, then RFI is for you. The fund's investment objective is to achieve a high total return through investment in real estate securities. The fund will seek both current income and capital appreciation with approximately equal emphasis.
Share Price/NAVPremium/Discount: $13.51/$13.42

/0.67%

Distribution Rate:

6.51%

Distribution Amount

: $0.2200

Distribution Frequency:

Quarterly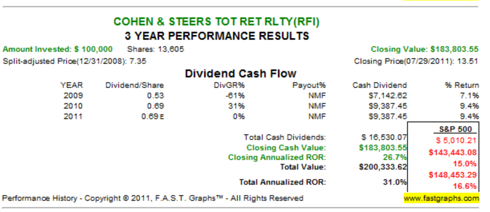 In conclusion, the main purpose of this article was to just bring CEFs back into the sights of the income investor. After looking at this list, you might not find any that fit your needs. Don't worry as there are hundreds more out there that just might be for those willing to hunt.
On the other hand, you might come to the conclusion that CEFs are not right for you at all. That is fine too, but at least you know of their existence and how dynamic they can be.

Disclosure: I am long BGR, NUV.