On Thursday, Verizon Wireless announced it was finally going to distribute dividends to shareholders Verizon (NYSE:VZ) and Vodafone (NASDAQ:VOD) in January 2012. The last dividend paid was back in 2005. The theory goes that Verizon Wireless was going to hold onto the cash until Verizon could consummate a purchase of the 45% of Verizon WIreless from Vodafone it didn't already own.

Apparently Verizon was unable to hold off any longer and needed the cash to pay its own dividends. Clearly, from the stock reaction and the planned use of the proceeds, Vodafone is the better investment. Vodafone was up 4.5% Friday and plans to pay nearly $3B in special dividends in February 2012. Meanwhile, Verizon was down 2% as the company indicates it will use the cash to just keep the current dividends going.

The key competitive difference is that Vodafone is a pure play on the world's mobile communications explosion while Verizon is hampered with legacy wireline businesses and only a 55% share of Verizon Wireless.

Vodafone has approximately 382 million customers in its controlled and joint markets with equity interests in over 30 countries across five continents and more than 40 partner networks.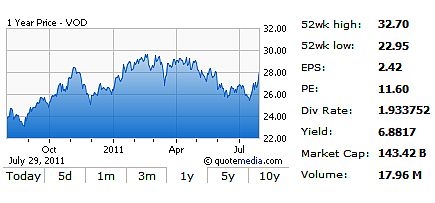 More importantly, Vodafone pays a 7.2% dividend yield compared to the 5.4% yield for Verizon. On top of that, Vodafone plans to pay a special dividend that gets the forward 12 month yield to nearly 10%. Verizon hopes to just maintain its dividend in the process.

Even more incredible than a company with a $100B+ market cap paying nearly 10% in dividends is that Vodafone trades at a much lower earnings multiple. Vodafone trades at a sub 10 forward PE while Verizon is at a lofty 13.5 PE. A rather high amount for a slow growing company heavily indebted and stuck with vast legacy headaches.

This dividend news, though somewhat expected, further highlights the benefits of buying stocks with high Net Payout Yields. More often than not the high yields on these strong companies suggest some lucrative gains in the future that the typical investor is missing.

Disclosure: I am long VOD.

Additional disclosure: All data was sourced from Yahoo! Finance and is provided for informational purposes only. Please consult your own investment advisor before making any investment decisions. Also note, that Mark worked for Verizon Business prior to becoming a full time investment advisor.