Things haven't been terribly good for high-flier Netflix (NFLX) since it reported record second quarter profits last Monday. The company beat analysts' estimates on earnings but missed slightly on revenues while guidance trailed estimates. But what is next for the stock?
Click to enlarge: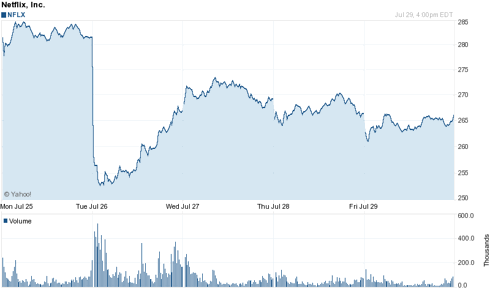 Since this is perhaps the most controversial stock of the last two years, arguments go both ways. The momentum crowd continues to think that the stock is a "buy," as it focuses on earnings growth. The fundamentalist crowd continues to think that the stock is a "sell" or even a short, focusing on the company guidance.
So far, the momentum crowd have been winning the game, but I do think this time around, they are on the wrong side of the trade. Fundamentals are catching up with Netflix and the company will be squeezed on both ends of its business by Amazon.com (NASDAQ:AMZN) and Blockbuster (OTC:BLOAQ). Let's take a look at each threat.
Though Amazon.com has been long rumored as a potential competitor, it is now official that it is going head to head against Netflix in video streaming-- just check the announcement on the company's page. How many customers will Amazon.com take away from Netflix? We haven't seen any estimates yet, but it will certainly slow the subscription growth, and eventually the revenue and earnings growth for the company. That's not a good omen for the momentum crowd which believes that the stock can reach the moon.
Long thought to be gone, Blockbuster video seems to be back. Contrary to what the momentum crowd wished, the new owner of the video store (Dish Network (NASDAQ:DISH)) decided to keep the chain open. How many people will return to the old video store? Again, we don't have any estimates, but it is certainly not a good omen for Netflix's subscription base either.
Compounding the problem is Netflix's strategy to raise its service bundle from $9.99 to $15.99. This helps Amazon.com and Blockbuster video more than it helps Netflix itself. Consumers who want the traditional video service can return to Blockbuster video, while consumers who want streaming only can go to Amazon.com.
The bottom line: Netflix doesn't have a sustainable competitive advantage, because it doesn't have barriers to entry. It sells somebody else's content using a public network (that is about to get more expensive to use), with a technology that isn't proprietary. It's a matter of time before its business model is squeezed from all directions.

Disclosure: I am short NFLX.