Body Central (OTCQB:BODY) is a teen retailer with potentially mind-blowing upside. It is precisely this kind of small cap company which can double or triple in size, something unlikely to happen to $10 billion companies. Based in Florida, it has been rapidly expanding with plans to increase its store count by 15% a year. Coming off a small store count of 220 in 24 states, BODY has a strong opportunity. Already the company is accelerating its revenues, earnings, and operating margins.
I recently compared BODY to Ann Taylor (NYSE:ANN), American Eagle (NYSE:AEO), Aeropostale (NYSE:ARO), Abercrombie and Fitch (NYSE:ANF), Gap (NYSE:GPS), and Zumiez (NASDAQ:ZUMZ), demonstrating BODY's superior store growth, improving operating margins, and comparable sales. It's a mean teen retail machine. Older outfits, with their larger store base, can't match BODY's dynamic growth. Unlike this young teenager, "mature" chains no longer have growth spurts. Companies that have saturated their markets have a more difficult time finding ways to grow, while small chains that are just getting started have much more room to expand.
Readers requested that I compare BODY to Rue 21 (NASDAQ:RUE) and Wetseal (WTSLA), two more apparel retailers. I'll add Bebe (NASDAQ:BEBE) to the list as well. Let's see if BODY can rise to the challenge.
First, RUE. RUE and BODY are both new to investors: RUE came public in November 2009, a year before BODY. It's putting up stores, and how. At the start of 2011, RUE had 638 stores and plans to expand to 748 by the start of 2012.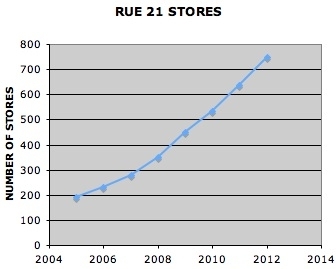 Management sees a goal of reaching over 1000 stores in five years. That number is easily reachable at this pace, but I don't see the same rapid growth in store count as we've seen in these last seven years. As the chain gets closer to 1000, RUE will find that growth harder to come by as it saturates its markets.
I suspect that is part of the reason BODY is delivering a body blow to RUE with its stock outperformance. BODY has 220 stores, with a lot further to go before it runs out of great locations. BODY is in 24 states while RUE is already in 45. BODY plans to keep opening 15% more stores a year while RUE will hit a "wall" much sooner.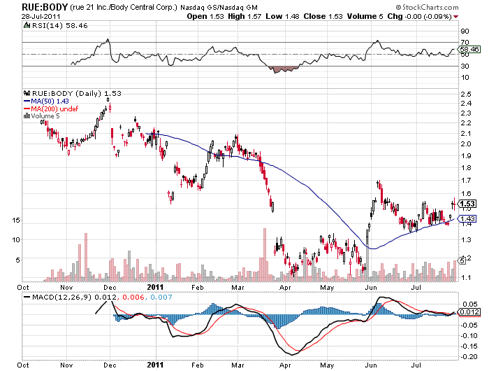 How about the operating margin contest? BODY's margins are accelerating far faster than RUE's.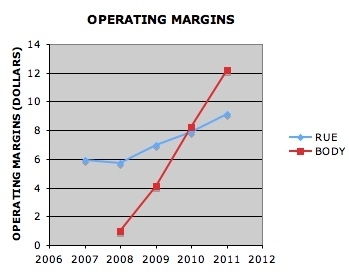 (2012 is latest quarter)
RUE net income has risen over the last 4 years 277%. Tremendous, but not as startling as BODY's 1100% in less than 3 years.
To sum up, RUE has demonstrated excellent growth. However, BODY has more room to grow and is likelier to accelerate revenues and net income than RUE.

Next up, Wet Seal. WTSLA plans on opening 25 to 30 stores in 2011, about a 5% growth rate on a 533 store base. BODY has more ambitious growth plans, as it plans to open 30 to 35 stores this year on top of its much smaller 220 store base. WTSLA's revenue has been flat for years.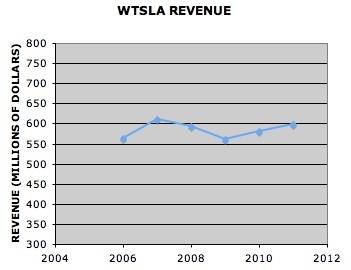 <A:>
Further, WTSLA net income has been inconsistent.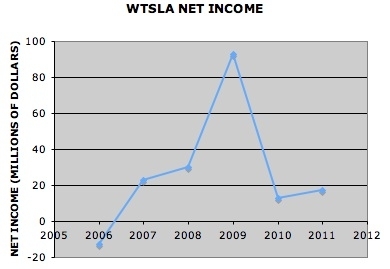 WTSLA also loses the margin battle.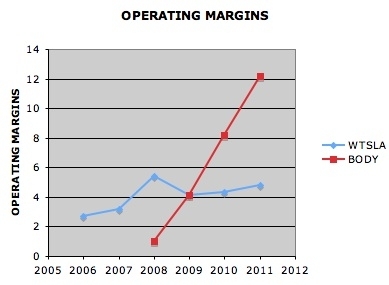 BODY clobbers WTSLA. BODY has better store growth prospects, improving margins, revenues and net income.
Next, I'll look at Bebe, a clothes retailer. BEBE has been troubled with revenue, store count, and operating margins falling off a cliff.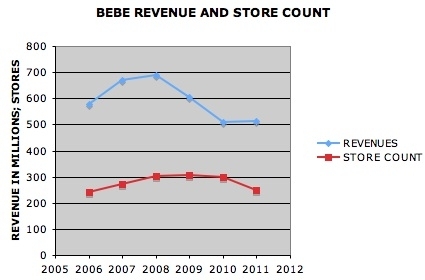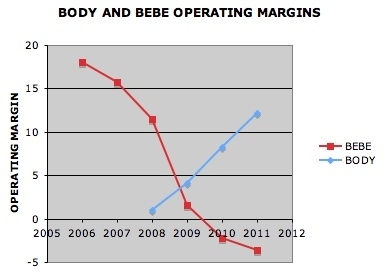 Comparable store sales cratered for BEBE.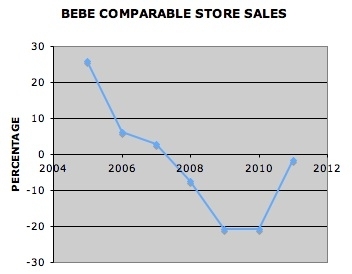 In contrast, BODY has had improving comparable sales, as seen in the chart below.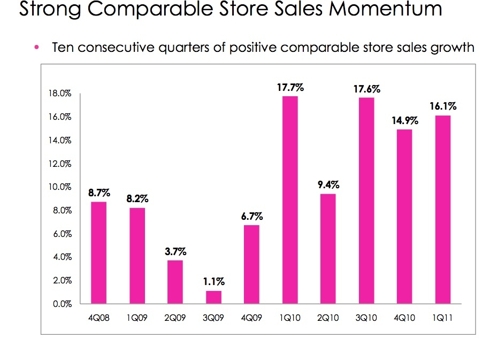 While the stock is speculative, risk-tolerant investors should invest in BODY over other apparel retailers. BODY is a $338 million market cap company with no debt, a strong growth strategy and improving metrics. It has a reasonable chance of becoming a $700 million company over the next two years as it expands its store count. Investors should considering adding the young, healthy growing BODY to their portfolio.


Disclaimer: The opinions in this document are for informational and educational purposes only and should not be construed as a recommendation to buy or sell the stocks mentioned. Past performance of the companies discussed may not continue and the companies may not achieve the earnings growth as predicted. The information in this document is believed to be accurate, but under no circumstances should a person act upon the information contained within. We do not recommend that anyone act upon any investment information without first consulting an investment advisor as to the suitability of such investments for his specific situation.
Disclosure: I am long OTCQB:BODY.