There are rare times in my life where I've been as glued to the TV news as I am now. The first time was the explosion of the Space Shuttle Challenger in 1986. The second time was in 1993 as I watched the ATF horribly bungle the seizure at David Koresh's compound and the terrible aftermath. For months in 1995 I could not stop watching the O.J. Simpson trial. On a clear day in September, 2001, I watched aghast and wept out loud as the Pentagon was set ablaze and the Twin Towers crumbled from the impacts of multiple terrorist attacks.
Here I sit again in the summer of 2011, affixed to the TV news, watching with a mixture of frustration, angst and dread as our legislators and President slog through the debt crisis. I chuckled when I heard Fox Radio's spoof of Boehner's and Obama's "Dueling Press Conferences" and for comic relief posted Remy's "Raise the Debt Ceiling" rap on my Facebook page. Yet deep inside I am far from laughing out loud. The sheer magnitude of the crisis - juxtaposed with the frustration of knowing what so obviously needs to get done - means I watch every news conference, announcement and petulant political rant as if my internal news sensor is overloaded on steroids.
I am also watching the debate as it plays in my portfolio. Until this week, the spectre of rising interest rates was theoretical; a possibility for sure, but considered "sometime" in the future. It is a certainty now, thanks to endless political wrangling and, in the end, not getting done what needs to get done. We are on the cusp of a ratings agency downgrade…not in the distant future, but in weeks, and maybe even days.
Most investors have been preparing for this possibility for a long while. If you aren't one of those investors, consider this article as your rallying cry.
Effect of Rising Interest Rates
When (and not if) our debt is downgraded, the Federal Reserve will need to act in order to make our Treasury debt more attractive to creditors. This means raising the interest rate payments to creditors. This has a cascading affect on interest rates and the economy in all facets of our lives. Banks will raise their interest rates to compete with the inevitable flow of monies into newly-attractive Treasuries. (This is positive news for savers, not-so-great news for borrowers). All adjustable rate loans will have interest rates raised, meaning you will pay more on any non-fixed rate loans on your home, car, credit cards, student loans, et. al.
Just as American households in debt will experience interest inflation, various companies and sectors will experience it as well. You will want to be underweight those sectors and investment instruments which will be negatively impacted by rising interest rates, and overweight those sectors and stocks that are light on debt.
Stock Sectors Most Negatively Affected by Rising Interest Rates
BANKS
The first and most obvious sector affected will be banking. When a bank raises its interest rates, it by necessity must pay out more on interest than before the hike. When more cash is deployed to pay interest, most banks will likely be less profitable.
Rising interest rates have been priced into banking stocks for a while, as demonstrated by the performance of (NYSEARCA:KBE) the SPDR KBW Bank ETF: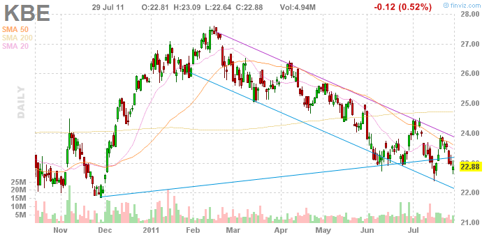 REITS
The lifeblood of any REIT is the ability to borrow money cheaply. Once interest rates are raised there will be pressure on REITs to remain profitable. To understand exactly how REITs are affected we need to designate between two major categories of REITs – equity and mortgage.
Equity REITs
Equity REITs buy up physical real estate assets with the primary goal of collecting rents and capitalizing on the appreciation of the property. Acquisitions need to be funded with credit, and a higher interest payment on future acquisitions will negatively impact equity REITs. The good news is that smarter REITS have taken advantage of current record low rates, which will help profitability for years to come.
The possibility of a rate hike has not yet been priced into the sector, although (NYSEARCA:IYR), the iShares Dow Jones US Real Estate ETF, is showing some worry technically with a double-top. Click to enlarge: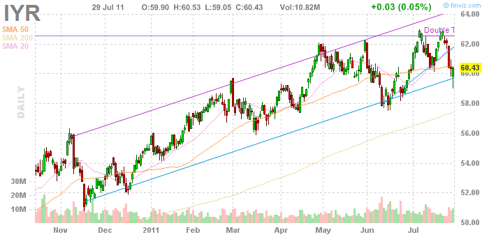 Mortgage REITs
Mortgage REITs focus not on physical holdings but buying mortgages and collecting debt payments. Most of these funds focus on purchasing both government mortgage backed securities (MBS) and private MBS. They borrow short term loans cheaply for higher yielding long-term MBS products. The difference between the two products is their "spread". Higher borrowing costs mean tightening spreads, which means reduced profitability. For you the investor, this means you may see reduced dividends in the future.
Mortgage REITs are currently experiencing panic selling, as demonstrated by (BATS:REM), the iShares FTSE NAREIT Mortgage Plus Cap Index ETF. Click to enlarge: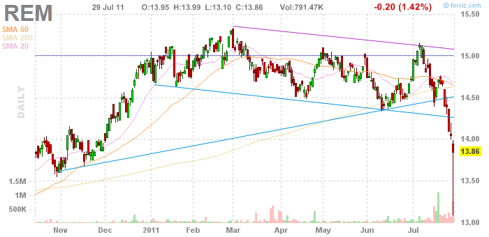 The high yield investor is in a bit of a conundrum when it comes to mortgage REITs. On one hand, there is no debate the mortgage REITs will depreciate with a rate hike. On the other hand, rising interest rate environments force many investors to seek higher-paying dividends. Because mortgage REITs provide some of the highest dividend yields on the market, many investors may view the panic as a buying opportunity.
The performance of Annaly Capital Management, Inc. (NYSE:NLY) on Friday, July 22, 2011 demonstrates this point. The stock opened at $17.21, then a panic selloff ensued early morning. The stock dipped to $14.05, yet quickly bounced back and ended the day at $16.78 – in all a modest decline that was in line for the market day. Click to enlarge: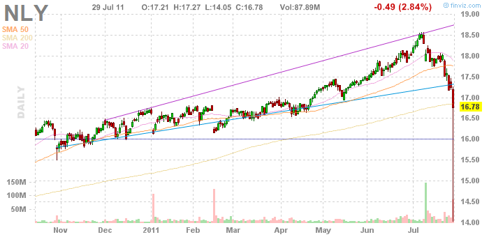 Utilities
Two factors throw utilities into the mix for potential decline: Competition from bonds, whose interest rates will also rise and attract investors away from utilities; and significant debt loads that many utilities carry. Interestingly, a study by Edward S. O'Neal finds distinctions amongst utilities as it pertains to rising interest rates. His study found that larger utilities tended to carry more interest rate risk than smaller utilities, and higher-rated utilities were more sensitive to interest rates than lower-rated utilities.
Again with utilities – along with utility fixed income instruments – high yield investors find themselves in a tight spot. Utilities are affected by high interest rates, but at the same time utilities are a classic "flight to safety" investment. The utilities sector has not yet priced in the worry, although like IYR above, the sector is double-topping, as demonstrated by (NYSEARCA:XLU), the Utilities Select Sector SPDR. Click to enlarge: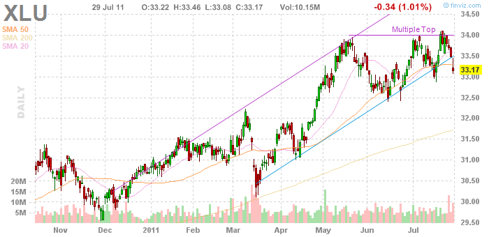 Fixed Income Instruments are Effected by Interest Rates
Current issue fixed income vehicles – single bonds, bond funds (CEFs, ETFs and mutual funds) and preferred shares – will depreciate in a rising interest rate environment. As newer bonds and preferred shares are issued with higher coupon rates, these newer bonds become more attractive than older bonds issued with a lower coupon. As a result, history shows many current fixed income instruments sell off as funds are deployed into newer bonds and preferred shares.
Rising interest rates affect both single bonds and funds. However, there is a critical difference between the two, and it has to do with maturity. While both investments will be affected, your bond fund typically has not fixed maturity. Your fund will depreciate, and if you sell, that's all you get. There is no "pay day" for holding in the midst of depreciation.
However, a single bond or preferred share can depreciate all it wants. If you keep holding until maturity, there is a "pay day". You get paid back the principal in full (and then some if you bought under call price), and you enjoy the interest payments along the way. Without a set maturity on a bond fund, you can never recoup the principal if you sell amidst depreciation. This is why most bond experts recommend holding single bonds and preferred shares over funds in a rising interest rate environment.
Now that you understand what lies ahead, it's time to take action to get both your personal finances and investments in order.
Get Your Financial House in Order
Most active retail investors have a huge advantage over the average American in terms of our financial savvy. The act of investing wisely requires us to understand basic finance and keep up with the latest economic news. Sadly, I fear most Americans don't understand how today's news affects their future. Many will continue accumulating debt, then months from now wonder why they are paying more on their mortgage, car loan, credit cards and food.
Since I am somewhat "preaching to the choir" the following admonitions may feel like old news. At the same time, if you are a new investor, you may or may not yet have implemented some basic strategies to manage your finances. If that describes you, I strongly encourage you to do the following:
Get Out Of Debt –

Those with the heaviest debt burdens will be hit the hardest. There's no other way to say it but bluntly - get out of debt now. If you don't, you will pay for it dearly down the road. Credit card debt is the most avoidable, and the most pernicious. Pay off your credit card debt, and get in the habit of paying off your balance every month.


Refinance Now, or Never –

If you are considering refinancing, do it NOW. Don't wait!


Get Out of Your ARM –

No, don't amputate yourself… just get out of your Adjustable Rate Mortgage if you have one. Refinance at a fixed rate now.


Keep Some Cash on Hand

– Some pundits who believe in financial Armageddon are recommending you pull your cash out of your bank prior to a Depression-era style bank run. While I don't subscribe to any doomsday scenario, it might make sense to keep a modest sum of some cash on hand, no more than four figures…just in case.


Trim Your Budget

– Don't have a budget? Get one. Have you examined your current expenditures? You should. Consider carefully how you spend your money, and find savings wherever and however you can. For example, I am big into couponing, buying in bulk, and sales. Timing my grocery and sundry expenditures in conjunction with sales and coupons has enabled me to create a food stock pile (another Doomsday believer favorite) and trim my food expenditures by 25% - 50% every week.
Get Your Investment House in Order
Opinions vary on whether or not rising interest rates are good for the stock market. Some experts, who correlate the performance of the market to the price of commodities, welcome higher interest rates. Others are not so enthusiastic. There is no "crystal ball", but there are some common sense steps to insuring your portfolio will remain strong during rising interest rates:
Raise Some Cash

– Monitor closely how your holdings are performing. Sell some laggards. Hold the cash for now; don't buy too soon. The political climate is highly charged and the market may panic. Holding some extra cash will help cushion your portfolio in the event of a panic and provide "dry gun powder" to scoop up some bargains.


Re-evaluate Interest Rate Sensitive Stocks

– Look at potentially underweighting financials, REITs and utilities.


Reconsider Stocks with High Debt Ratios

– Take a look at the debt levels of all the companies you are invested in. Consider selling any that have high or unmanageable debt loads.


Consider Your Fixed Income Investments

– Are you invested mostly in funds? You may want to re-evaluate this strategy. Your bond funds will depreciate. If you sell underwater on your capital base, the money is lost, period. Unlike a single bond or preferred, there is no fixed maturity with funds, no "pay day" for holding. Consider whether this may be a good time to sell your bond fund.

If you already hold single bonds or preferred shares, take a look at the maturity. Does it mature in more than 15 years or so? Are you comfortable holding it to maturity? Fine, continue to do so. Depreciation may provide opportunities to reinvest and increase yield. Are you uncomfortable with a longer maturity? Consider selling while the prices are at a premium, and reinvest in shorter duration instruments after a rate hike is announced.


Look at Higher Yielding Vehicles

– This is "preaching to the choir" for my audience. Nonetheless, now is the time to look at increasing the yield of your portfolio, before there is a real flight by the market to higher yield upon announcement of a rate hike.
Stocks to Consider Now
If there is one prevalent theme of coping with an interest rate hike, it is this: manage your debt levels. What holds true for personal finance holds even truer for stocks to consider right now: look for companies that have low or no debt, and lots of cash.
As such I ran a basic screen for stocks which have the following characteristics:
Long-term Debt-to-Equity of .2 or less

Dividend yield of 5% or more

Quarterly or better dividend payments

Price to Free Cash Flow (P/FCF) under 20

Price-to-Earnings (P/E) and forward P/E under 20

No U.S. banking, high-debt mortgage REITs, utilities, or bond funds
There were very few companies that passed this screen. One company that passed the screen but is not listed is Life Partners Holdings, Inc. (NASDAQ:LPHI), which is in a world of hurt from a pending lawsuit, the SEC, an auditor resignation, threats of delisting from NASDAQ. Only three U.S. companies that pay quarterly or better dividends made the cut and are profiled below. One company that passed muster will surprise you.
Gladstone Investment Corporation (NASDAQ:GAIN)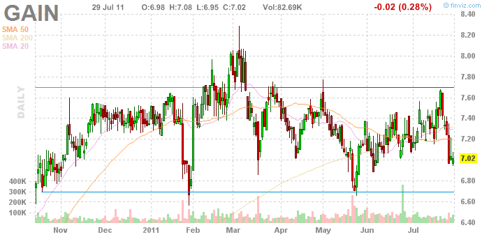 Gladstone operates as a closed-end investment company that has elected to be treated, according to the Investment Company Act of 1940, as a business development company. GLAD buys small- to mid-sized companies in cooperation with those companies, acquiring both debt and equity. Key in their low-debt strategy: they can afford to pay cash for companies or make a tax-free swap with their common stock. They are considered by BDC Review as capable of covering their substantial dividend payment.
LT Debt/Equity:

0.00

Dividend Yield:

8.55%

P/FCF:

2.74

P/E:

9.49

Forward P/E:

12.54
Lincoln Educational Services Corporation (NASDAQ:LINC)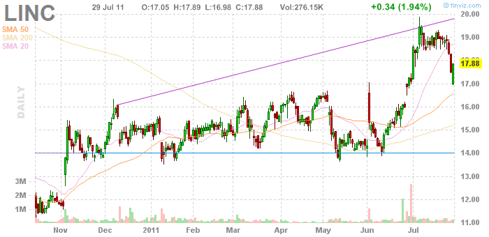 Lincoln Educational Services Corporation provides for-profit career-oriented post-secondary education in five areas of study: automotive technology, health sciences, skilled trades, business and information technology and hospitality services. Lincoln currently operates 43 campuses in 17 states under various branding names, including Lincoln Technical Institute and Southwestern College.
LT Debt/Equity:

0.16

Dividend Yield:

5.59%

P/FCF:

6.37

P/E:

6.53

Forward P/E:

11.92
Annaly Capital Management, Inc. (NLY)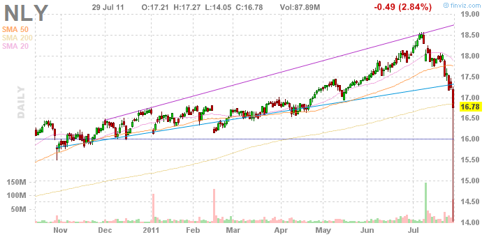 It is interesting that a mortgage REIT, one of the most sensitive interest rate investments, makes our cut for low debt investments. If you are going to hold a mortgage REIT, this would be the one. Their company has wildly outperformed the S&P and the financial index, and their management team has a good handle on the challenges their company faces. The key to their continued success may the makeup of their mortgage-backed securities and agency debentures, which is compromised mostly of fixed rate assets, at 51% of their total portfolio. The remaining assets consist of 38% floating-rate and a small amount of adjustable rate (11%) assets.
LT Debt/Equity:

0.05

Dividend Yield:

15.49%

P/FCF:

0.84

P/E:

7.23

Forward P/E:

6.96
In order to expand the base of low debt, high cash flow companies to choose from, we must broaden our criteria for dividend payments. When you allow for either annual or bi-annual dividend payments the screen provides several stellar international stocks. These stocks are great for a capital appreciation portfolio, with the added bonus that most of the countries represented have no withholding tax for U.S. investors.

BBVA Banco Frances, S.A. (NYSE:BFR)
Banco Frances, S.A., is the Argentine arm of BBVA Group. Click to enlarge: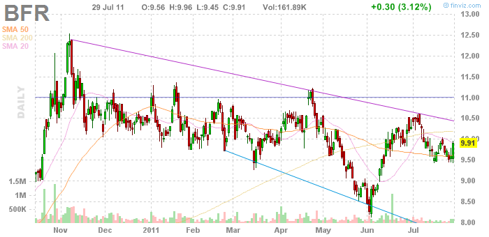 Chunghwa Telecom Company, Ltd. (NYSE:CHT)
Chunghwa is a domestic and international telecommunication business based in Taiwan. Click to enlarge: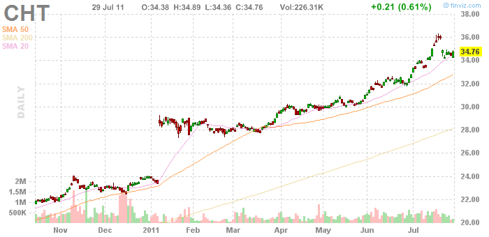 City Telecom HK, Ltd. (CTEL)
City Telecom provides integrated telecommunications services for Hong Kong via its own self-built fibre network. Click to enlarge: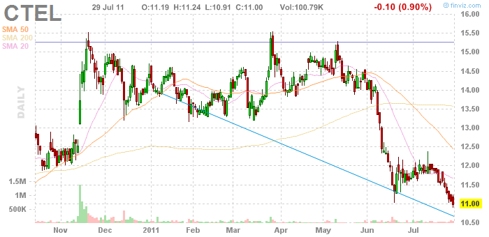 Fresh Del Monte Produce, Inc. (NYSE:FDP)
Fresh Del Monte is the same company that provides your canned and fresh fruits and vegetables under the "Del Monte" brand. Click to enlarge: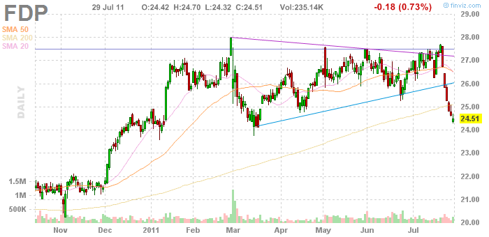 Himax Technologies, Inc. (NASDAQ:HIMX)
Himax designs, develops, and markets semiconductors that are critical components of flat panel displays. Click to enlarge: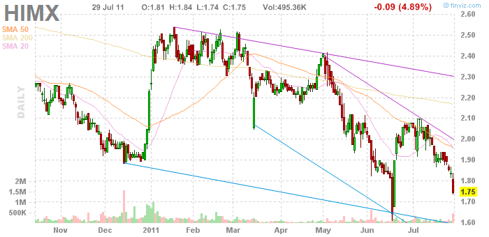 STMicroelectronics NV (NYSE:STM)
STMicroelectronics is one of the world's largest semiconductor companies. It is based in Switzerland, which does impose a dividend tax. Click to enlarge: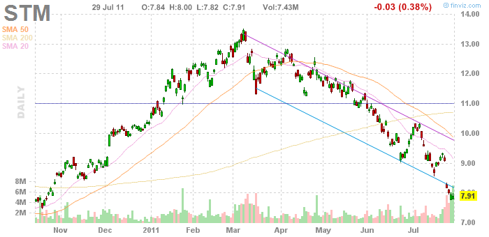 Telecom Argentina S.A. (NYSE:TEO)
Telecom Argentina is the major local telephone company for the northern part of Argentina, including the whole of the city of Buenos Aires. Click to enlarge:


What are represented above are currently well-priced stocks with low debt levels. We have not yet encountered the type of severe market sell-off which would allow even more well-qualified candidates for consideration. Therefore my final piece of advice is: be patient. The future is uncertain. Today's trading day may have the market tanking…or flying. It pays to wait to see how our debt crisis plays out. At the same time, remain nimble and steely-eyed enough to change your financial habits and portfolio if worse comes to worse.

Disclosure: I am long NLY