Royal Bank of Canada (NYSE:RY) has been a solid performer over the years. With an average annual dividend increase of nearly 12% and strong capital growth, investors in the bank have been satisfied with its performance. Even during the turbulent housing bubble collapse years, RY bounced back and continued to grow, showing strong resilience that most American banks have envied. However, recent changes require taking a second look at this bank. I recently wrote about the Canadian Housing Bubble and how this would affect RY. Surprisingly, housing was not the first asset class to fall as I predicted, but rather it has been the energy sector. As energy companies are now taking a hit due to low oil prices, the banks that finance them have also started to be affected, and RY has been no exception.
Technical Analysis of RY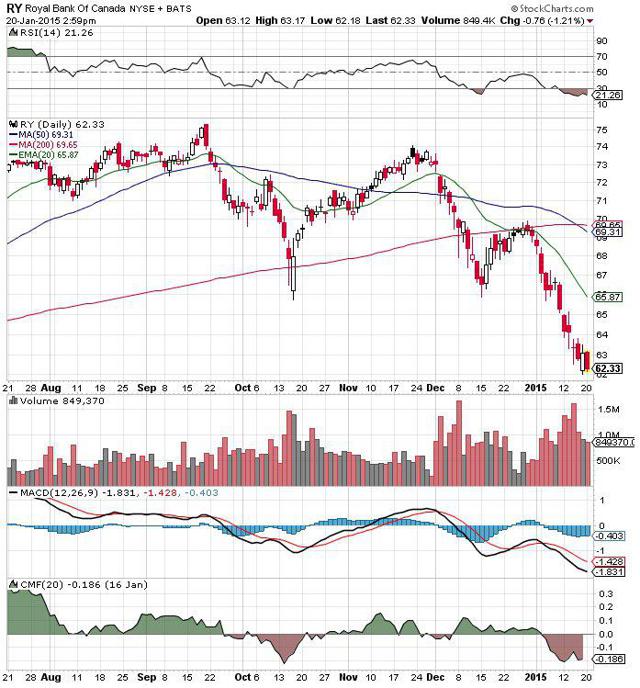 The previous 6 months for RY have been atrocious. Since bouncing around above 70 consistently, December saw a decisive break, and the stock now trades in the low 60s. We can also see that the 50-day moving average has broken below the 200-day moving average. Further, at the start of 2015 RY staged an attempted revival but met resistance at the 200-day moving average, unable to break past it. Since then the price has collapsed, and while the RSI gives reason for hope, the last time RY tried to bounce back, it was nothing more than a dead cat.
Mark Hughes, the Chief Risk Officer of RY, recently stated in the Q4 earnings call that energy loans make up about 12-13% of the total corporate banking capital markets book, which Mario Mendonca noted is about $7 to $7.5 billion. RY has a market cap of $91 billion, so this is a significant amount of money that now has a far higher risk of default.
Mark Hughes also later stated the following:
I think what I would say from a risk perspective is until you really see unemployment hit, caused by some form of lower CapEx or lower spending by the corporate side of the E&P side, you will not see that dramatic an impact or negative impact on the retail books.
So not only is that $7.5 billion at risk, but also the retail side, and of course so is housing. If this energy collapse continues, even RY is forced to admit that the outlook could get ugly quickly.
The Relationship Between RY and Energy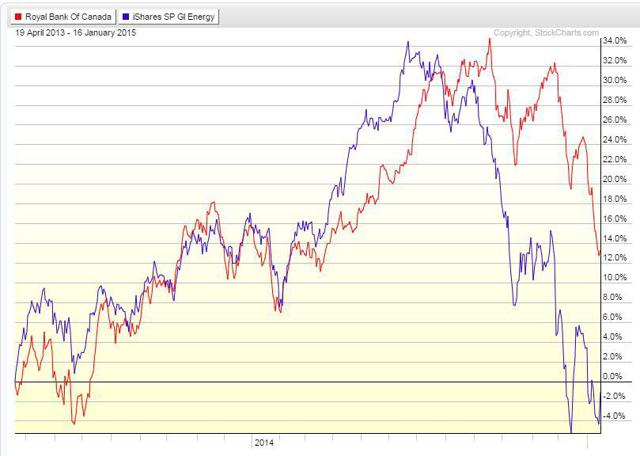 RY has shown a tight relationship with energy stocks for a while now. What is evident from this chart is that while energy stocks monitored by the iShares S&P Global Energy Sector ETF (NYSEARCA:IXC) started to slip in the midpoint of 2014 due to collapsing oil prices, RY showed a delay. Obviously RY is not totally dependent on energy companies, but the recent fall seems to be catching up with the fall in energy stocks. RY should be particularly worried because the fall in energy stocks has not kept up with oil.
Perhaps RY does not have to worry too much since it does not only make loans to energy companies. However, the oil price decline is going to affect Canada's economy, and thus my original thesis about housing still stands.
The Effect of Oil on Canada and Housing
According to the CAODC, the Canadian active rig count as of January 19th is down 30% year over year. With a decrease in active rigs comes a decrease in jobs. One of Canada's biggest driller, Suncor Energy (NYSE:SU) has already announced a $1 billion capital spending cut. The effect that the oil price decline will have on Canada's economy will be massive. This is especially relevant to RY because of the already tenuous situation of housing in the country. Defenders like to tout that Canada is more responsible with their loans, but remember that even in the US most of the foreclosures came from standard loans, not the liar loans that got so much publicity.
Further, Canadian households recently reached a new high in their debt-to-income ratio. This ratio now stands at 162.6%, which is clearly unsustainable, even without taking into consideration the deteriorating economy that Canada faces. More concerning are the comments from Bank of Canada Governor Stephen Poloz, who stated that this ratio should ease as the Canadian economy improves. It is hard to envision the Canadian economy improving while the energy sector deteriorates. This situation spells imminent despair for those who are holding loans. RY has a long, tough road ahead of itself.
Summary and Action to Take
RY has had it rough over the past 6 months, decreasing by about 15% over that time. While this decline has been warranted, there is much more pain to come. The effect of oil has not been fully realized, especially with regard to the ability of the typical Canadian to pay back his mortgage. As this continues, RY will continue to decline. Remember that during the last financial crisis RY fell nearly 65%, and Canada was able to escape the sustained housing crash that the US experienced. This time around Canada will not be so lucky, and RY will experience significant pain. At this time I would sell any holdings of RY until the stock finally craters at least 50%. For the more adventurous, RY seems like a prime short candidate, as there is still a long way to go for this Canadian bank.
Disclosure: The author is short RY.
The author wrote this article themselves, and it expresses their own opinions. The author is not receiving compensation for it (other than from Seeking Alpha). The author has no business relationship with any company whose stock is mentioned in this article.