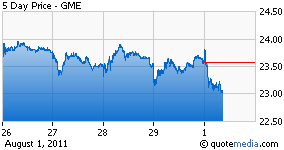 Although GameStop (NYSE:GME) stock had a strong performance this spring, the recent retail stock downturn has caused GME to lose 16.4% over the past two months. These fears are linked to slow GDP growth (currently at 1.3% annualized) as well as general market anxiety regarding B&M retailers such as Best Buy (NYSE:BBY) and Wal-Mart (NYSE:WMT). With Amazon (NASDAQ:AMZN) reporting their highest quarterly sales growth in a decade while the economy continues to slump, investors are assuming that retail stores will suffer large revenue decreases. However, GameStop has continued to grow sales and profits at a healthy pace over the past 10 years, including record revenue and EPS figures during Q1 2011. With the recent slump in GME stock price, I believe that now is an excellent time to invest in this fundamentally solid company.
Strong Balance Sheet:
GameStop currently has net cash of $146 million backed-up by annual operating cash flows of $591M in FY2011. Unlike recent B&M failures such as Borders, Blockbuster, and struggling B&M stores such as Radio Shack and Macy's, GameStop has a low debt ratio of 5.1% debt to assets and 8.3% debt to equity.
During the past 4 years, GameStop has eliminated $612.17M in debt while still increasing worldwide store growth. Under the current $500M share and debt repurchase program, GME is projected to end FY2012 with no long-term debt outstanding. GameStop has showcased financial discipline by keeping its growth in-line with available cash and has not issued debt since 2006.
Return to Shareholders:
GameStop does not currently pay dividends; however, over the past 2 years GME has repurchased $556.92M of stock at an average purchase price of under $20 per share. As GME's long-term debt approaches $0, the total cash dedicated to repurchases will likely increase (GME currently splits its excess cash between share and debt repurchases).
Over the past two years, GME's shares outstanding have been reduced from 163.8M to 141.3M which represents a 13.73% reduction (7.56% reduction from Q1-11 to Q1-12). This has allowed GameStop's EPS to grow rapidly even as retail-sector sales have struggled since 2008. As of Q1-12, GameStop still has roughly $400M available in its February 2011 authorized share and debt repurchase program.
Revenue and EPS Growth:
GameStop has grown their Revenue at a 10-yr annualized rate of 28.5% ($770.76M in 2001 to 9.47B in 2011). Their 5-yr annualized revenue growth is 25.1% (3.09B in 2006 to 9.47B in 2011).
Earnings per share have grown at a 5-yr annualized rate of 25.9% ($0.81 to $2.56). This represents strong operating income growth as well as recent share count reductions through aggressive buybacks. Unlike many debt-based leveraged buybacks, GameStop has only used cash available which insures that their financial margin of safety stays in check. Although the last FY was weak for most retailers, GME grew their revenues at 4.4% and their EPS at 17.8%. In the most recent reported quarter (Q1-12), GME posted record sales figures with a Y/Y boost of 9.5% in revenue (5.5% same store sales growth) and a Y/Y EPS boost of 17%.
GameStop's 10 year ex-cash trailing PEG is 0.28; 5-yr is 0.32.
Preparing for the Future:
While many pundits claim that GameStop's business will deteriorate due to an increase in e-commerce and electronic delivery of games, GME boosted their digital sales by 53%. This increase refers to digital products and does not include online sales of physical products.
GameStop acquired Kongregate Arcade mid-year 2010 which boasts over 45,000 free to play casual games as gives GME leverage into the casual gaming market via premium content and advertising revenue.
GameStop recently acquired Impulse Inc. and Spawn Labs in March 2011 which furthers their digital offering portfolio. Impulse is a direct competitor to online delivery services such as Steam and Direct2Drive, and although Impulse only had a 2% share of the 2010 market, GameStop's partnership has dramatically improved the quality of online product offerings. A quick visit to Impulse will showcase their strong digital library offerings. Spawn Labs is working on a cloud-based gaming delivery system that will allow gamers to play games via servers. This will allow broadband users to play high quality games without requiring a gaming-based PC. Potentially this will allow most broadband users to experience HD PC gaming via lower-end PCs which will exponentially increase PC gaming market. GameStop has also opened an online portal for U.K. customers and has announced a new in-store digital content program.
Trading Predictions:
GameStop will report their 2nd quarter results in mid-August and I am expecting a dramatic increase in Y/Y digital sales and Y/Y EPS. GameStop predicted Q2-12 EPS of $0.20 to $0.23 and full year (FY2012) EPS of $2.82 to $2.92. The caveat to this prediction is that it does not take into account future share repurchases ($400M left in authorization), so the range will likely be higher. Even at the low-end of their predictions AND discounting share repurchases, this represents a 10.2% annual growth in EPS.
GameStop currently has a short interest of 27.1% which will result in a massive share price increase (covering shorts) if GME beats expectations.
Disclosure: I am long GME, BBY.