The price for crude oil has dropped by more than 50% since peaking in June of 2014. In this article, I will go through the arguments that show strong evidence that the current oil price of below $50 per barrel is irrational in economic terms and can therefore be argued to be politically manipulated. This has huge implications on investment opportunity caused by this market distortion.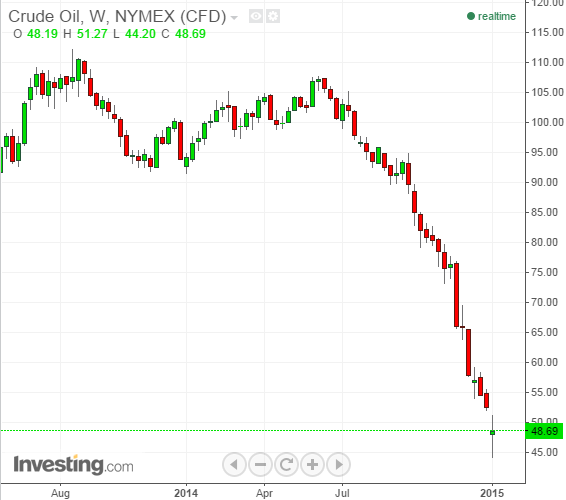 Source: Investing.com
Political Factors are Shadowing Demand and Supply Economics
Starting in February 2014, Russia's activities in Ukraine and Crimea have caused extreme tensions in the relations between Russia and Western countries. This has resulted in a variety of economic sanctions on each other at both sides.
At the same time, ISIS has extended their operations in the Middle East, namely Iraq and Syria. ISIS is also seen by many Western countries as a threat due to close connections with Al-Qaeda and a number of recent incidents in France and Belgium among others.
Both Russia and ISIS have great interests in keeping the price of oil as high as possible. Both are involved in selling crude, although with ISIS through less legitimate means than Russia.
Due to the above, oil price is a powerful tool to influence both Russia and ISIS. OPEC knows that ISIS is not good for their business. The US, with increasing energy independence through shale oil production, has also increasing leverage in determining the price of oil.
Stabilizing Ukraine is high on the agenda of Europe and the US. To put it shortly, a new Cold War would not be good for business anywhere, especially in the West, as China seems to be the only real beneficiary of this struggle.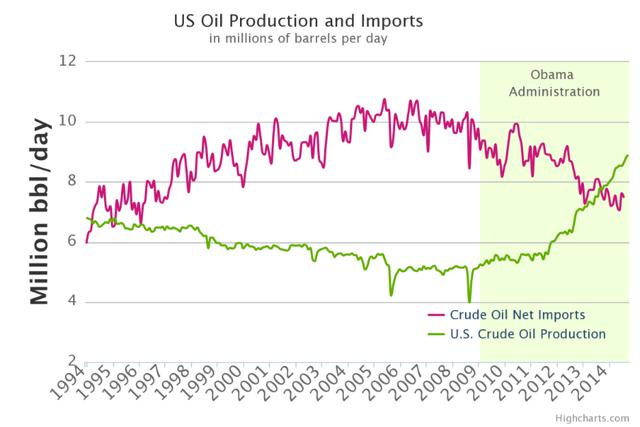 Source: Energy.gov
Some would argue that the US would not want to danger the profitability of their shale producers, especially when considering the outstanding debt levels and the possible domino effect that defaults would have on financial institutions.
However, I argue that for the US government, all this is just calculated risk.
Firstly, leaving shale oil 'in the ground' is like money in the bank. The oil will not disappear and technology will develop further to make extraction cheaper.
Secondly, restructuring of the shale industry will make the industry more efficient, hence making the break even price for US shale oil lower.
Thirdly, the government knows that the prices will return to normal levels instantly when the supply surplus is corrected. It is worth noting that the current surplus is only around 1% of the total oil produced, according to EIA. This is approximately 1 million barrels per day.
The Saudis alone produce around ten million barrels per day, over 10% of the global production. We can assume that by cutting production by around a million barrels per day, which is 10% of the Saudis' production, the surplus would disappear. This would correct the price level back, probably to around 80 USD per barrel. The economic benefits are clear: 60% increase in price with 10% lower volume.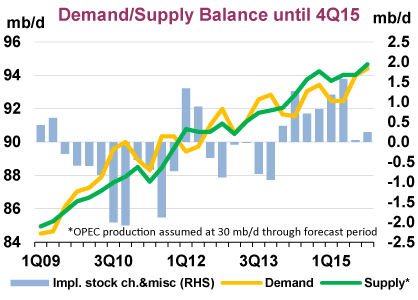 Source: IEA.org
With such a small correction in production volume, it just does not seem convincing that Saudis want to protect their market share by not cutting volume.
The facts discussed above suggest a political motive in keeping oil prices low by both the US and OPEC. As we all know, the Saudis and the US have mutual understanding on policy since the 70s, when the Petrodollar deal was made.
Economic Factors Always Win in the Long Term
The demand for oil is probably not going to decrease any time soon. With alternative energy sources we can start controlling our consumption of oil, but currently oil is a critical part of our energy sources. Oil is still the basis for the modern world and material well-being.
As long as the total population is growing and living standards are improving, oil consumption will increase. We shall see how quickly we can switch to other energy sources, but currently it seems like a long time to replace oil.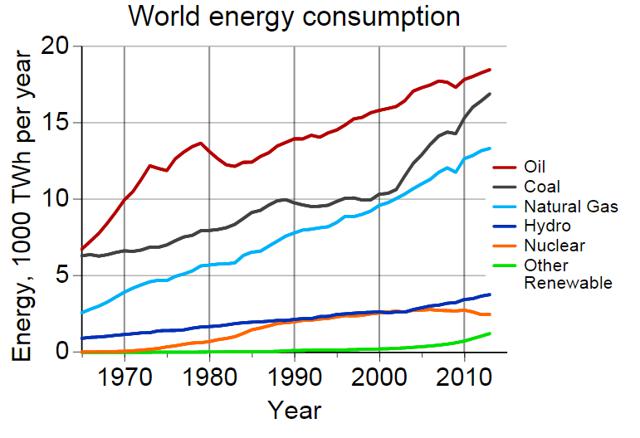 Source: "World energy consumption" by Con-struct
Another fact that suggests that we are hooked on oil is that economic crises do not seem to have a big impact on oil consumption. Even huge swings in oil prices do not impact the total consumption. This is because there simply is no alternative.
As the current megatrends of population growth, urbanization and improving standard of living are in favor of increased oil consumption, so need be the investments for further oil production capabilities. Even though oil can be produced with a break even point of as low as 20 USD per barrel, many oil producing countries have government budgets to worry about - and not many other exports to replace oil income.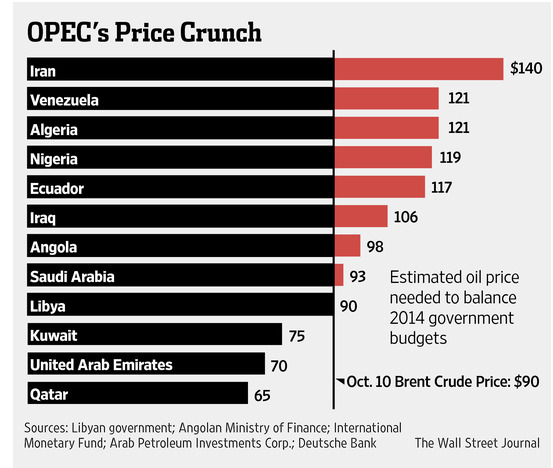 Source: Wall Street Journal
In the case of Russia, according to The Wall Street Journal, Russian budget breaks even when oil price is 98 USD per barrel. Many oil producing countries need oil prices even higher than Russia. Most of the OPEC countries are suffering with oil prices below 65 USD per barrel.
In the US, shale producers and their financiers, which is over half of all US oil producers, want to be seeing oil prices above 80 USD per barrel.
Time Frame for the Correction in Oil Prices
When the pieces of analysis are put together, there is a clear case for higher oil prices. Budget cuts do not seem realistic as a long term solution nor will technology develop fast enough to replace oil or current production techniques.
Trying to guess the exact time for the market bottom is gambling. So from an investment strategy point of view, spreading your investments over a period of time is wise.
Personally, I expect to see a shock correction in oil prices within a year. A safe assumption for a maximum time frame could be 36 months. In other words, I base the investment decisions outlined below on the assumption that crude oil price will return to 80 USD per barrel within a maximum of 3 years.
Expected return within this time is expected to clearly exceed general index gains.
Some oil traders are currently storing millions of barrels of oil at sea. In the big picture, these volumes are irrelevant and are not a significant buffer to have a real effect on the time frame.
Investment Opportunities and Strategy
Based on the assumption that oil prices will correct back to normal levels within 3 years, I have chosen a number of oil related instruments which give a diversified, but low cost and high upside exposure to the oil market. Another important factor was also to find companies that have the ability and resources to survive even a prolonged slump in oil prices. I leave checking the company specific key figures to each reader.
I would advise against leveraged instruments. Further volatility in the price of oil as well as the general market is to be expected. Unfortunately leveraged instruments play against the investor in this kind of environment. If you have to leverage, do it the old school way of an investment loan.
Due to the suspension of many investment projects by oil companies, there will be a race to catch up with the 'pre-crash' production capability plan. Currently, production capability is not being invested in as was before the price crash.
With increasing global demand, as shown above, there will be the eventual need for the exploitation of new sources for oil. This will provide upside for oil extraction technology companies, of which more below.
From oil companies, I would favor Chevron (NYSE:CVX) and possibly BP (NYSE:BP) due to their strong financial positions, as well as high dividend yield. ExxonMobil (NYSE:XOM) is probably one of the safest bets in this sector, however, with a lower dividend yield and upside in the stock price.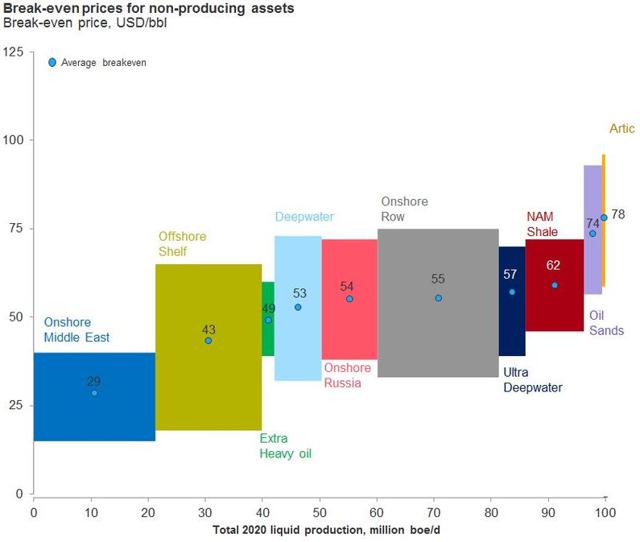 Source: Rystad Energy
In terms of companies that provide services to oil companies, I find the deepwater and ultra deepwater drilling related companies the most interesting. If the assumption is that the oil price will return to around 80 USD per barrel, this sector would return to profitability quickly. Many of these companies have been hit very hard by the market, losing up to 75% in value, like Seadrill (NYSE:SDRL), make them very interesting for investor with higher risk tolerance. Another interesting deepwater drilling company is Transocean Ltd. (NYSE:RIG) with less gearing compared with Seadrill.
In addition to direct stock picking, a good low cost diversification instrument is the ETF. An interesting one with low costs (Total Expense Ratio, TER) and favorable holdings portfolio is the iShares US Oil Equipment & Services ETF (NYSEARCA:IEZ) with a TER of 0.43% per annum. Another strength for this particular ETF is that two of it's biggest holdings are Schlumberger Limited (NYSE:SLB) and Halliburton (NYSE:HAL) with weighting of 20.85% and 9.25%, respectively. These companies are in a very strong position to both surviving the price slump, as well as benefit from opportunities arising during and after the slump.
In terms of countries benefiting from low oil prices, China has already seen a rally due to falling oil prices. It may be time to take the profits from such ETFs as Deutsche X-trackers Harvest CSI300 CHN A (NYSEARCA:ASHR) and switch to other emerging areas. One possible emerging market with attractive valuations is Indonesia. Diversified exposure can be gained through iShares MSCI Indonesia (NYSEARCA:EIDO).
An obvious beneficiary of rising oil prices would be Russia. Exposure to that market provides for example Market Vectors Russia ETF (NYSEARCA:RSX) with a good portfolio and cost structure. The Norwegian index of Oslo Stock Exchange is also very oil heavy, which provides an opportunity through a suitable low expense index fund.
Risks
Diversifying to other countries, such as Russia and Norway, may be justified due to speculation on the demise of the Petrodollar. There are already signs that Russia may be preparing to abandon US Dollar as their oil trading currency. If this was to happen, shocks would follow and dollar would suffer, but then, owning solid companies outside of the US would not be a bad idea.
On the other hand, China, as well as many of the oil producing countries hold a lot of US dollar denominated bonds. They would not be too happy about a crashing US dollar. Therefore they need to stay loyal to the Petrodollar arrangement.
Another risk is that there really is a slump in aggregate demand in China, Europe or possibly globally. This is something that has to be considered on global level and what is the real effect on the total demand for oil.
As discussed above, the demand for oil is not decreasing any time soon. There is always growth somewhere around the globe and even though consumption of oil has probably peaked in many developed economies, it certainly has not peaked in the developing economies that still see significant population growth and improving living standards with limited access to alternative energy technologies.
Finally, there is the possibility of more conflict. Widespread conflict however seems unlikely. Local conflicts may have a negative impact on overall sentiment, but depending on the geography, this may also be trigger for higher oil prices. In any case, in case of a widespread disaster, physical gold might be the only asset worth holding.
To sum up, risks for further downside seem limited. Of course, oil prices may still continue lower, but this can be countered by spreading investment transactions over a period of many months.
Conclusion
The global demand for oil is not going to decrease nor is there a significant surplus of oil at this time. The price of oil currently is below break even for most oil producing countries, as well as companies. This suggests a political distortion in the market. The need for further investments in oil production capacity is mounting, as projects are suspended due to the artificially low oil price.
Starting to execute a diversified investment plan with purchases at regular intervals (i.e. periodic deposits) during the next 6 to 12 months is justified. The strategy is not without risk, but with a well thought out diversification of companies, geographies and currencies, investors can limit the risk while still keeping the upside potential very attractive.
Disclosure: The author is long SDRL, IEZ, CVX, RSX, EIDO. The author wrote this article themselves, and it expresses their own opinions. The author is not receiving compensation for it (other than from Seeking Alpha). The author has no business relationship with any company whose stock is mentioned in this article.