Co-Written by Jay Frey
With the coming end of the world on Tuesday, why not make a bet on volatility? For starters, you need the right vehicle to achieve your delusions of grandeur. Here we will focus on the material differences between trading VXX (iPath® S&P 500 VIX Short-Term Futures™ ETN) and VIXY (ProShares VIX Short-Term Futures ETF). After we understand the right tool, then we can focus on why trading it is for tools.
While most people still don't understand what an ETF is (really, I am not kidding), an ETN is a level below complete ignorance. VXX is actual unsubordinated debt floated by Barclays. While I am not that concerned about default, there is no underlying trust that holds assets to cover your position should the firm go belly up. The big deal about ETNs centers around their currently favorable tax treatment. Because this particular ETN pays no interest, you shelter any current income from the underling index it tracks. Only when you sell do you incur a capital gain or loss. This doesn't affect traders or IRA accounts, but holding an ETN for over a year in a taxable account could transform current income into long term capital gains. Keep in mind that this is a big deal to certain strategies like covered call writing, exotic exchanges with tax withholding rules, or option and futures based strategies like trading the VIX. My main interest in ETNs is the easy access to exotic or illiquid assets or strategies.
In this case VXX is designed to give "exposure" to the S&P 500 VIX Short-Term Futures™ Index TR. We say exposure with a dubious grin. VIXY simply states that it is designed to match the movements of the same index. Wow, I wish I had the ability to lie to the public. They must have a special exemption that allows them to say one thing and have their product do something else. Before we get onto that, let's at least pick the better of these two bags of sand.
It all comes down to tax. VXX is easy. You buy and sell with clear tax treatment. VIXY is a mess. Structured as a partnership, you will get a K-1 the following year. So, if you want to trade frequently, you will go crazy at tax time with VIXY. Some people might think there is an advantage to owning a fund that trades futures. Why? In most cases futures are given a 60/40 long and short-term capital gain treatment, regardless of the time period. This is called a section 1256 contract exemption. The Dodd-Frank Wall Street Reform and Consumer Protection Act excluded most swaps from the rule going forward, which won't be an issue for most plain vanilla strategies. But, the writing is on the wall that these preferential treatments, just like the tax advantages of ETNs, are up to the whims of Congress. To that end I believe the 60/40 treatment is material, but you will see that holding onto volatility products like VXX and VIXY is a losing proposition.
Let's just get down to business and take a look at charts for two year (Figure 1) and one month returns (Figure 2). Sure, VXX and VIXY are very close in their movements, but close to what? Certainly not the actual VIX. In terms of deciding which to trade, tracking error between the two products are essentially nil. But nil is what your return will be over time if you sit around in a static position too long waiting for a biblical flood.
Figure 1 - Two Years of Losing . . .
click on images to enlarge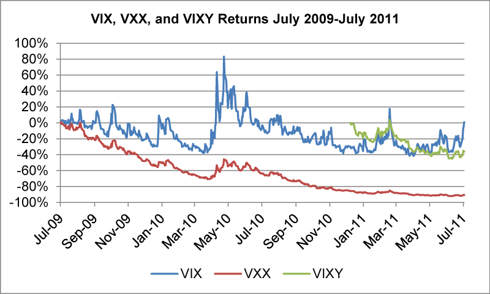 Figure 2 - One Month of Losing . . .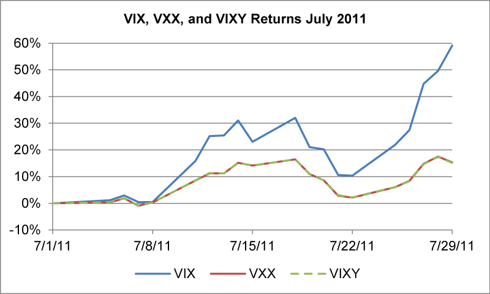 The charts tell the whole story. Case closed. If you want to play volatility for a day or so, good luck. I trade VIX options on the CBOE and they are wicked even for pros. My opinion is to use the VIX as an incredible indicator to help your other positions. Just because you can trade something doesn't make it worthwhile.
Disclosure: I have no positions in any stocks mentioned, and no plans to initiate any positions within the next 72 hours.