Dendreon (NASDAQ:DNDN) is scheduled to report second quarter results on August 3 and will hold a conference call at 4:30 to discuss results. The overwhelming factor to watch for in the second quarter is the level of Provenge sales. Based on management guidance, Wall Street is looking for about $55 to $65 million of sales in the 2Q and my expectation is that sales will come in at about $60 million. I also expect management to reiterate full year guidance for sales of $350 to $400 million. I am projecting 3Q sales of $99 million and 4Q sales of $188 million which brings my full year estimate in at $375 million. I am not expecting much new information to move the stock price on this call. Management might provide metrics on account penetration and product usage that could help firm up full year projections, but I don't think this would have much of an effect on the stock price. I think that the performance of the stock into late this year is almost totally dependent on reaching sales guidance for 2011, which is back-end loaded.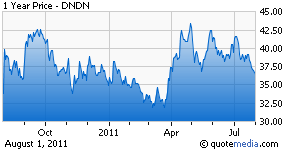 During the second quarter, favorable developments on reimbursement and manufacturing put these concerns in the rear-view mirror. As year-end approaches, focus will shift to estimates for 2012 sales performance, which are highly dependent on reaching the back-end loaded sales goal for 2011 that will establish a base for entering 2012. Wall Street analysts always have different judgments on new product launches, but on Provenge there seems to be much more divergence than usual with vocal bears and bulls. I continue to be a buyer of the stock. Please refer to the ten reports that I have written on Dendreon this year for more specific information.
Dendreon had a very encouraging second quarter in regards to reimbursement issues. The CMS issued its final coverage decision on Provenge reimbursement and the company received a product specific Q code effective July 1, 2011. Concerns about reimbursement did have a negative effect on physician prescribing in the first half of the year. At a list price of $31,000 per dose and three doses per course of therapy, accounts receivable can build very rapidly. Now accounts can have a very high level of confidence that it they prescribe Provenge on label, it will be paid for. In addition, the Q code should speed up the reimbursement cycle.
On another positive note, the Los Angeles manufacturing facility has been approved and the Atlanta facility should be approved in late August. This is a little faster than I expected. In terms of manufacturing capacity, by the end of 2Q, 2011 or sometime in 3Q, 2011, the original manufacturing facility in New Jersey should have 48 workstations. This would be four times its capacity at the end of 2010. The Atlanta and Los Angeles facilities will ultimately have 36 workstations. They will be brought on in a staged fashion so that by the end of the year, Dendreon should have 120 workstations in the three plants. This is 10 times as large as the 12 stations in New Jersey that were operational at the end of 2010. The company has been supply constrained since launch, but it now has ample capacity to easily meet and exceed its sales guidance.
Disclosure: I am long DNDN.