The S&P 500 ($SPX) and the broader Russell 3000 ($RUA) dropped 0.4% on Monday, August 1st, 2011. Of the 4,600 stocks that were tracked, the top 25 losers that closed above $1 at market-close on July 28th were analyzed to determine if they would continue going down, or if they would reverse their moves going forward. The following are the best buy and sell ideas based on that analysis:
Sell Amerigroup Corp. (AGP): AGP is a multi-state provider of managed healthcare services through state sponsored programs, including Medicare, Medicaid, Children's Health Insurance Program (CHIP), and Family Care. CHIP provides healthcare coverage to children not otherwise covered by Medicaid or other insurance programs. Family Care extends coverage to uninsured adults and parents of CHIP or Medicaid-eligible children. AGP shares traded down 12.6% on Monday, following an 18.4% plunge on Friday, but are still up 9.4% YTD.
The company is reeling from a rare back-to-back one-two punches delivered, first when it reported a disappointing June quarter report on Friday partly due to a one-time charge associated with a retro-active premium adjustment in Georgia, and then again, yesterday when Medicare announced an 11% reduction in rates for its skilled nursing facilities, effective next fiscal year. Furthermore, the company anticipates rising health care cost trends going forward.
AGP trades at a forward 10-11 P/E, still 20% to 30% above its bottom-level historic P/E range, while earnings are projected to fall from $5.40 in 2010 to $4.51 this year. The shares have fallen 35% in the last eight trading days, so it is conceivable that they may stage a technical rebound soon, but we would look to sell into any such rally. Furthermore, it should be noted that high alpha or guru funds that have a long-term track record of beating the markets handily have been bearish on the company, holding only 0.08% of its shares after cutting $16 million from its prior quarter $19 million position in AGP.
Buy Sohu.com Inc. (NASDAQ:SOHU): SOHU is the third largest internet portal and a leading brand in China. It offers Chinese language web navigational and search capabilities, twelve main content channels, Web-based communications and community services, and a platform for e-commerce services. Its shares fell 12.2% on Monday, and are up 24.6% YTD.
We view Monday's selloff as an opportunity to buy into this high-growth internet portal in China. First, the June quarterly report was mostly good as both revenue and earnings beat estimates handily, $198.7 million and $1.21 versus the estimate of $189.4 million and $1.12, and it also guided higher for the September quarter to $225-$230 million and $1.20-$1.25 versus estimate of $209 million and $1.24.
The only negative in the report was margins, as earnings growth at 26% year-over-year for the June quarter did not keep pace with the 36% revenue growth, and the September quarter guidance also implies a 28% revenue growth year-over-year and earnings growth of only 5%-8%. However, shares of SOHU trade at a forward 14 P/E, in the bottom one-third of its historic P/E range, while earnings are projected to increase at 15% compounded rate.
Furthermore, it also trades at a steep discount to its peer Sina Corporation (NASDAQ:SINA) that trades at forward 58 P/E while earnings are projected to increase only slightly at 3% compounded rate from $1.73 in 2010 and $1.84 in 2012.
Shengkai Innovations inc. (NASDAQ:VALV): VALV is a Chinese manufacturer of ceramic valves and high-tech ceramic materials for electric power, petrochemical, metallurgy, and environmental protection industries. Its shares were down 10.3% on Monday and are down 63.4% YTD. There has been no recent news on the company, but the stock is in general volatile with 10% swings not at all uncommon. It is down 80% from its highs in 2010 while revenue and earnings growth is strong at 83% year-over-year in revenue and 69% in earnings for the most recent reported March 2011 quarter. This is because the company has been beset with fraud allegations, with questions being raised if it is even a legitimate business and about the reputability of its auditor BDO China Li Xin Da Hua CPA Co. and its investment relations firm named Grayling.
Sell Miller Energy Resource (NYSE:MILL): MILL is engaged in exploration, production and drilling of oil and natural gas in the U.S. It primarily holds interests in approximately 600,000 lease acres located in the Cook Inlet area of Alaska; and 54,500 acres of lease holdings located in the Appalachian Basin, Tennessee. Its shares were down 10.4% on Monday after a steep 23.3% dive on Thursday followed by another 18% dive on Friday.
MILL was down last week on concerns over a negative Street Sweeper article on Thursday that among other things accused the company of over-inflating the value of some Alaska energy assets that the company acquired from its actual worth of $4.5 million to $350 million on its books.
Furthermore, the Street Sweeper article also cast significant negative doubts on the CEO Scott Boruff's and former CFO Troy Stafford's ethics, and it expressed concern over the company's modest cash resources given significant legal liabilities. For those interested, the Street Sweeper article linked above details all the allegations. We, however, go by the old adage of, "Where there is smoke, there is (probably) a fire."
From our viewpoint, with thousands of companies trading in the U.S. public equity markets, there are simply far too many other opportunities to consider in preference to what would be putting your entire capital at risk if these investigations about MILL turn out to be true. In our daily coverage of big movers on Friday, we advised that we would steer clear of this stock. We stand by that viewpoint.
L&L Energy (NASDAQ:LLEN): LLEN is engaged in coal mining, washing, coking and wholesaling in Yunnan and Guizhou provinces in southwest China. It is incorporated in the State of Nevada with a corporate office located in Seattle, Washington. The company conducts its business operations in China through its Chinese subsidiaries, Kunming Biaoyu Industrial Boiler Co., Ltd. (KMC), a coal consolidating and wholesale business, and L & L Coal Partners, which has a 60% equity interest in two operating coal mines, the DaPuAn Mine and the SuTsong Mine, which are both located in the Yunnan Province. Its shares were down 15.9% on Monday and are down 61.4% YTD. The company reported disappointing earnings of 7c for the April 2011 quarter, down 84% year-over-year compared to the 45c in earnings reported in the April 2010 quarter, due to slow down in mining production to enforce government safety standards.
Marshall Edwards Inc. (MSHL): MSHL is an Australian developer of drugs that target components in cancer-cell survival and proliferation to treat various cancers. It is majority owned by NVGN, an Australian developer of pharmaceuticals targeting degenerative diseases and disorders via dietary supplements based on plant compounds known as isoflavones that the company believes offers the real prospect of not only treating, but also preventing, the onset of the common degenerative conditions. MSHL shares fell 12.4% on Monday after a strong 180% intra-day rise on Wednesday of last week.
MSHL shares shot up Wednesday on the announcement by MSHL of the publication of its pre-clinical study of NV-128 in chemotherapy-resistant ovarian cancer stem cells. The study illustrated that NV-128 can specifically target certain ovarian cancer stem cells that are resistant to chemotherapy and induce cell death in a pre-clinical setting, thereby providing sufficient proof of concept to warrant further study beyond the pre-clinical setting and on ovarian cancer patients.
We indicated earlier in our review of last week's daily top gainers that MSHL shares would give back most of the gains from the strong rally on Wednesday. This is because, while the drug if successful does target a large market (over 82,000 women in the U.S. are diagnosed with gynecologic cancer each year), and the company even with the surge was still trading at less than $25 million in market capitalization, we believe that it is too early to speculate on this position. If all goes well, the company plans to file an Investigational New Drug (IND) application to the U.S. Food and Drug Administration (FDA) by the first quarter of 2012. On average, only one in five biotech drugs that enters phase one trial is eventually approved for marketing, and the average cost of development is $800 million, and it takes on average five to seven years after the IND to reach commercialization.
Health Care REIT Inc. (NYSE:HCN): HCN is a self-administered real estate investment trust (REIT) that invests in healthcare and senior housing facilities located in 41 states. The company's investments are typically structured using operating leases or mortgage loans, which are normally secured by guarantees and/or letters of credit. Its shares fell 8.5% on Monday and are up 1.4% YTD. HCN was down Monday, along with many of its peers, including Healthcare Realty Trust (HRT), HCP Inc. (NYSE:HCP) and Omega Healthcare Investors Inc. (NYSE:OHI), on news that Medicare will cut payment rates to skilled nursing care facilities by 11% in the next fiscal year.
Five Star Quality Care (NYSE:FVE): FVE operates 212 senior living facilities including 172 assisted and independent communities and 40 nursing homes. Like HCN, its shares were also impacted by the Medicare cut in payment rates to skilled nursing facilities by 11% in the next fiscal year, and were down 10.1% on Monday and are also down 37.1% YTD.
Omega Healthcare Investors Inc. (OHI): OHI is a self-administered real estate investment trust that invests in healthcare facilities, primarily long-term care facilities across the U.S. Like HCN and FVE, its shares were also down on cut in Medicare payment rates by 11% to skilled nursing facilities, and the shares were down 9.3% on Monday and are down 20.6% YTD.
Table (click to enlarge):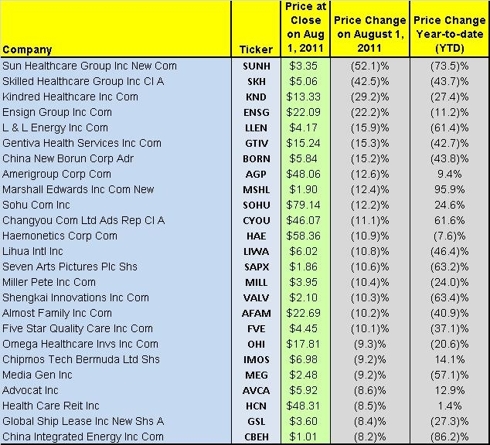 Credit: Historical fundamentals including operating metrics and stock ownership information were derived using SEC filings data, I-Metrix® by Edgar Online®, Zacks Investment Research, Thomson Reuters and Briefing.com. The information and data is believed to be accurate, but no guarantees or representations are made.
Disclosure: I have no positions in any stocks mentioned, and no plans to initiate any positions within the next 72 hours.
Disclaimer: Material presented here is for informational purposes only. Nothing in this article should be taken as a solicitation to purchase or sell securities. Before buying or selling any stock you should do your own research and reach your own conclusion. Further, these are our 'opinions' and we may be wrong. We may have positions in securities mentioned in this article. You should take this into consideration before acting on any advice given in this article. If this makes you uncomfortable, then do not listen to our thoughts and opinions. The contents of this article do not take into consideration your individual investment objectives so consult with your own financial adviser before making an investment decision. Investing includes certain risks including loss of principal.