One of my favorite investment themes for the next 50 years is water. Much has been documented about the current and coming strains on the world's water supply. Nowhere is the problem more severe than in China, where one of the world's premiere economic engines is at risk of being crippled by water restraints. Even in the U.S., we are currently experiencing a record drought.
What I am interested in is whether water is yet an idea worthy of investment. Concerns about a coming water shortage are nothing new, as evidenced by this 40-year-old Army study on water supply shortages. But while water is a very interesting conceptual investment theme, it hasn't translated into outperformance in recent years. Below is a four-year chart of the three most common water ETFs (PHO, PIO and CGW) versus the S&P (SPY as my proxy). PHO has been the best performer, though its lead may simply be a product of its slightly lower yield than that of PIO and CGW. Regardless, as we can see, water ETFs have offered little in the way of diversification from a straight S&P 500 index.
[Click all to enlarge]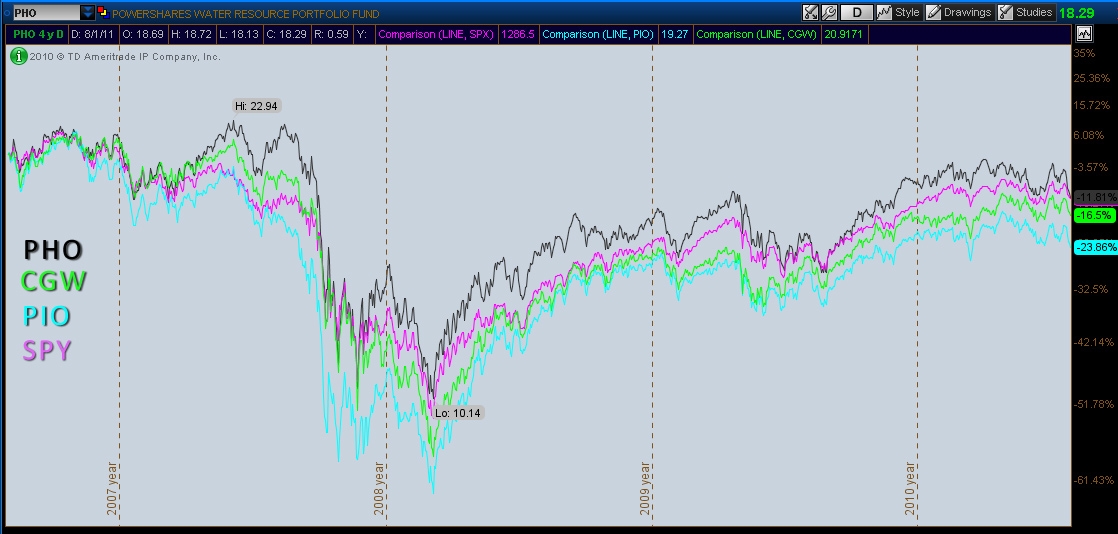 Though water would seem to be a commodity, perhaps even the most foundational of all natural resources, the water ETFs have significantly underperformed both broad commodities (DBC as my proxy) and agriculture (DBA as my proxy).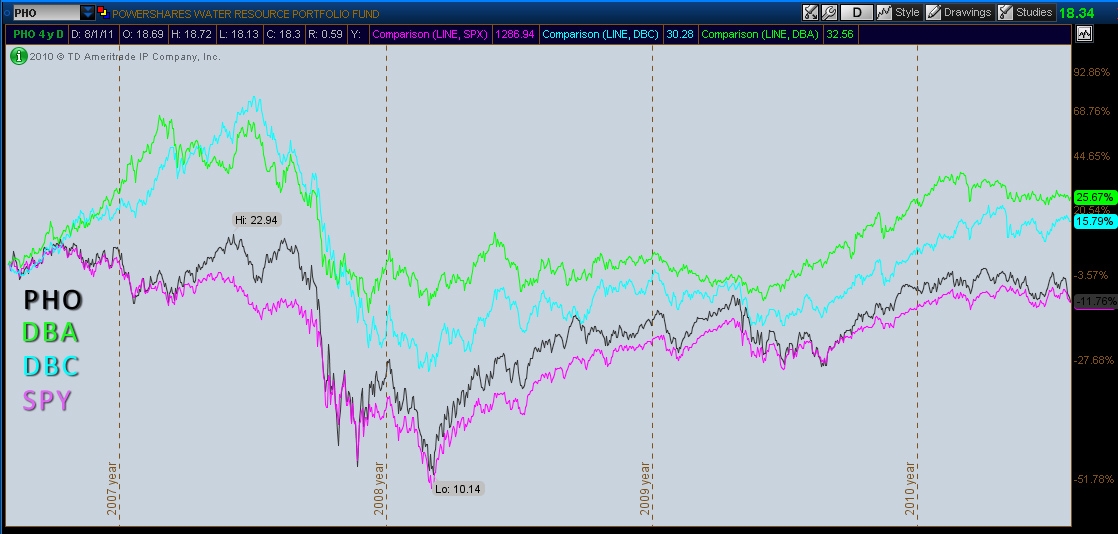 Finding an investment vehicle that outperforms and/or pays you to wait while the theme develops has been difficult. I would speculate that getting water into the futures market would be key to making water an investable asset, and there has been some speculation that that day is coming, like this quote from William Buiter:
I expect to see a globally integrated market for fresh water within 25 to 30 years. Once the spot markets for water are integrated, futures markets and other derivative water-based financial instruments — puts, calls, swaps — both exchange-traded and OTC will follow. There will be different grades and types of fresh water, just the way we have light sweet and heavy sour crude oil today. Water as an asset class will, in my view, become eventually the single most important physical-commodity based asset class, dwarfing oil, copper, agricultural commodities and precious metals.
Water futures aren't upon us yet though, so is it time to invest in something like PHO? There are some technical indicators that it might be getting close to a low-risk high-reward position relative to SPY. As priced in SPY, PHO has been beaten down over the last three years and may be nearing a supportive price ratio.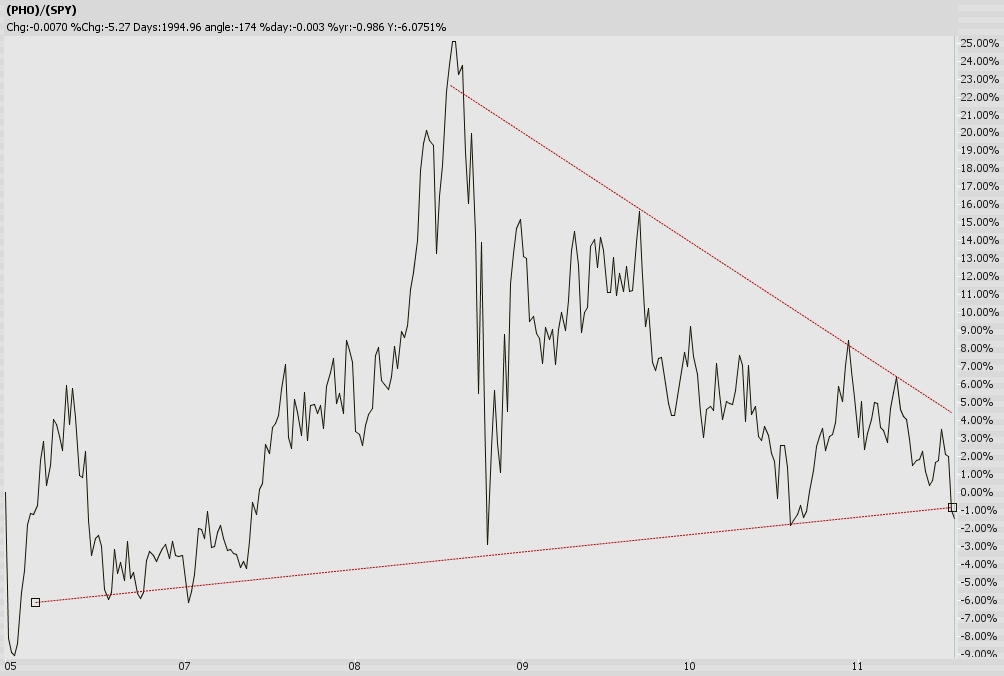 PHO has also pulled back to a supportive trendline that runs from the 2009 bottom through the current price (in a linear chart).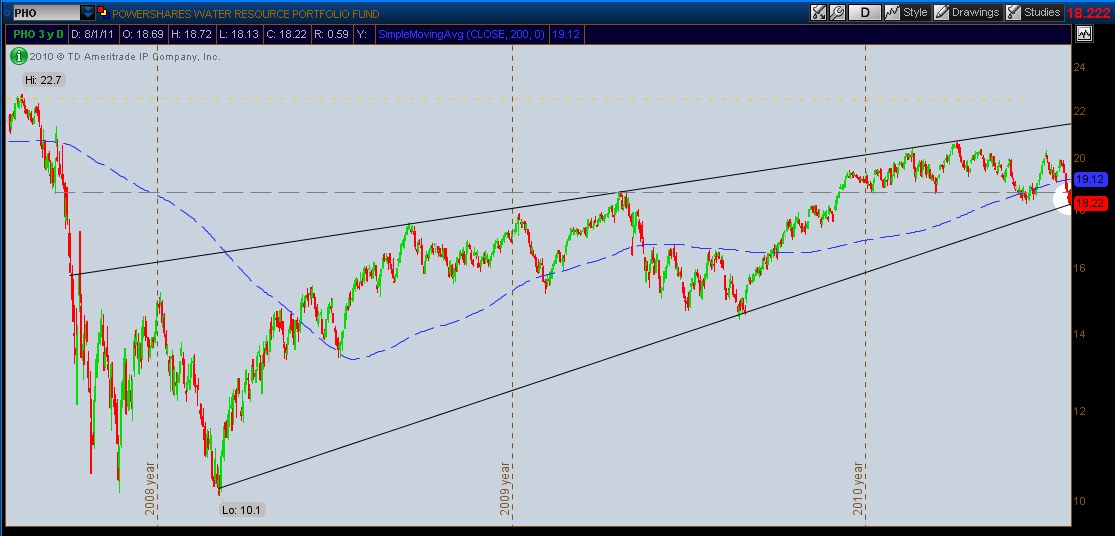 It's worth noting that the current price is below the 50- and 200-day moving averages, which are clustered and close to forming a bearish "death cross." With both PHO and the S&P at critical technical support, it may be time to considering entering a long position with a fairly tight stop in place, should the bearishness accelerate from here.
Disclosure: I have no positions in any stocks mentioned, but may initiate a long position in PHO over the next 72 hours.