It would be fair to say that a perfect storm has hit the offshore drillers during the past twelve months. Falling oil prices, oversupply and now lack of demand have hit the sector hard. Seadrill Ltd (NYSE:SDRL) has been forced to scrap its dividend, Transocean LTD (NYSE:RIG) has taken huge write-offs, so has ENSCO PLC (NYSE:ESV) and Diamond Offshore Drilling Inc (NYSE:DO), but Noble Corp plc (NYSE:NE),Rowan Companies PLC(NYSE:RDC), Atwood Oceanics, Inc. (NYSE: ATW) and Ocean Rig UDW Inc (NASDAQ:ORIG) have all proved relatively resilient in the current environment.
The reason for this resilience is company specific. Noble for example was able to spin off its low-spec drilling business into a separate entity, removing re-contract risk. Rowan entered the ultra-deepwater drilling market at just the right time and the company's fleet of four new UDW drillships, all contract at high rates for the next few years, are helping to keep the group moving forward while other struggle. Similarly, as I explained here, Atwood has one of the newest fleets in the business with a strong backlog and strong balance sheet, making the company another strong pick for recovery.
However, the fact remains that all of these drillers are now trading at a discount to net asset value, as the market believes that there could be further pain to come.
This is why investors need to beware of value traps.
Further to fall
There is already plenty of evidence to show that day rates could fall further. Rig utilization data from rigzone.com shows utilization rates across the sector have fallen to a low not seen for at least twelve months. In the case of jackups, utilization rates have fallen to a three year low:

The long-term chart: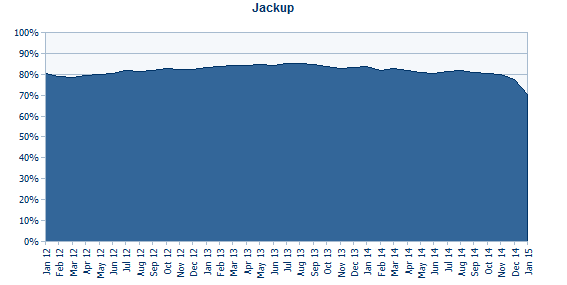 This decline in utilization is a result of the falling oil price, the same trend can be seen in the land rig market. Unfortunately, we also know, using data supplied by Rowan that the next three years will see a surge in newbuild jackup deliveries to the market.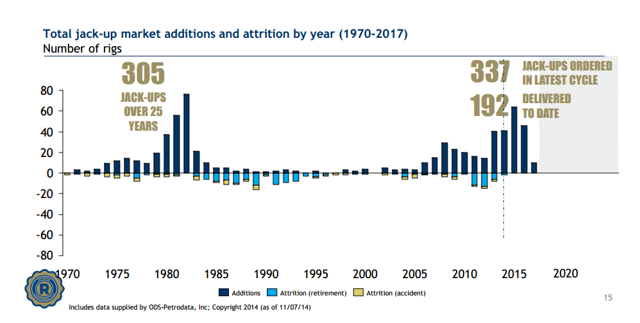 Investor Presentation November 2014
There's a chance that with utilization and day rates falling, some of the more speculative deliveries could be scrapped. But the point remains, utilization is falling in the market, indicating oversupply and even more new builds are set to hit the market within the next few years, only increasing the oversupply issue. Dayrates could fall much further.
Unfortunately, it's not just the jackup market that's oversupplied and under pressure. Rates in the UDW drillship market are also collapsing, along with utilization. From the IHS Offshore Rig Day Rate Trends report: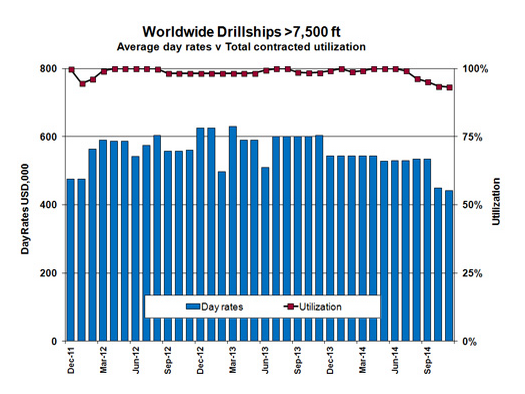 It does not take much to put two and two together here. Rigs and drillships are struggling to find customers and the longer the oil price remains depressed, the worse the situation will become.
This data all points to one conclusion; there's plenty of evidence to support the argument that offshore drillers are a value trap.
Several options
There are three main points that could affect the drillers here:
Falling utilization means dayrates and earnings will fall further across the sector. Companies with large numbers of units coming off contract this year will be the most affected.
Older units will be scrapped, goodwill will be written off and write-downs will hit the sector erasing book value and shareholder equity.
Falling earnings will push drillers to break existing debt covenants and companies will struggle to find lenders willing to lend for newbuilds. Bankruptcies, rights issues or low quality lending (high interest rate) could follow.
Now, more than ever it's important to understand the fleet composition of these drillers. Additionally, balance sheet street and contract backlog needs to be taken into account, not all drillers are created equal.
For example, even though the jackup market is set to see a huge influx of units over the next few years, thanks to Ensco, here's the current situation of these units: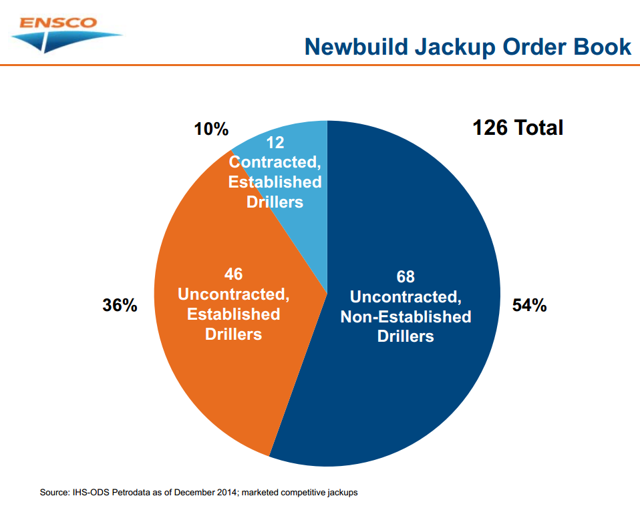 Source: Ensco Goldman Sachs Global Energy Conference
The majority of the newbuilds are un-contracted, but established drillers have been able to contract out more units than new peers, with less experience.
So, experienced drillers, with new fleets and strong balance sheets are the best picks if you're looking for value in this market. There are only really two options here, Atwood and Ensco.
The best picks
The argument for Atwood and Ensco can really be present in five charts, taken from corporate presentations by the two drillers, as well as Seadrill.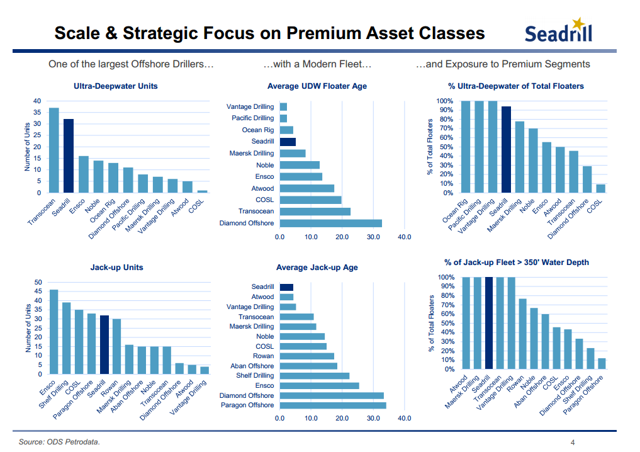 Firstly, from Seadrill, fleet compositions. Atwood and Ensco may not have the best, all-round fleets in the business but Atwood has the youngest and most capable jackup fleet. Ensco has the largest jackup fleet of its peers group but this fleet has no particular selling point, the fleet is middle aged and only half is capable of ultra-deep-water drilling.
However, Ensco has consistently won awards for its quality of service and safety.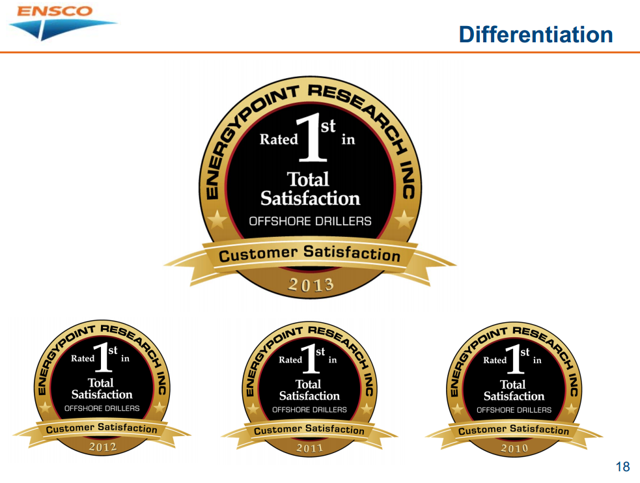 This high level of service puts Ensco ahead of its peers, so the older fleet is not necessarily a concern. Then there are margins to consider. Not only has Ensco been able to achieve award-winning service but it has also been able to do this with some of the highest operating margins in the peers group.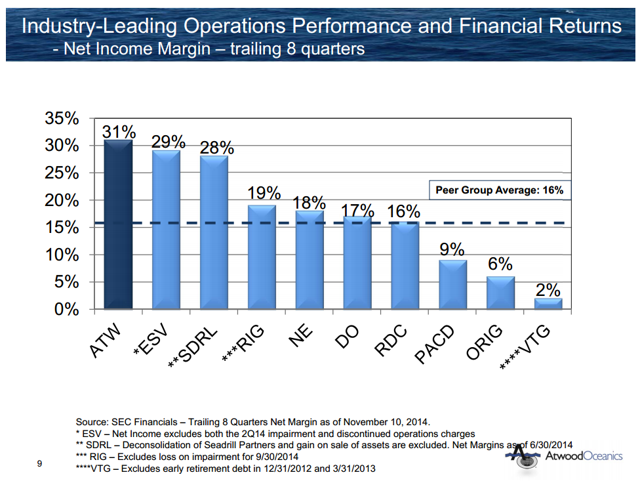 These wide margins have driven an impressive return on capital employed.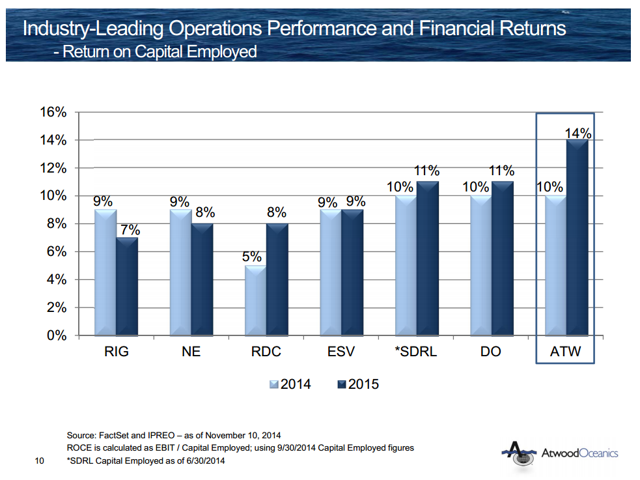 However, one thing stands out with all of the above charts, in most cases, Seadrill is also up there at the top of the rankings. In theory, Seadrill would be the sectors best bet but with dayrates declining, only the drillers with the strongest balance sheets should be considered by investors. Seadrill's balance sheet is one of the worst around.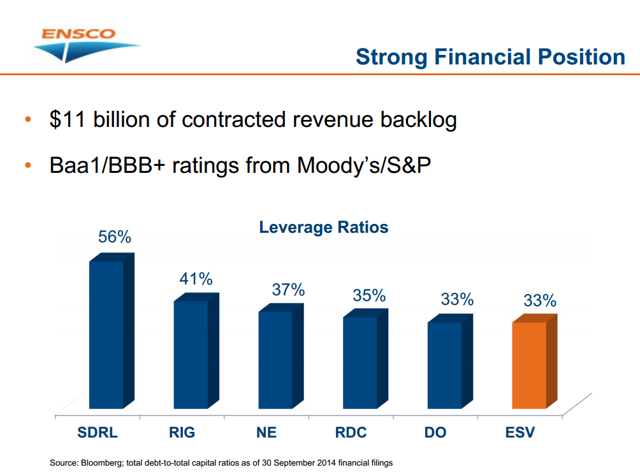 Atwood isn't included on the above chart, so here's the company's own figures.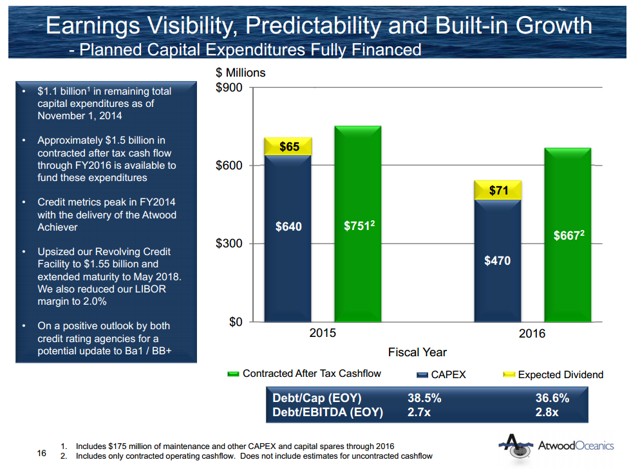 So, to sum up.
The offshore drilling sector is in trouble. Dayrates and rig utilization rates are falling.
These rates could fall further, there's no telling how low they can go.
Most drillers are trading below the value of their assets. However, not all drillers are created equal.
There are plenty of opportunities but the best appear to be Ensco and Atwood.
Ensco and Atwood have the most experience, strong balance sheets and an attractive mix of rigs in their fleet.
Ensco is trading at a P/B of 0.6 and offers a dividend yield of 10.5%, which looks secure for the time being. Even a 50% cut would leave you with a yield of 5%.
Atwood offers a dividend yield of 3.5%, the payout is covered five times by earnings per share. The company trades at a P/B of 0.70, a 30% discount to net asset value.
Ensco offers the biggest discount to net asset value so is my top pick for the drilling sector recovery.
Disclosure: The author is long RDC.
The author wrote this article themselves, and it expresses their own opinions. The author is not receiving compensation for it (other than from Seeking Alpha). The author has no business relationship with any company whose stock is mentioned in this article.