Investors in the utilities sector have been enjoying quite the run of late, as the sector traditionally known as "widow and orphan" stocks has produced some of the best returns in the market over the last 12 months. According to Morningstar, total returns in the sector have been over 17% in the last 12 months, which makes it one of the best performers in the market.

These outsized gains come of the back of a decreasing treasury yield, as investors seeking higher yields have turned to equities for income. This relationship is quite evident when looking at the two price charts.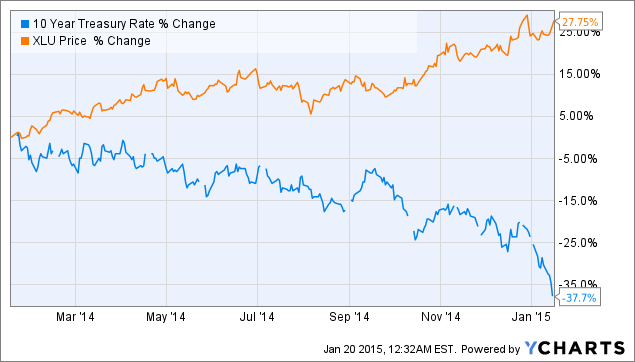 10-Year Treasury Rate data by YCharts
The rise in share prices has total return investors smiling, as they have seen their capital gains grow significantly, with many utility stocks reaching all-time highs. Those late to the game should proceed with caution, however, as the valuations being placed on many companies is reaching, dare I say, "irrationally exuberant" levels.
Examples Of Stretched Valuations
The first reference I use when researching for potential investments is David Fish's U.S. Dividend Champions spreadsheet, which can be found here. This document lists all of the companies that are traded on U.S. exchanges that have raised their dividends for the last 5, 10, and 25+ years. For the purpose of this article, I will highlight some of the utilities widely discussed among dividend growth investors on Seeking Alpha, and try to determine if any are near fair valuation for prospective investors.
Consolidated Edison (NYSE:ED) is an electric, gas, and steam delivery utility located in New York. It is a Dividend Champion with a 40-year history of increasing dividends.
This 20-year chart of the company is a great illustration of the annual increases of paid dividends. Note, however, that the current yield of 3.65% is the lowest seen at any point over the last two decades.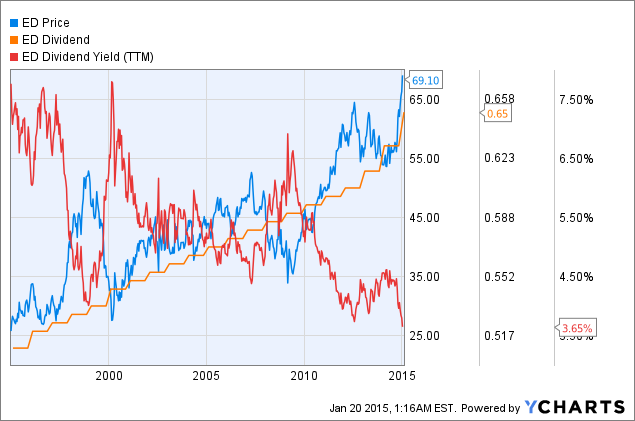 This next chart from F.A.S.T. Graphs is even more striking in showing how the stock is trading at well above fair value, with a current P/E of 17.9 representing a 26% premium over the normal ratio.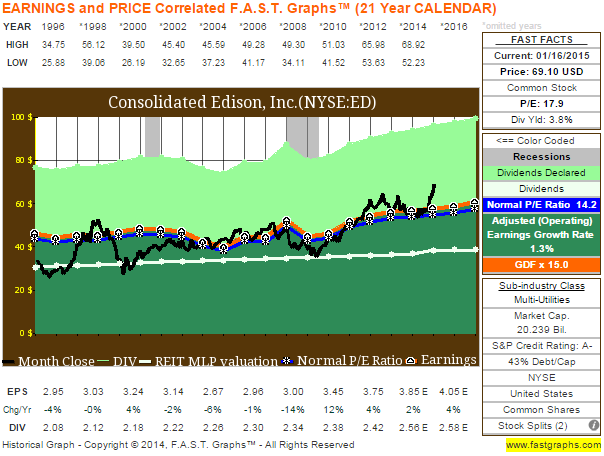 With earnings growth over the last 20 years of just 1.3% and projected growth of just 2.6%, the 26% premium to fair value is a high price to pay for a 3.8% dividend yield.
The next example is Southern Company (NYSE:SO), an electric utility serving Alabama, Georgia, Florida and Mississippi. Southern is a Dividend Contender with a 13-year streak of dividend increases. Like Consolidated Edison, it too is trading at the highest valuation it's seen over the last 20+ years.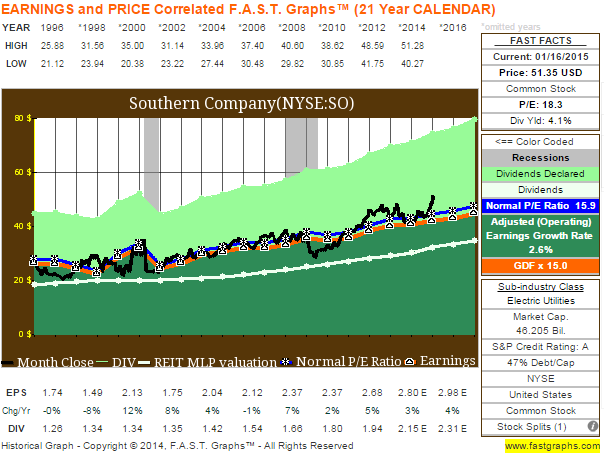 Thought not as severe as Consolidated Edison, the current P/E of 18.3 still represents a hefty 15% premium above the normal ratio.
The next example comes from a slightly faster-growing utility, Wisconsin Energy (NYSE:WEC), which is an electric producer and distributor located in Milwaukee, Wisconsin. Wisconsin Energy is a Dividend Contender with a 12-year streak of increases, and has been one of the faster growers recently, with an 18.2% CAGR over the last 5 years.
As the graph below clearly shows, the stock is trading well above normal valuation levels, with the current P/E of 21.3 being a 32% premium to the normal 16.1 ratio seen over the last decade.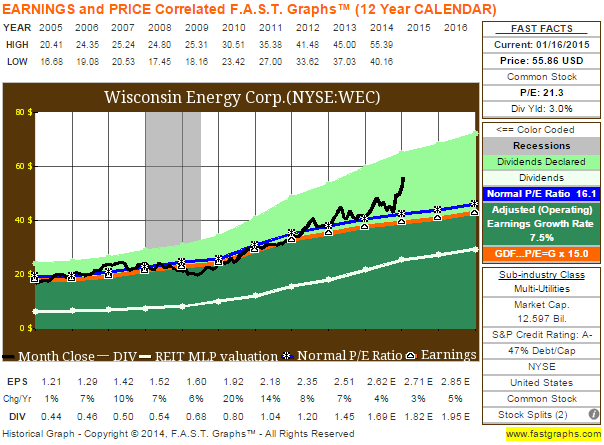 Vectren Corp. (NYSE:VVC) is a diversified utility and construction company located in Evansville, Indiana. The company is a Dividend Champion with a 55-year streak of dividend increases. Similar to some of the companies above, this has generally been a slow-growing utility, with a 3.6% growth rate since 2000.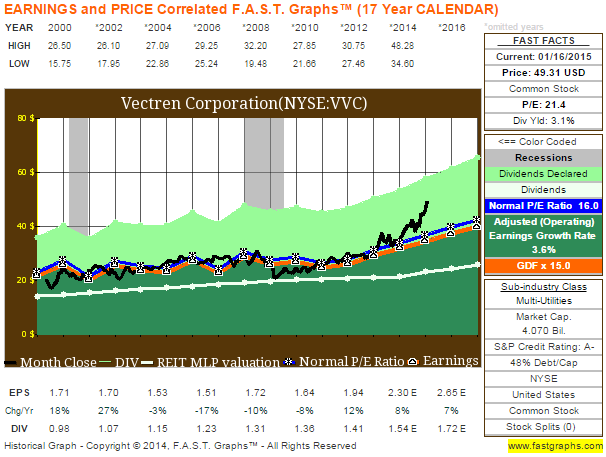 Vectren is currently trading at a 34% premium over the normal P/E ratio seen during the last 15 years. This run-up in price has driven the dividend yield down to just 3.1%.
The final example is from Dominion Resources (NYSE:D), a Dividend Contender with 11 years of increases. Dominion is a diversified utility located in Richmond, Virginia, and serves customers in Virginia and North Carolina. Being a more diversified business has provided Dominion with a higher growth rate than Consolidate Edison and Southern Company, but even accounting for the higher growth, the stock is trading at a rich valuation.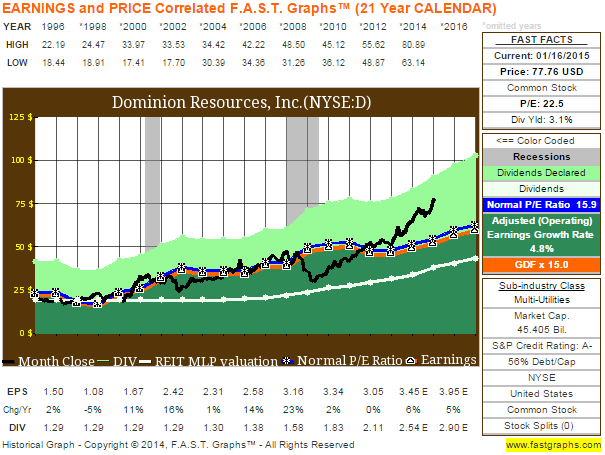 What History Teaches Us
A battleground stock between some investors on Seeking Alpha is AT&T Inc. (NYSE:T). The bears say the company is a terrible investment because it's been "dead money" for the last decade. Meanwhile, the dividend investor bulls tout the excellent yield the stock produces for their income, and say it's been a great investment. Well, it turns out both sides are right, because the stock has been a terrible total return investment over the last 15 years, while also being a very good income investment.
As you can see from the graph below, an investor who bought at the beginning of 2000 paid $48.75 for $2.26 in earnings, good for a PE ratio of 21.6. This PE ratio is somewhat higher than Consolidated Edison and Southern, but similar to the levels some of the other highlighted utilities are trading at.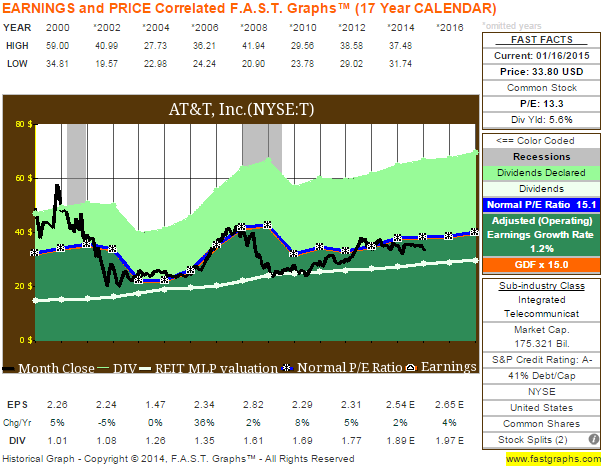 Now, turning attention to returns over the period, we can see how both the bulls and bears for the stock are correct. Over the last 15 years, AT&T has provided income investors $4,369 in dividends on every $10,000 invested, which is more than double the amount paid by the S&P 500. Meanwhile, total return investors have only gotten a 0.8% annualized return on their investment, due to overpaying for the shares back in 2000.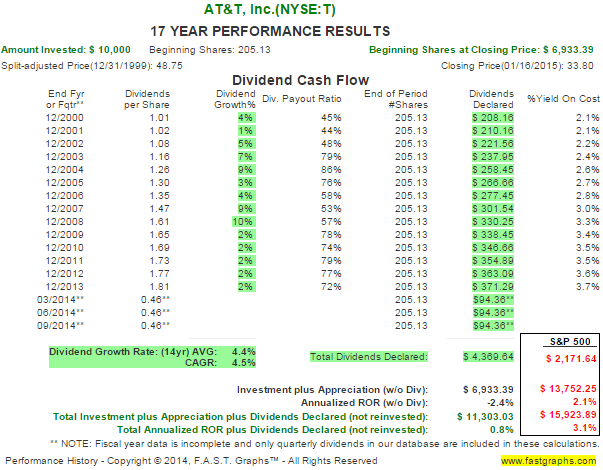 Coincidentally, while the utility companies highlighted above are all trading well above fair value, AT&T is currently trading below fair value and providing an excellent dividend yield of 5.6%.
Implications For Prospective Buyers
The implications for potential investors lie squarely on the expectations that each has for their investment. For income investors who rely on a steady and reliable income, the utility stocks mentioned above still provide above-market yields that grow near the rate of inflation. Meanwhile, total return investors looking for capital gains on top of their dividends would likely be better served by avoiding the sector at current valuations and holding cash on the sidelines in anticipation of the next pullback.
This uncertainty for positive gains for total return investors is shown pretty conclusively by using the F.A.S.T. Graphs portfolio review and sorting for forecasted 5-year annual total returns. I've included the stocks highlighted above, as well as a few other utility stocks that are popular amongst dividend growth investors.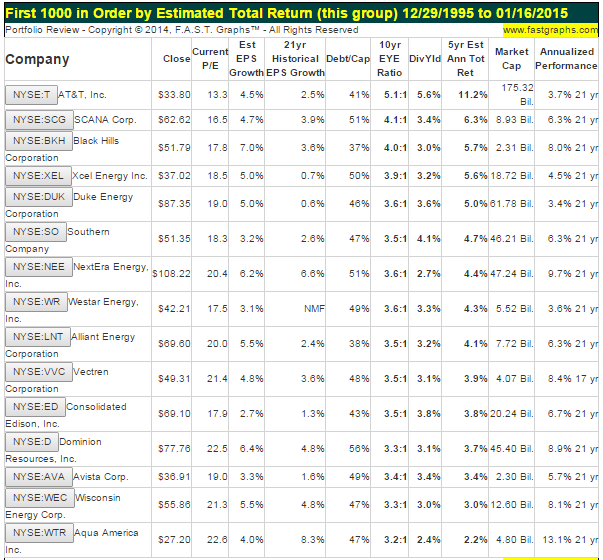 While not a utility, AT&T leads the way with an expected return of 11.2%, while all the others are at 6.3% and below, and many are in the 2%-3% range, on par with their current dividend yields. Simply put, an investor should expect little increase in share price over the next 5 years as the stocks return to more normal valuation levels, and total returns will roughly equal the dividends received for the most overvalued companies.
Conclusion
The ongoing search for yield has had a big impact on what are traditionally considered "safe" investments in the utilities sector. With many of the companies trading at 20%-30% above fair value, the potential exists for significant capital losses, should U.S. Treasury yields rise and if money flows from equity investments. This may not matter to retirees who plan to live off of dividend income with no plans of selling shares, but could impact new investors who are late to the game hoping to play the momentum in the sector.
I caution new investors to do proper due diligence before buying, especially if they are investing with hopes of capital gains on top of current prices. While I plan to continue holding my current positions, I will be waiting for a pullback before putting any new cash to work in the sector.
Disclosure: The author is long T, WEC, MDU.
The author wrote this article themselves, and it expresses their own opinions. The author is not receiving compensation for it (other than from Seeking Alpha). The author has no business relationship with any company whose stock is mentioned in this article.
Additional disclosure: I am a Civil Engineer by trade and am not a professional investment adviser or financial analyst. This article is not an endorsement for the stocks mentioned. Please perform your own due diligence before you decide to trade any securities or other products.