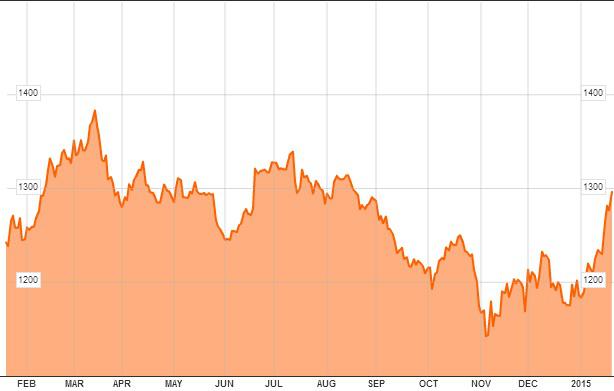 (Source: Bloomberg)
The Japanese government approved a $29 billion stimulus in December to boost the country's economy. The European Central Bank is likely to announce a quantitative easing program this week to bolster the European economy. Last week, the Swiss National Bank surprised the financial markets by ending the euro cap. Gold rallied more than 10% since the beginning of the year, supported by stimulus programs of central banks. In 2015, gold holdings in global exchange traded funds increased by 22 tonnes to 1,621.6 tonnes. Marc Faber expects gold to rise 30% in 2015. He believes that investor confidence in central banks will collapse this year and going long on gold is a safe bet. We are skeptical about his beliefs, as we expect the rising U.S. dollar to halt the rally in the coming months.
The Rising U.S. Dollar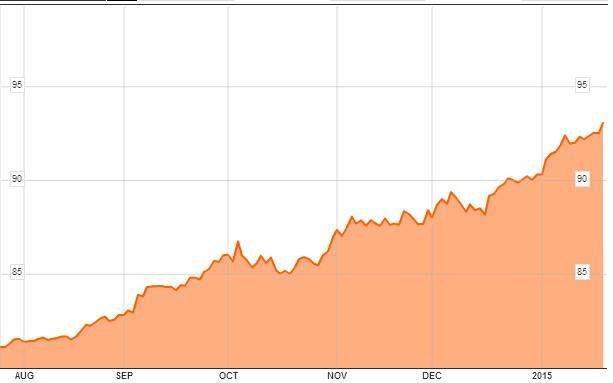 (Source: Bloomberg)
The U.S. economy added 252,000 jobs in December. The unemployment rate touched 5.6% as the U.S. economy added 3 million jobs in 2014. Consumer spending powered the U.S economic growth to 5% in Q3 2014. Job openings in the U.S. are at the highest level in 14 years. The U.S. economy is expected to grow between 2.5% and 3% over the next two years. The Fed is likely to hike interest rates by June 2015, even if inflation is below the Fed's target of 2%.
The USD/JPY pair is trading around 118.12. Goldman Sachs expects the USD/JPY pair to touch 130 by 2015 end. The EUR/USD pair is trading around 1.15, and is expected to touch 1.10 in the near term. The depreciation of the Japanese yen and the euro will support the U.S. dollar rally due to their weights in the U.S. dollar index. We expect gold to rally till June 2015. Post that, we expect the stronger U.S. dollar to weigh on gold prices. A stronger U.S. dollar will reverse the direction of gold prices.
Final Thoughts
We recommend investors to use the current gold rally to cash into rather than initiate long positions on gold. We expect the rally to halt once the U.S. Fed hikes interest rate in June 2015.
Disclosure: The author has no positions in any stocks mentioned, and no plans to initiate any positions within the next 72 hours.
The author wrote this article themselves, and it expresses their own opinions. The author is not receiving compensation for it (other than from Seeking Alpha). The author has no business relationship with any company whose stock is mentioned in this article.
Additional disclosure: This article is for information purpose only. Please do your due diligence carefully before investing.