These three stocks are not followed heavily by Wall Street, are not well known, and have low valuations with solid growth prospects over the long term.
Apollo Global Management (NYSE:
APO
) is a publicly owned investment manager. The firm primarily provides its services to pension and endowment funds, institutional investors, individual investors, pooled investment vehicles, and corporations. It manages client focused portfolios, hedge funds, real estate funds, and private equity funds for its clients. The firm invests in the fixed income and alternative investment markets across the globe. Its alternative investments include investment in private equity and real estate markets. The firm's private equity investments include traditional buyouts, distressed buyouts and debt investments, corporate partner buyouts, distressed asset, turnaround, corporate restructuring, special situation, acquisition, and industry consolidation transactions. Its fixed income investments include distressed debt, senior bank loans, and value oriented fixed income securities.
Apollo just went public in March of this year. It seems to have fallen off investor's radar quickly. However, it has several things going for it.
It is selling at less than seven times this year's expected earnings. In addition, in its first quarterly earnings report APO crushed estimates. Its recently announced acquisition of Gulf Stream Asset Management enhances it current portfolio and adds AUM in an economical manner. Credit Suisse predicts that APO will distribute $1.10 to shareholders in 2011, which implies a 6.25% yield at these price levels. In that same report, APO has $1.4B of accrued carried interest gains which the company can harvest at the time and place of their choosing.

APO at these price levels allows one to participate in the secular growth of the alternative asset space at very reasonable valuations. Goldman has a price target of $24 on APO and Credit Suisse is at $23 a share, both substantially above its current price of $17.50.
QuinStreet (NASDAQ:
QNST
) operates as an online media and marketing company in the United States and internationally. It provides direct marketing services, including the delivery of leads or paid clicks, and hosted solution and related services for clients in the direct selling industry. The company operates Internet.com; Insure.com, an online insurance quote service and brokerage business; Insurance.com, an online insurance business; and ReliableRemodeler.com that specializes in online home renovation and contractor referrals, as well as offers online matching services for businesses that connect Internet visitors with vendors. It serves clients in the education and financial services industries, as well as home services, business-to-business, and healthcare industries.
I recently came across QuinStreet for the first time. Like Apollo, it also just went public, in Feb. 2010. The company appears compelling at these price levels for myriad reasons.
QNST is selling at less than 13 times earnings and has beat or met estimates each of the last four quarters.

QuinStreet is just over a long term technical support level.
QNST is selling in the bottom third of its valuation range based on P/E, P/S, P/B and P/CF. It has a strong balance sheet with approximately $1 a share in net cash. It is also selling at less than 9 times operating cash flow and a five-year projected PEG of under 0.9. Four insiders started to buy shares in June. Given the buyout activity in this space, it would not be hard to see this company be a bolt on acquisition for someone. It is growing revenues at a 20% pace in 2011 and is projected to grow sales 15% in 2012.

At under $12.50 a share, QNST has a cheap valuation and priced under analysts' price targets. Credit Suisse has a price target of $20 on QNST. JP Morgan is at $17.
AerCap Holdings (NYSE:
AER
), through its subsidiaries, operates as an integrated aviation company worldwide. It engages in leasing and trading aircraft and engines, and selling parts. The company also provides aircraft management services, as well as aircraft and limited engine MRO services, and aircraft disassembly services through its repair stations. In addition, it offers aircraft services, including remarketing aircraft; collecting rental and maintenance payments, monitoring aircraft maintenance, monitoring and enforcing contract compliance, and accepting delivery and redelivery of aircraft; conducting ongoing lessee financial performance reviews; inspecting the leased aircraft; coordinating technical modifications to aircraft to meet new lessee requirements; conducting restructurings negotiations in connection with lease defaults; repossessing aircraft; arranging and monitoring insurance coverage; registering and de-registering aircraft; arranging for aircraft and aircraft engine valuations; and providing market research.
AerCap is another underfollowed equity that has rock bottom valuations and looks to have significant upside at just over $12 a share.
It has medium term technical support in the $12-13 range.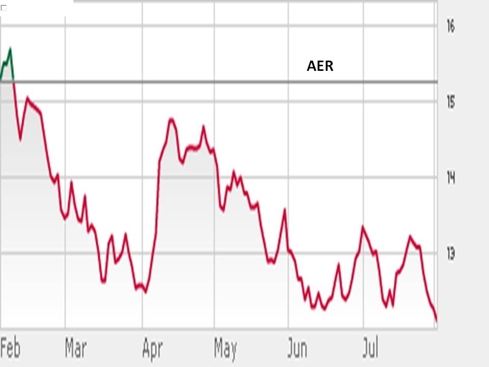 AER is selling at under seven times this year's projected earnings and handily beat earnings estimates the last two quarters. AER more than doubled operating cash flow from FY2008 to FY2010, and insiders are holding strong with no sales in the last six months. AER has a young fleet (under six-years-old on average) and is a secular play on the growing air traffic demands especially in emerging markets. AER is well diversified and drives over a quarter of its revenues from the fast growing Asia/Pacific area.

At just over $12 a share, AER is under analysts' estimates. S&P has a price target of $17 a share on AER. FBR Capital has a $16 target and JP Morgan is at $18 a share.