The Canadian dollar continues to decline as the Bank of Canada unexpectedly cut its benchmark interest rate in January to better accommodate falling oil prices. CurrencyShares Canadian Dollar Trust (NYSE:FXC) is down close to 14% since July, as is seen in the chart below.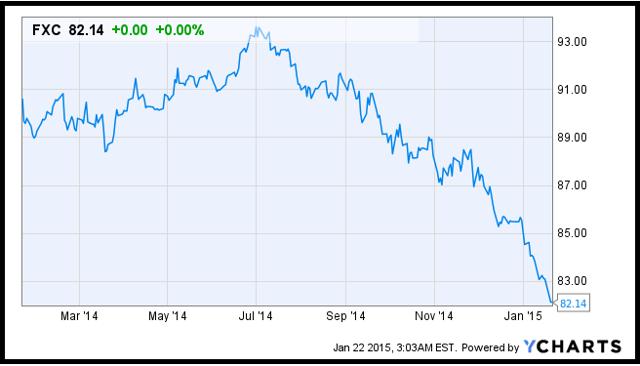 On Wednesday, the Bank of Canada slashed its benchmark interest rate, leading to a steep decline in the Canadian dollar. At the BoC Interest Rate Decision in January, the central bank cut its benchmark rate by 25 basis points from 1%, to 0.75%. Market participants had expected the BoC to leave its rate at 1%. The Canadian benchmark rate had held steady at 1% since 2010, as is seen in the chart below. The drastic fall in oil prices over the last few months has led to uncertainty for Canada's economic future, making a rate cut appropriate in policymakers' eyes.
"The oil price shock is occurring against a backdrop of solid and more broadly-based growth in Canada in recent quarters. Outside the energy sector, we are beginning to see the anticipated sequence of increased foreign demand, stronger exports, improved business confidence and investment, and employment growth.

However, there is considerable uncertainty about the speed with which this sequence will evolve and how it will be affected by the drop in oil prices. Business investment in the energy-producing sector will decline. Canada's weaker terms of trade will have an adverse impact on incomes and wealth, reducing domestic demand growth," according to a report by Trading Economics.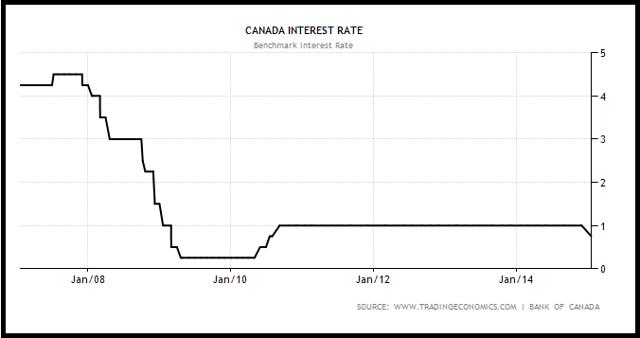 Data provided by Trading Economics
Over the last 15 years, new technology has led to increased production of oil in both the U.S. and Canada, pushing global supplies higher, as well as prices lower. As Canada began producing more oil, its economy became more reliant on the commodity for revenue, as well as its increased composition of government revenue. In 2000, oil production in Canada was less than 2 million barrels per day. Now in 2015, however, oil production has nearly doubled to 4 million barrels, increasing Canada's reliance on the commodity for export and consumption.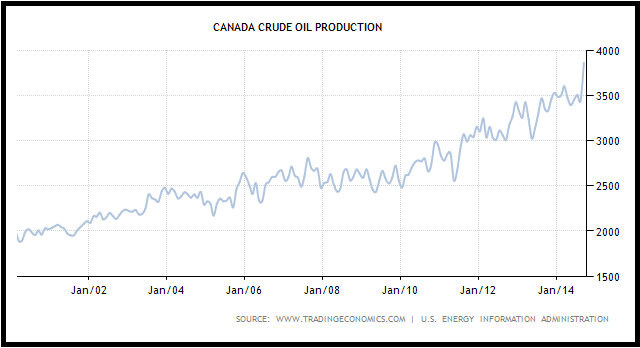 Data provided by Trading Economics
Moreover, as the price of oil has fallen in recent months, so have inflation measures, allowing the BoC to cut rates to induce higher prices across the economy. In November, the inflation figure grew at an annual pace of 2.0%, below the previous month's reading of 2.4%, as well as missing estimates for 2.2%. While inflation did accelerate higher during the first half of 2014, the figure topped out after energy prices began declining.
"Transportation costs fell 0.2% in the 12 months to November, following a 1.1% rise in October. This decline was almost entirely attributable to lower gasoline prices [-5.9% in the 12 months to November, after rising 0.6% in the previous month]," according to Trading Economics.
As falling oil prices lower inflation measures, as well as create economic uncertainty in Canada, its central bank felt justified in cutting interest rates. This led selling pressure to mount on the Canadian dollar, and with the Federal Reserve expected to further tighten monetary policy in 2015, the Canadian currency could continue on its downtrend.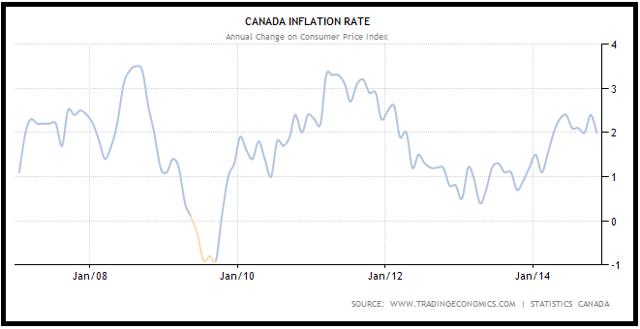 Data provided by Trading Economics
Disclosure: The author has no positions in any stocks mentioned, and no plans to initiate any positions within the next 72 hours.
The author wrote this article themselves, and it expresses their own opinions. The author is not receiving compensation for it (other than from Seeking Alpha). The author has no business relationship with any company whose stock is mentioned in this article.