We feel like T.E. Lawrence crossing the Nefud on the way to Aqaba... completing the serpentine journey that began in Peak What? Christmastime in Hell Parts1, 2, 3, 4, 5 6 and DDDD Part 1 and Part 2.
In Peak What? The Quadruple D - The End, we examine:
The Takeaways
The Weight
The Four Ds of Danger, The 5th D
A History Lesson
The Truth, The Peaks
"The world is full of kings and queens. Who blind your eyes and steal your dreams." - Heaven and Hell - Black Sabbath
The Takeaways
Chinese Takeout
$1.1 tr NFC and bank dollar loans
$25 bn 2014 CLO
"The unprecedented global credit expansion since 2005, and especially after the financial crisis in China and the EM, caused several decades worth of normal GDP expansion to be telescoped into an artificially brief period of time.

It embodies a temporally twisted imbalance of supply and demand that inherently results from false prices in the capital and commodity markets. Yet this condition is neither sustainable nor stable." Source: David Stockman Chart below Chinese offshore debt issuance in RMB and dollars.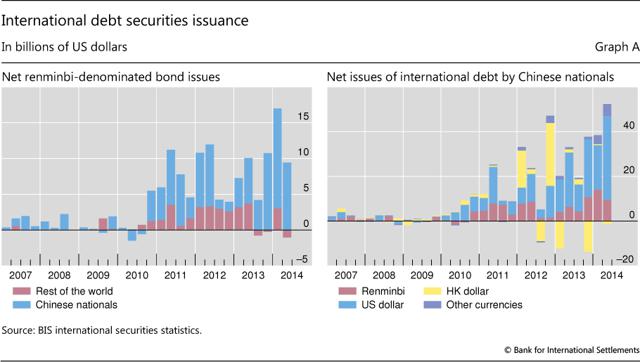 DCM
$6.29 tr 2014 global volume
$2 tr 2014 EMEA (Europe, Middle East, Africa)
$1.29 tr 2014 Syndicated EMEA lending
$1.23 tr 2014 Asia (ex Japan) issuance
Busting BRIC's
Speculative currency arbitrage exposes domestic currency and debt to risk.
$5.7 tr US dollar EM corporate debt
$3.1 tr in bank loans
$2.6 tr in bonds
$540 bn est. carry trade in US dollar overseas bonds
Overseas bond borrowing/lending by unregulated corporations and non financial companies is surrogate financial intermediation. Chart below the projected wave of EM NFC redemptions, which could be a default and market "unwind" schedule.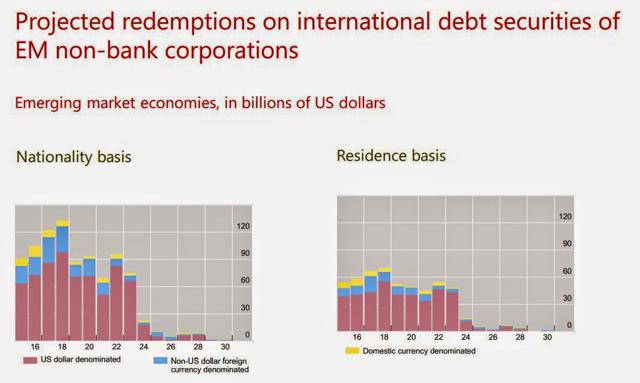 Oil and Gas Debt
$2.6 tr global issuance since 2010
$1 tr DCM since 2010
15% of investment fee revenue Wells Fargo #1
12% of investment fee revenue Citigroup #2
Interest codicil: The largest private shareholder of Citigroup (NYSE:C) is? The man who less than a year ago stated: "the price of oil above $100 is artificial. It's not correct."- Prince Alwaleed Bin Talal Bin Abdulaziz Alsaud
"The Fed exported bubble finance to the entire world, but most especially China and the EM. The upshot was an extended era of booming but phony global growth, and a consequent artificially high oil prices at $115 per barrel." Source: David Stockman
Leveraged
$4.22 tr 2014 syndicated loan volume
$1.56 tr 2014 leveraged (37% of above)
$822.5 bn outstanding US SP/LSTA index loans
$495 bn are covlite (60% of above)
CDO
$130 bn 2014 issuance
$71.5 bn 55% leveraged
$796 bn outstanding global as of Q3 2014
$438 bn outstanding leveraged
CLO
$70.5 bn 2014 global issuance
$488 bn outstanding (as a portion of CDO 2013 Q3)
$30 bn JPMorgan Chase holdings #1
$22.5 bn Wells Fargo holdings #2
Chart below, the leveraged CLO market flow chart.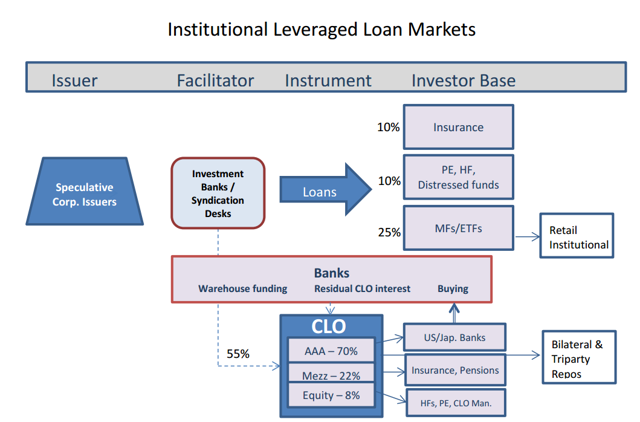 ETF - Mutual Fund Exposure
Chart below:
$450 bn HY High Yield
$300 bn EM Emerging Markets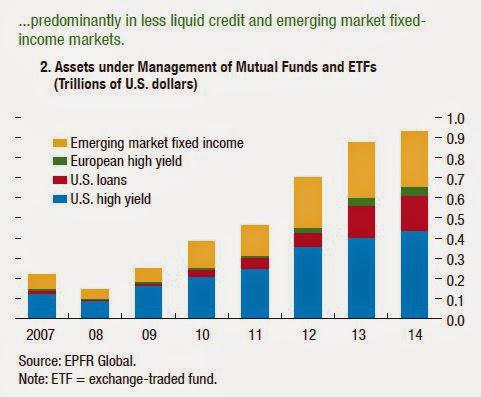 CDS
$10.4 tr notional credit derivatives in US banks
96.3% of which are CDS (credit default swaps)
$8.3 tr gross notional open interest, 01/03/2015
$722 bn net notional open interest
$253 bn (35%) credit quality BB and below
$245 bn (34%) NFC
$155 bn (21% est.) against faux "AAA" collateral
Interest Rate Derivatives
$455 tr gross notional total swaps global 01/02/2015
$240 tr notional derivatives held by FDIC banks Q314
$190 tr gross notional interest rate deriv. held by US
$80 tr of interest rate mature in less than one year
$22 tr of FX mature in less than one year
Total Derivatives
open interest notional values:
$545 tr US bank and holding co Q3 2014
$691 tr global Q2 2014
$563 tr global interest rate
$75 tr global FX
$19 tr global CDS
And now the finale... "Sherif Ali, so long as the Arabs fight tribe against tribe, so long will they be a little people, a silly people, greedy, barbarous, and cruel, as you are." - Lawrence of Arabia
The Weight
In the year 1990, Leon Hess stated at a hearing held by the U.S. Senate Committee on Governmental Affairs:
"I'm an old man, but I'd bet my life that if the Merc [New York Mercantile Exchange] was not in operation there would be ample oil and reasonable prices all over the world, without this volatility."
An example of "the weight" being put on oil prices through leveraged speculation in derivatives, which makes honest price discovery, impossible. Traders call futures contracts "paper oil": the contracts are a paper claim against oil, which is far in excess of the volume of oil produced and actually delivered at oil terminals on behalf of those contracts.
As of Dec 2013, IEA estimated approximately 90 million barrels of oil and liquid fuels were consumed per day worldwide. That works out to nearly 32.8 billion barrels a year. Taking contract volumes from the two major exchanges, 2014 Brent/WTI options and futures contracts volume:
ICE 209 million x 1000/bbl = 209 billion barrels "control"
CME 230 million x 1000/bbl = 230 billion barrels "control"
439bn/33bn = 13.3 to 1 leverage on actual global physical production. Source: CME/NYMEX and ICE daily reports.
Since the removal of the "weight" on oil, the price has fallen from $105 to $45. Imagine what might happen to other commodities, asset classes or speculative derivative positions? With $563 tr in interest rate derivatives, what about interest rates? Last week, the difference in 10-30 yr yield was 61 bps with the 10 yr at 1.82% and the 30 yr at 2.43%. The "weight" of speculative derivative bets is flattening the yield curve and contracting or narrowing the spread. Like a carry trade or interest rate bet gone wrong, unable to borrow short and lend high at the long end, this yield compression squeezes bank profits. So the only way banks are making money must be in that very large carry party that we mentioned in DDDD Part 1. As for low interest rates, it isn't the Fed or any central bank setting a rate, it's not the attendant true rate of inflation, it's a FTQ (flight to quality) and the overbearing weight of derivatives market speculation, so take a load right off me.
The Four Ds of Danger
It takes four D's to get to the fifth D...
Default
In Christmastime Part 6, we mentioned reversion to the mean for currently all time low default rates of 2%. Martin S. Fridson, CFA, CIO at Lehmann Livian Fridson Advisors, sees as much as $1.6 trillion in HY defaults coming in a surge he expects to begin soon. Fridson currently projects that 1,155 issuers will default in the next wave. Fridson suggests the next default surge will be larger than the last three combined (89-92 the collapse of Drexel Burnham Lambert; 99-03 dot com bubble; 08-09 MBS ABS.) Each of the previous surges saw an average annual HY default rate above 7%.
Debt - Marked to Market
From DDDD Part 2, an asset holder always benefits when his assets become more money-like. During the MBS crisis, the "collateral" was outrageously overvalued housing. When the bubble popped and pricing reality set in, the already razor thin or nonexistent LTV (loan to value) ratios became negative and the holders of the "asset" stopped paying on the loans, and without skin in the game (low-no down) they walked away. The "collateral" behind energy loans, is oil prices or anticipated revenues based upon $100/bll + when the loans were made. As oil has recently dropped below $50/bll, the value of the banks "collateral" has shrunk. Most oil producers buy hedges on oil prices, which can provide some cushion. When those hedges expire, if oil is still under $100, the lenders will have to mark HQC or HQLA reserves against the loans. More demand for HQLA, shortage, squeeze, market unwind, dollar upside, rinse and repeat.
Derivative - Counterparty Exposure
Just one little thing... the question many should be asking of anyone operating in the financial sector is: what is your exposure as a counterparty to derivatives tied to oil, gas, energy, commodities, high yield, leveraged and EM debt? As of Q3 2014, the exposure of US banks and holding co's to derivatives was $545 tr; $10.4 tr in credit default swaps with an est. $2.9 tr with credit quality BB and below. It is estimated that energy has a 16% share of the US HY debt market. With sub $60/bbl oil, it is estimated that 30% of the energy debt BB and below could default or restructure. As a result, banks may have to pay out on an est. $140 bn in CDS. Wider margins and higher costs for debt leading to...
Energy sector defaults may spread out across the HY bond market, resulting in higher (widening spread) CDS payouts. Any CDO or CLO sold to investors and tied to the price of oil and revenues thereof will also cause further market cascade and fallout as those positions get liquidated. Rinse and repeat.
We promised to revisit, from DDDD, Part 1: "of the $190 trillion in interest rate derivatives held by US banks, $80 trillion in interest rates and $22 trillion in FX have maturities less than one year." Increased volatility in commodity derivatives can spread across related asset classes and cause losses in interest rate and FX derivatives which matures in less than one year (the short end of the carry) in which US banks have $80 tr and $22 tr in exposure. A trifling pittance you say? Reserve judgment, as there is a history lesson in store.
Dollar - debt
For all that HY, BRIC, EM, Energy, Oil and Gas, commodity, NFC and bank carry trade activity, there are over $9 trillion worth of borrowed US Dollars in the global financial system. When you borrow in a foreign currency, you are shorting that currency. If that currency appreciates against your local currency, more local currency is required to obtain that foreign currency to service the debt. Both service (maintenance) and debt levels rise in relative terms. As all dollar debtor's dollar needs increase at the same time, the demand for dollars can be self reinforcing, due to those with lesser foreign exchange FX dollar reserves (eurodollars). Rinse and repeat.
A History Lesson
Forget me nots... in Christmastime Part 6, we discussed the oil and gas fallout: employment, zombie debt, petrodollars and oil producing sovereign ex-sanguination, as if that won't be bad enough... as pointed out in DDDD Part 2, we have been Bewitched by the humongous carry (laundering) party in progress, which is part and parcel of our cognitive dissonance as mentioned in Christmastime Part 1: ""Those who cannot remember the past are condemned to repeat it." - Santayana
Past: At the end of FY 2007, Bear Stearns was carrying $28 billion in junk assets on its books vs. a net equity position of $11.1 billion which supported $395 billion in assets, a leveraged ratio of 35 to 1. The firm over relied on short term funding and faced a liquidity squeeze when its lenders decided not to roll over their financing. The notional value of derivative contracts held was $13 trillion.
Past: By August 2007, Lehman Brothers net equity position of $22 billion supported $691 billion in assets, a leveraged ratio of 31 to 1. At the time of their bankruptcy, the notional value of derivative contracts held was $35 trillion.
"October 15, 2014 and the behavior of the funding markets (the "dollar") thereafter combines both aspects of monetary failure; that exits are messy and there is no sustainable or actual economic progress to successfully absorb either withdrawal or comprehensive and global recognition of this monetary miscarriage. The recovery is over because it never was." Source: Jeffrey P. Snider
Today: On October 15, 2014 the yield on 10 year US Treasury bonds fell almost 37 bps, more than the drop on September 15, 2008 when Lehman Brothers filed for bankruptcy. Confirming Mr. Snider's assertions that the "exits are messy"; "there is no sustainable or actual economic progress to successfully absorb" and "the recovery is over because it never was."
What turned Asia/Russia/LTCM (Drexel, Burnham, Lambert), Dot com and mortgage ABS into global crises? A synergism of: over leveraging, the nefarious opaqueness of derivatives, global asset correlations and interconnection between financial institutions. What did this synergy lead to? From DDDD, Part 1, "exacerbation of the maturity mismatch of the carry through collateral calls on off balance sheet obligations. e.g. wrong way derivatives unwinds in short term CDS, FX and the Interest Rate Swap positions."
The 5th D
The aforementioned synergy, derived from the four Ds, led to collateral calls on underlying "assets" which, much like a Ponzi scheme, really weren't of merit or there, resulting in "liquidity traps" for those without real HQLA assets or cash money, resulting in the fifth D: deleveraging of an unorderly fashion in global markets. Last time, just seven "long" years ago, all it took to bring down our house was a couple of greedy over exposed financial firms who got caught with their pants down. The potential exposures listed in this nine part missive and the takeaway above, dwarf the two puny exposures from 2008 listed above.
The Truth
"The real business of money management is not managing money, it is getting money to manage." - Mark Hurley, Goldman Sachs report on the evolution of the investment management industry (WSJ 11/16/95)
As Col. Nathan Jessup said... From pg 79 of the TBAC presentation covered in DDDD - Part 2: "The more restricted the private sector's ability to create safe, liquid, and money like collateral, the harder the public sector must work to supply it through deficits and easy monetary policy." Ponder that for a moment, the financial systems ability to "create money like collateral" is restricted and therefore the public "must work harder" to supply it through DEBT and ZERO rates.... contrast this with the statement below which is an echoplex of Snider's statements.
"What counts is production of real goods and services based on honest prices and the efficient utilization of labor and capital. And it goes without saying that cannot happen under the current central banking regime of false prices and drastic misallocation of economic resources. The current illusion of recovery is a result mainly of windfalls to the financial asset owning upper strata, the explosion of transfer payments funded with borrowed public money and another supply-side bubble this time in the energy sector and its suppliers and infrastructure." - David Stockman
Quite a difference in perspective between these intelligent individuals and the TBAC, which leads us to... What are the assets behind a carry trade? Shoes that sit in a warehouse? Or subpar collateral now deemed to be "money like" by a pawn shop whose owners, are the banks? What does CDS really speculate upon? The fear of default via derivatives speculation is like the weight of oil derivatives at 13.3 to 1 actual production... which leads to predatory actions against sovereigns and false pricing. What happens if there are more Ponzi contracts on CDS then bonds in existence? Nobody really wants to foreclose, because there might be hundreds of other claims on the same shuffled or nonexistent underlying asset. Remember, with eurodollars, CDS and interest rate swaps, the value is in the cash flow, not in the nonexistent or subpar underlying collateral or re-hypothecated (laundered) assets. So, said proceeds from the pawn shop are to be used in a speculative confidence game utilizing opaque financial instruments whose profits are cash flows.
I have seen the future, it does not work... And if the cash flows are the only product of value in this equation, then the value of any sovereign nation, including its trade and production is dependent upon the cash flow through the carry trade of its currency. Accordingly, the amount of underlying leveraged debt (incurred to achieve those cash flows), which is covered by actual value (real HQC); or real productive value (an end product of the efficient utilization of labor and capital, not money shuffling), is shrinking. This correlates with Stockman and Snider's assertions and explains the secular stagnation we hear of in the narrative (no jobs, lower pay, no capex, no animal spirits, financially engineered smoke and mirrors to achieve "profits" and boost asset prices). As long as these shenanigans are allowed to continue, matters can only get worse.
A economic axiom: As long as the amount of money supplied and demanded are equal, the entire asset market will be in equilibrium. A computer programming axiom: GIGO - garbage in, garbage out. We combine two fields of endeavor for a new paradigm... (what happens when you rub a pair of dimes together, cause that's usually what it turns out to be worth. e.g. welcome to the "new" paradigm, its different this time. Yeah right.)
The new paradigm of musical debt chairs: Due to re-hypothecation of BS collateral ($12 trillion in subpar MBS from 2008), when enough claims simultaneously come due (the music pauses), demand for the real McCoy outstrips the supply (someone can't find a chair to sit in). Defined as systemic asset disequilibrium or the derivatives stooge shuffle.
A rolling loan gathers no loss... the debt the public takes on is being increased at an inflationary rate, because it has to be to cover up the systemic disequilibrium or dysfunction, in order to cover the debentures that cover the new loans, used to roll up the old debts and defaults for Ponzi or subpar underlying assets. Perhaps, the bulk of current total nominal wealth consists of debt shuffling offsets, as in multiples lending and borrowing against "HQC money-like" assets they don't own, or aren't really there, to other people, and back and forth. If the musical chairs ever stopped at this party, and you actually tried to reconcile the debts, or assert a claim on a physical deliverable, or find any real underlying assets, you might find there's next to nothing there, and that is the greatest trick.
"Goldman and its principal competitors, with discretionary petty cash flows in the billions, have financed a small army of economists who spin theories and narratives which dominate media and perceptions. The force of their propaganda has become overwhelming. As a result, there is no longer any meaningful separation of the state and the market; and there are no principles to govern state action." (paraphrased) - David Stockman
In Part 1 we mentioned the "unknown known" and all through this nine part missive we have attempted to connect the dots that make up Lebowski's rug which really tied the room together. When it's the central banks and the house of finance running all the government's that have been having the same party all along, there are no principles to govern market or state action. What else would one expect? and what makes anyone think for a single moment that "it's different" this time? That fantasy or clinging hope is the collective dissonance and faith in "free markets" that walk hand in hand from the collective unconscious. This group think can also be thought of as the chronically denied or repressed "shadow" of society that exists in what the Hindi's refer to as the Akashic record. "The further a society drifts from truth, the more it will hate those who speak it." - George Orwell
The Peaks
Peak dollar, peak debt, peak derivatives... soon to be peak default and peak deleveraging? Short of a global abandonment of the dollar, which may yet occur in our lifetime, the dollar will continue to rise. Since the Fed is already at zero, there is only one way to stop the dollar's ascent: QE4, QE5, and the issuance of more public debt, ad infinitum. $1 trillion annual for status quo... "The world now needs about $200-250 billion of liquidity pumped into the global economy every quarter just to maintain things as they are." - Satyajit Das.
In this lengthy journey we have pointed to clues that an investor might utilize in order to be cognizant of the musical pauses and the timing thereof, unless one fancies winding up parked on the dance floor. The Nattering One's axiom, the more things change, the more the song remains the same, and we won't get fooled again. That about wraps it up, well just one more thing? Remember that white rabbit we pulled out of our hat in DDDD Part 2? As always, we endeavor to provide content that will... as the dormouse did NOT say: "feed your head". For any complainers or trolls, please read here. For everyone else, take the best and leave the rest. This is the end my friend...
Market Plays
These global economic developments could affect numerous markets, sectors, indexes, commodities, forex, bonds, mutual funds, ETFs and stocks.
OTCPK:AAGLF ADRU OTC:AFRNY APA ASHR ASHS OTC:ATPAQ BHI BKF BPZBRZU BXUB BXUC BZQ CHIE CHII CHIM CHIQ CHIX CHK CLBCORP CPE CRZO D DAX DBEU DBEZ DBGR DBUK DFE DIA DXGEDXPS ECA EXC EDEN EFNL EIRL EMB EMES ENOR EOX EPL EPLAXEPOL EPS EPV EQU ERUS ESTX EUDG EUMV EURL EWD EWG EWIEWK EWL EWN EWO EWP EWQ EWU EXXI EZU F FCG FCX FDD FEEUFEP FEU FEUZ FEZFGM FIEU FKU FSZ FXE FXY OTCPK:GMXRQ GREK GXFHEDJ HEWG HEZU HK HNR HTE HYG IEF IEUR IEUS IEV IVV IWMJNK KMI LINE LNCO LQD OTCPK:LVLEF OTCQX:MDLNF MHR MMR MXWL NORWOAS OTCPK:OGZPY OTCPK:PBEGF PDCE PEIX OTC:PENYF PGAL PLND PSX PVA QDEUQEP QESP QGBR QQQ RBL REN RSP RSX RSXJ RUSL RUSS RWLSCTY SDS SFLA SH SLCAX SLB SLCA SMEZ SN SPLX SPUU SPXLSPXU-OLD SPY SSO SYRG TPLM TRP UDN UDNT UNG UNT UPRO UPV USOUUP UUPT VGK VLO VOO ZAZA
Disclosure: The author has no positions in any stocks mentioned, and no plans to initiate any positions within the next 72 hours.
The author wrote this article themselves, and it expresses their own opinions. The author is not receiving compensation for it (other than from Seeking Alpha). The author has no business relationship with any company whose stock is mentioned in this article.
Editor's Note: This article covers one or more stocks trading at less than $1 per share and/or with less than a $100 million market cap. Please be aware of the risks associated with these stocks.