By Justin Dove
One company taking advantage of global growth in agriculture and construction is Amsterdam-based CNH Global N.V. (NYSE: CNH).
CNH reported last Monday that it had a very successful second quarter in 2011. Net sales increased 24 percent and operating profit on equipment sales improved by 58 percent over Q2 last year. Diluted earnings/share also increased 125 percent to $1.33.
These numbers blew by Wall Street estimates and led to an 11.5 percent rise in stock value last Monday. The gains were all but eliminated by the end of last week, partially due to an overall decline in the market as a whole.
A Rough 2011 for CNH's Stock

The modest gains last week were a contrast to most of the past year. After reaching a two-year high of $54/share in February, CNH's stock has been tumbling to its current level just under $40/share.
There are a couple reasons investors may have been scared off by CNH. Possibilities include:
The company more than doubled its long-term debt from 2009 to 2010. It has a total debt-to-equity ratio of about 200 percent.
Year-to-date capital expenditures are $126 million; up 40 percent from Q2 last year. According to the release this was due to new product launches.
Italian-company Fiat Industrial owns an 89 percent stake in CNH Global. When Fiat broke away from Fiat Industrial last September there was speculation they might fully take over CNH. The rumors likely inflated the stock a bit over the winter months, leading to a hangover through spring.
Timing is Everything
CNH has become more leveraged with additions in debt, but the idea is growth. For instance, the company announced in April that it was spending over $100 million on a manufacturing site in Argentina. As stated above, capital expenditures rose because of a slew of new product launches.
Timing will be the decider of whether these moves are prudent or not. Leverage increases risk in a business, but it also increases earning potential. If CNH has timed its investment in growth correctly, it will be able use its leverage to increase profits even more. If there is a stall in agriculture/construction growth, CNH will be handcuffed with mounting debt.
What the Forecast Looks Like
Agriculture is something that has been very hot lately. Growing populations in emerging markets are soaking up agricultural commodities. It was just reported last Friday that China will double its consumption of imported corn. Rabobank reported last Thursday that China has also been increasing its investments in South American agriculture exponentially over the past few years.
Add this increase in demand with suffering worldwide supplies due to weather conditions, and it's no surprise that S&P's GSCI Agriculture Index (NYSE: GSG) has surged 79 percent in the past year.
The U.N. even called for world food production to increase by 70 to 100 percent by 2050 as global population increases to upwards of 9 billion.
CNH does most of its business in farming equipment, but also manufactures and sells construction equipment. Although there is a perception of stalled growth in construction, CNH reported a 30 percent growth in construction equipment sales in Q2 over last year. Surprisingly, CNH saw a 37 percent growth in North American construction equipment sales in the same time period.
The Bottom Line for CNH Global

CNH Global is making gambles by increasing its leverage by so much. But the gambles don't seem to be stretches. Agriculture looks to be strong for some time. Construction may be more of a gamble, but its bound to improve even more in North America at some point. Even so, it's a smaller chunk of CNH's business.
CNH has a low current P/E of 11.99 and may be a bit undervalued if the investments prove to be wise. Below shows how CNH Global has fared over the past two years compared to Deere & Company (NYSE: DE).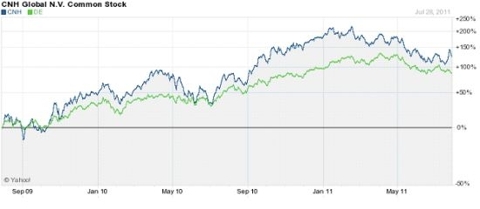 Deere & Company shows a correlation with CNH Global, but Deere stock is double the price and hasn't shown the same level of growth. Also at Deere's P/E of 13.50 is slightly higher than CNH. Add to that higher diversification in multiple sectors.
While Deere is the name you know, CNH Global may be the name you need to learn.
Disclosure: Investment U expressly forbids its writers from having a financial interest in any security they recommend to our subscribers. All employees and agents of Investment U (and affiliated companies) must wait 24 hours after an initial trade recommendation is published on online - or 72 hours after a direct mail publication is sent - before acting on that recommendation.