By David Silver
Well, everyone was hoping that June (and most of May) was going to be the exception to the rule. However, now that we are through July, it is apparent that the bullishness and momentum that the auto makers had at the beginning of the year has all but faded. Chrysler again delivered a strong month, while Volkswagen is giving Toyota (NYSE:TM) and General Motors (NYSE:GM) a run for their money in terms of becoming the largest automaker. VW still holds a small share of the market in the United States but July marks the eleventh straight month of year over year gains (averaging 20.5% per month), compared with GM (+15.3%) and TM (-1.4%) over the same time period. GM was cycling the worst of its bankruptcy. Chrysler also put up a good month, improving 21.2% year over year despite other automakers seeing some weakness in trucks and SUVs.
In total, auto makers sold 1,059,601 cars and light trucks, just 0.9% more than a year earlier, according to Autodata Corp. The total translated to an annual rate of 12.23 million vehicles. That was up from June's rate of 11.56 million vehicles and May's 11.73 million, but still was below the first quarter's pace above 13 million. Honda (NYSE:HMC), Toyota, and to a lesser extent Nissan (OTCPK:NSANY), were pressured by the parts shortages that followed the earthquake and tsunami in Japan; however, it never materialized as much as was feared for any of the other automakers.
There were some interesting trends during the month which speak more to the strength of the economy. First off, the GM's "savior," the Volt, only saw 125 units sold last month. So much for the overwhelming demand. But then there is Cadillac, which saw sales decline 38%, and Buick sales, which were flat. Compare that to Ford (NYSE:F), which saw Lincoln actually put in a good month. The strength doesn't come as that much of a surprise, as Ford has been marketing Lincoln like crazy the past few weeks. GM found this out earlier this year, but when you use targeted marketing for luxury brands, sales actually respond (I know, such a novel concept).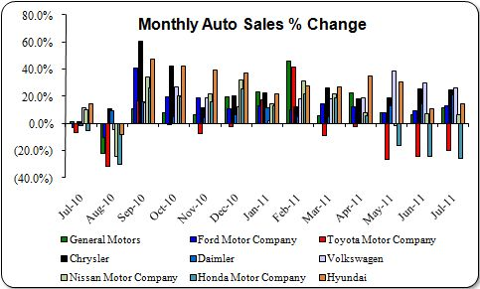 For the third straight month, auto sales were weak. Ford and GM didn't really take advantage of the lack of inventory on hand for Toyota and Honda, but then again, even in a cutthroat industry like the automotive industry, there is some compassion. Ford and GM also knew that if there were incentive driven sales, that once the Japanese automakers began to return to their previous form, it would start another incentive war which hurts everyone involved. (I am hoping for the former to be the main reason, maybe a little naïve, I know.) The expectations were that sales would begin to improve in July and then through the end of the year, but given the current "soft patch" in the economy, I am not so sure. Ford still has an expectation for SAAR in the 13.0 million to 13.5 million range.
Our forecast for 2011 is between 12.6 million and 12.8 million. Something has to give for Ford; either their estimates have to come down or there is going to be an unforeseen surge in auto sales. All in all, it wasn't that good of a month for auto sales, and even more worrisome is that inventory levels (for non-Japanese automakers) are still elevated, which means that production should slow in the coming months, making matters even worse.