International equity markets down sharply, the S&P with 7 straight losses, a fake debt crisis in the U.S and a real one in Europe - things look pretty bleak. If all this were producing genuine value candidates I would be grinning from ear to ear. Unfortunately my searches have produced no such easy buys. It's looking like time to consider an income producing strategy.
Ideally we'd want a liquid company paying massive and consistent dividends, with a little debt and the free cash flow to support its payments. We'd also want the company to not be paying out more than it makes, and it should have reasonable growth prospects. The icing on the cake would be if this company wasn't volatile relative to the market. With this kind of company, I'd feel safe, and would be paid handsomely to wait for the storms to pass and for true value candidates to appear.
Terra Nitrogen Company (NYSE:TNH) meets all these requirements.
Let's rewind a bit and see how I ended up with Terra:

I debated between setting the minimum at 5% but I picked a point that visually stands out in the grand view of the market. 7.2% seems to be the point above which companies are either true dividend champions or freak dividend traps, so that's where we're heading. As you can see in the top right hand corner, 424 equities met this requirement (starting universe of roughly 6500).

This time I was pleased to find out that my usual requirement for EV/FCF was in fact the most visually interesting. 15 is a magic number in the investment world - whether it be P/Es or P/FCFs, it gets tossed around a lot. Anyways the view of the market supports its significance, and a total of 873 equities met this requirement.
Combined, however, the total remaining universe was a measly 14 companies. This goes to show how few of the 424 high yielding companies have good capital structures combined with the ability to pump out cash. A couple of the 14 had market caps lower than 200m, and another few were Chinese (Sino Forest anyone?). Net-net I was left with 3 that looked respectable:
Nokia? I may be proven very wrong on this one but the risk-reward is just simply not there for Nokia. The market has given up on the company, and with a loss of confidence in RIM, I'm inclined to believe the smartphone market is just not a smart place to be unless you're Apple.
BGC Partners is also not in the right space. It brokers financial products and has hedge funds, investment banks, and trading firms among its clients. It's not exactly the defensive name I'm looking for.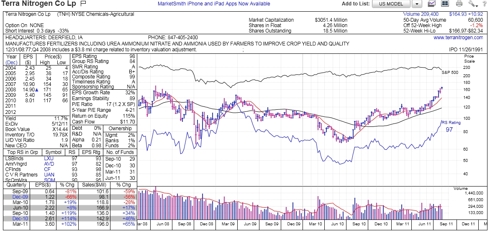 (Click to enlarge) Chart from MarketSmith
Terra Nitrogen yields the most, spits out cash, has no debt, and is surprisingly much less volatile than the market. It's earnings quality is in the top 98th percentile of the market based on multiple factors including acceleration, consistency, and growth. It's got fantastic margins and it's just in the right place. The economics behind fertilizer plays are perfect right now, and similar companies such as Potash (POT) have been pushed up by the market accordingly. There is simply too much demand and not enough players - they all have to benefit.
Terra is a little more complicated, however, as 75% of it was bought by CF Industries (NYSE:CF) and it's structured as a master limited partnership (MLP), allowing them to avoid corporate income tax. It is required to return cash distributions to shareholders based in earnings, and the recent trend has been remarkable. Even a relatively bad performance going forward may still yield well above 8% and still holds the promise of much more capital appreciation.
Does this look too good to be true? Part of the explanation is there is little to no analyst coverage. There may be something I'm not seeing in which case I'd love to hear it, but until then, I would recommend this holding to anyone.
Disclosure: I have no positions in any stocks mentioned, but may initiate a long position in TNH over the next 72 hours. The views and opinions presented are solely my own and not reflective of any employer of mine, past or present.