There is no doubt that sentiment moves in cycles, hitting unwarranted extremes that create investment opportunities.
Such is the case with Odyssey Marine (NASDAQ:OMEX).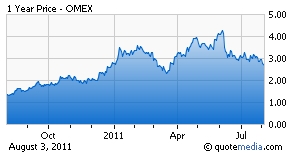 After hitting a recent high of $4.43, Odyssey sank below $3.00 following a capital raise and broad selling pressure in the market. It isn't often that I pound the table, but the market has clearly mispriced this asset. Here are two reasons.
1. Robust Pipeline: 4 Projects That Each Justify the Current Share Price
The market is giving Odyssey little credit for its four largest projects: HMS Victory, Black Swan, SS. Gairsoppa, and the HMS Sussex. For details concerning these wrecks, I recommend listening to CEO Mark Gordon's presentation at the Noble Financial equity conference.
The bottom line: The after-tax value of Odyssey's salvage share in these wrecks is worth more than the stock trades for today. In fact, if only one or two of these wrecks were realized, the cash would justify the current stock price. If two or more of the largest wrecks are recovered, the shares should double.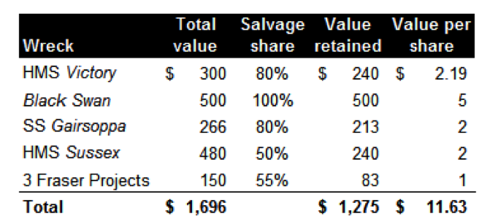 (Note: VPS = Value per share, calculated by dividing the retained value by 71.3M shares outstanding, less taxes, ignoring the value of the company's $110M in NOLs).
2. Deep Sea Mining Operations: A Free Call Option with Significant Potential
Management expects that the company's interest in Neptune Minerals could lead to mining revenue outstripping shipwreck revenue in as little as 3 to 5 years. When will this value be realized?
Soon. In the coming months, Neptune will release results from its latest mineral assay. Once the mineral resources and capital needs are mapped out, the company will likely go public later next year. If the market capitalization of rival Nautilus Minerals is any clue, this will be an important catalyst for the recognition of the value of Odyssey's stake in Neptune.
Nautilus has a market cap of around $500M. While the differences between the two companies merit a full discussion, suffice it to say that Odyssey's 25-30% stake in Neptune could be worth nearly as much as Odyssey trades for today. Check out management's recent investor presentation for more information about Neptune Minerals.
The first step toward realizing that value will be a Neptune IPO. As the world grows increasingly concerned about the mineral supply on land and China plows money into deep sea mining, it will be readily apparent that the attractive economics of deep sea mining will justify stronger asset values for Neptune and Nautilus.
Conclusion: Odyssey Marine is Undervalued
Keep in mind that in addition to the catalysts mentioned above, Odyssey has identified many other high-value shipwreck targets. And after its last capital raise, the company has the cash to start making recoveries.
Investor sentiment towards Odyssey should improve drastically once the company makes a high-profile shipwreck recovery. With 18% of the company's float held short, the shift in sentiment should be magnified. My 12-month price target is $6.50. Longer term, look for much more.
Disclosure: I am long OMEX.