A couple of comments on my article on palladium miner Stillwater Mining (SWC) encouraged me to take a look at this company in terms of the price of palladium – and the picture isn't a pretty one.
Since Stillwater announced the acquisition of Peregrine Metals, Stillwater's shares have been under significant pressure with Bloomberg Businessweek noting a "
Boom Turns Bust
" for Stillwater investors. Peregrine does own what appears to be major copper and gold assets, but those assets will apparently cost at least $2 billion to develop.
Take a look at Stillwater's share price against the price of palladium.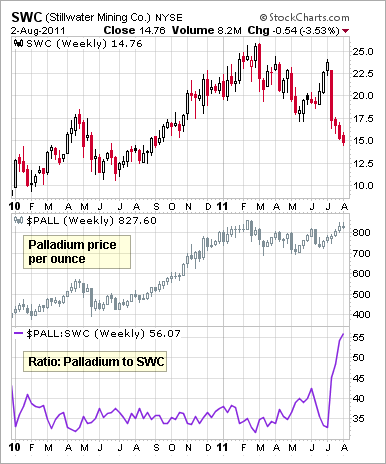 While palladium is near its high for the past 10 years, a fairly steady relationship between palladium prices and SWC's share price has broken down.
For more than a year and a half, you could essentially "trade in" between 35 and 40 shares of Stillwater to get an ounce of palladium. And the correlation was rather high, more than 0.90 over that time frame.
But now it takes more than 55 shares of the stock to get that same ounce of palladium and the tight correlation appears to be breaking down.
A similar pattern has emerged for another palladium miner, North American Palladium (PAL), which released
poor earnings and guidance
back in May.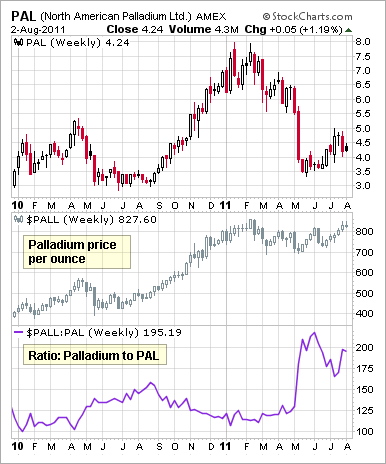 Lesson? Investing in the metals themselves instead of miners eliminates company specific risks like these.
So far, it appears that my investment in SWC last month wasn't the brightest idea. But I'm also a long-term holder of the physical palladium ETF (NYSEARCA:
PALL
) and the physical platinum ETF (NYSEARCA:
PPLT
), which makes me feel a lot better about my precious metal investments.
Disclosure: I am long SWC, PALL, PPLT.