The European Central Bank recently announced that it would inject over $1 trillion into the Eurozone economy, which seems to be flirting with deflation. The planned $60 billion purchase of bonds each month from banks is projected to last until the end of September 2016, or even longer. QE, in theory, increases the supply of money, something that keeps interest rates low and encourages borrowing and spending. ECB president Mario Draghi indicated the program would begin in March.
As a result of these developments, you may want to consider increasing your exposure to the European equity markets. An easy and efficient way to accomplish this is through the use of ETFs.
The Vanguard FTSE Europe ETF (VGK), tracks an index made up of approximately 500 common stocks of companies located in 16 European countries, although British and Swiss stocks comprise about 50% of the funds holdings. VGK offers a very attractive current dividend yield of 4.61%.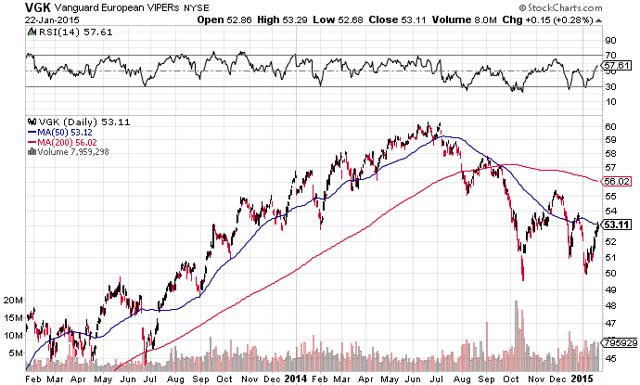 Investors looking for exposure to more of the core of Europe should look at the iShares MSCI EMU Index (BATS:EZU), which only holds companies listed in countries that have adopted the euro currency. The underlying index consists of stocks from the following 10 developed market countries: Austria, Belgium, Finland, France, Germany, Ireland, Italy, the Netherlands, Portugal and Spain. EZU's current dividend yield is 2.94%.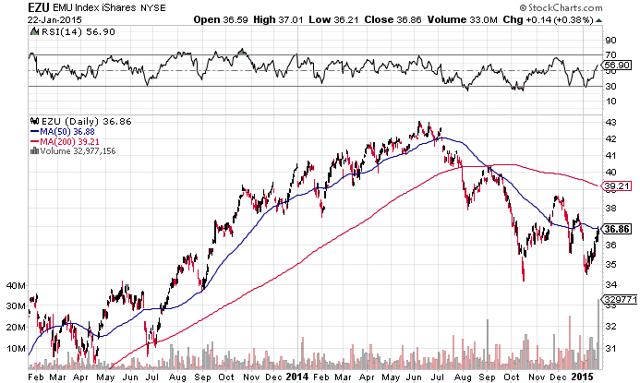 Another solid choice is The WisdomTree Europe SmallCap Dividend ETF (DFE). It's comprised of the small-capitalization segment of the European dividend-paying market and may offer the greatest opportunity within the Eurozone as small-cap companies tend to be more closely tied to their local economies than their large-cap counterparts. In fact, during the Fed's QE program here in the US, the iShares Russell 2000 ETF (IWM), which is comprised of US small-cap stocks, significantly outperformed the SPDR S&P 500 ETF (SPY), a basket of US large-cap stocks. Should investors expect the same from DFE? Not necessarily, however, the potential for a similar scenario exists. DFE's current dividend yield is 2.95%.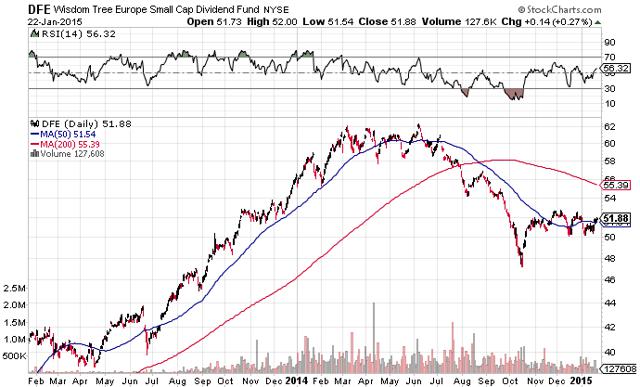 Currency fluctuations affect international investments. News of the ECB's QE program sent the euro to an 11-year low against the US dollar. All of the previously mentioned ETFs are exposed to currency risk. For a U.S. investor, a currency gain arises when the value of the dollar falls against the currency in which a foreign security is denominated. However, the US dollar has been on a tear of late. The strong dollar and falling euro are hurting the performance of international (euro-denominated) investments, including ETFs.
One of the following ETFs may make an excellent addition to your Eurozone basket of securities. The WisdomTree Europe Hedged Equity Fund (HEDJ), iShares Currency Hedged MSCI EMU ETF (HEZU) and Deutsche X-trackers MSCI EMU Hedged Equity ETF (DBEU) all track Eurozone equities and hedge against a weakening euro currency. They also produce dividend income. If you are looking to hedge currency risk, these ETFs fit the bill. HEDJ is the largest of the three with $6.95 billion of total assets.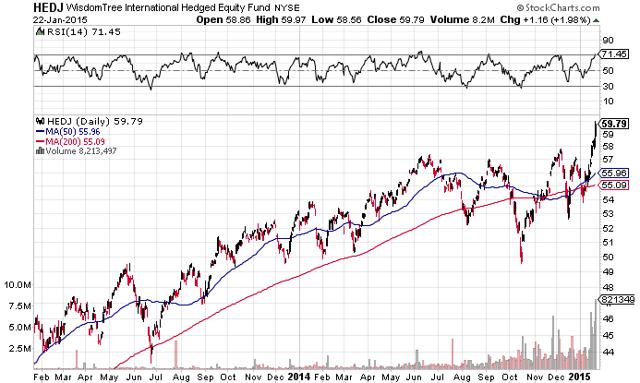 Conclusion
The markets appear to approve of Europe's QE program based on how they soared following Draghi's announcement. QE will likely serve to diminish the risk of deflation, at least in the short-term and provide an injection of confidence to markets.
QE has seemed to work here in the United States. A European QE program should similarly be bullish for European equities.
After years of underperformance and in light of the larger than expected QE package just announced, increasing exposure to the Eurozone in your portfolio via ETFs may be a smart tactical move. Just remember, unhedged ETFs will suffer performance lag if the euro currency continues to decline; hedged ETFs would be hurt if the euro currency were to reverse trend and rise appreciably from here. So it may be prudent to purchase a combination of hedged (75%) and unhedged (25%) European ETFs to cover all bases.
Disclosure: The author has no positions in any stocks mentioned, and no plans to initiate any positions within the next 72 hours.
The author wrote this article themselves, and it expresses their own opinions. The author is not receiving compensation for it. The author has no business relationship with any company whose stock is mentioned in this article.
Additional disclosure: George Kiraly Jr., CFP, MBA is the president of LodeStar Advisory Group, LLC, an independent Registered Investment Adviser located in Short Hills, New Jersey. George Kiraly, LodeStar Advisory Group, and/or its clients may hold positions in the ETFs, mutual funds and/or any investment asset mentioned above. The opinions offered herein are not personalized recommendations to buy, sell or hold securities.