As investors see the equity markets continue to roll over due to a weak economic background, investors are starting to call out for QE3. While we think the FED is unlikely to prime the QE3 pump until the economy weakens more materially, we believe the Federal Reserve will keep interest rates low for an extended period. Despite last week's flash crash in mREITs we continue to think that investors should allocate a portion of their holdings to mREITs as these investments provide a hedge to sustained low interest rates. In a yield famine world, mREITs provide investors with a phenomenal risk/reward profile.
Investors Should Focus on More Than Just Dividend Yield
The largest mREIT, Annaly Capital Management (NYSE:NLY), announced earnings this week. While investors are often focused on the dividend yield of mREITs, we think it is worthwhile for investors of fixed rate, agency-focused REITs [such as NLY and American Capital Agency Group (NASDAQ:AGNC)] to also monitor the Constant Prepayment Rate ("CPR") at quarter end. The CPR provides investors insight into prepayment speeds or the timing of principle cash flows coming back to the MBS investor. Fixed rate agency focused investors benefit from slower CPRs. We think that CPRs have a strong likelihood of remaining low as homeowners find it more difficult to refinance. As shown in the table below, NLY's CPR continues to decrease.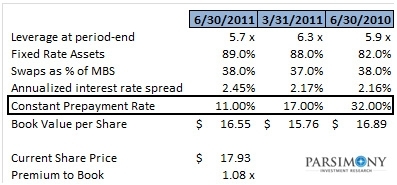 In general, we think interests rates and prepayment rates will remain low for the foreseeable future (next 12-24 months). As such, we believe REITs offer investors an extremely compelling risk/reward profile.
Note: NLY remains our largest holding due primarily to the tenure of the team, their track record and its focus on agency securities.
Disclosure: I am long NLY.