* All data are as of the close of Thursday, January 22, 2015. Emphasis is on company fundamentals and financial data rather than commentary.
There's a two-for in today's comparison on the Heavy Construction industry. On tap is a useful lesson on the importance of knowing a company's business before buying its stock, and a possible buy-signal on some beaten-down names.
For the lesson on knowing a company's business before buying, we need only look at a graph of the recent performances of the three largest U.S. companies in the space - Fluor Corporation (NYSE: FLR), MasTec, Inc. (NYSE: MTZ), and Granite Construction Incorporated (NYSE: GVA), as shown below.
Since the economic recovery began in early March of 2009, where the broader market S&P 500 index [black] has risen 205% and the SPDR Industrials Sector ETF (NYSE: XLI) [blue], of which Fluor is a component, has risen 265%, all three of our highlighted stocks have grossly underperformed - with Fluor [beige] rising 65%, MasTec rising 83%, and Granite falling 3%.
On an annualized basis, where the S&P has averaged 35.14% and XLI has averaged 45.43%, Fluor has averaged 11.14%, MasTec has averaged 14.23%, and Granite has averaged -0.51% per year. Although Fluor's and MasTec's average gains would be rather decent in any normal economic period, the last six years have not been a normal economic period, with plenty of better performing companies to be found elsewhere.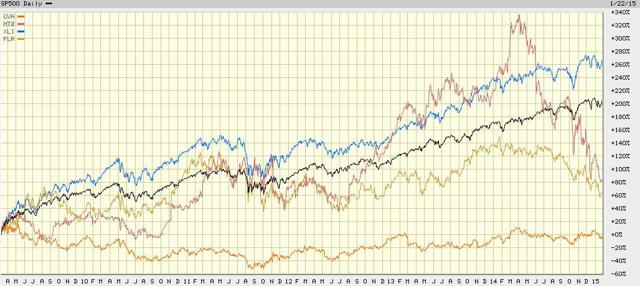 Source: BigCharts.com
But the graph above clearly shows that such has not been the case all throughout the recovery. In fact, MasTec during some 5 quarters from early 2013 to early 2014 had outperformed its peers, the broader market and the industrials sector benchmark - by a substantial degree to boot.
Yet something happened in the spring of 2014 that cracked the foundation that MasTec - and Fluor, for that matter - were building on, causing their stocks to crumble. Though the condition did not affect Granite at all, which simply moved sideways, meandering its way above and below the 0% line.
What was that condition which so affected the two largest U.S. companies in the space? The saturation of crude oil and natural gas on the market which caused a slowdown in the oil and gas sector. Looking at the activities of all three of our highlighted companies explains it all:
• Fluor Corporation, headquartered in Irving, Texas, provides engineering, procurement, construction, fabrication, modularization, commissioning and maintenance services to companies in the upstream oil and gas production, liquefied natural gas, downstream refining, offshore production, pipeline, chemicals, petrochemicals, mining and metals, transportation, life sciences, manufacturing, telecommunications, wind power, microelectronics, water, and healthcare industries, in addition to providing consulting services which include feasibility studies, process assessment, and project finance structuring and studies.
• MasTec, Inc, headquartered in Coral Gables, Florida, provides engineering, construction, installation, maintenance, and upgrade services to the communications, oil and gas, electric power, and industrial sectors. It also constructs pipelines for natural gas, crude oil, and refined product transportation, as well as underground and overhead cable and wire systems comprised of trenches, conduits, and cable and power lines that provide wireless and wired communications and electric power transmission.
• Granite Construction Incorporated , headquartered in Watsonville, California, constructs, improves and maintains infrastructure networks including streets, roads, highways, bridges, mass transit, tunnels, waterway locks and dams, pipelines, canals, and electric power transmission grids, serving federal agencies, state transportation departments, county and city public works departments, school districts and developers, utilities, airports, farms, and industrial, commercial and residential complexes.
Although all three companies are heavy construction contractors belonging to the same industry, their focus on slightly differing segments of the economy has produced starkly contrasting stock performance. Investors, therefore, would be well advised to look past a stock's charts at the specific activity its company is engaged in, ensuring we do not load-up on too many companies engaged in the same type of activity. Owning both Fluor and MasTec, for instance, would be redundant.
As an interesting side-point, Fluor's and MasTec's stocks peaked several months before crude oil did - February, April, and June respectively - with a slowdown in oil and gas facilities construction acting as a leading indicator of a slowdown in oil and gas production on the road ahead.
The opposite might also be true, where a rebound in Fluor's and MasTec's stocks could precede a pick-up in production and a rise in energy prices once oil and gas stockpiles fall below consumption levels.
This, of course, leads us to what might be a rather constructive investment opportunity. It all depends on what your outlook is for the oil and gas sector and prices. If you feel that oil and gas will be higher in the future (which is almost assured, given that at some point over the next five years global economies "should" return to higher manufacturing and energy consumption levels), then Fluor and MasTec could be extraordinary buy opportunities given their recent plunges back to mid-2011 prices.
The earnings growth projections for the Heavy Construction industry as a whole could be pointing to precisely that, as tabled below where green indicates outperformance while yellow denotes underperformance.
Over the immediate two quarters, the industry is seen growing its earnings at a some 3.31 to 5.69 times the broader market's average growth rate, before slowing to a more sustainable but still robust 1.74 times annually over the next five years.

Zooming-in a little closer, the three largest U.S. companies in the space are expected to split perform rather dramatically over the near term, indicating a continuing drag on the oil and gas sector for at least the next two or maybe three quarters, as tabled below.
Over the immediate term, the slowest earnings grower is projected to be MasTec, suffering earnings shrinkage this quarter, and under-growing its peers and the broader market next quarter. Fluor is expected to grow a little better, though still underperforming in the current quarter. Meanwhile, Granite is seen shooting upward quite dramatically, beating the broader market's average earnings growth at some 186.81 times its rate.
Yet all three are seen growing rather nicely in the next reporting year (2015), beating the S&P at some 1.52 to 17.27 times its average growth rate, though still favoring infrastructure-focused Granite over energy-focused MasTec and Fluor.

Yet there is more than earnings growth to consider when sizing up a company as a potential investment. How do the three compare against one another in other metrics, and which makes the best investment?
Let's answer that by comparing their company fundamentals using the following format: a) financial comparisons, b) estimates and analyst recommendations, and c) rankings with accompanying data table. As we compare each metric, the best performing company will be shaded green while the worst performing will be shaded yellow, which will later be tallied for the final ranking.
A) Financial Comparisons
• Market Capitalization: While company size does not necessarily imply an advantage and is thus not ranked, it is important as a denominator against which other financial data will be compared for ranking.

• Growth: Since revenues and expenses can vary greatly from one season to another, growth is measured on a year-over-year quarterly basis, where Q1 of this year is compared to Q1 of the previous year, for example.
In the most recently reported quarter, MasTec delivered the greatest trailing revenue growth year-over-year, Granite delivered the greatest trailing earnings growth, while Fluor delivered the least in both, even shrinkage.

• Profitability: A company's margins are important in determining how much profit the company generates from its sales. Operating margin indicates the percentage earned after operating costs, such as labor, materials, and overhead. Profit margin indicates the profit left over after operating costs plus all other costs, including debt, interest, taxes and depreciation.
Of our three contestants, MasTec operated with the widest profit and operating margins, while Granite contended with the narrowest, even negative profit margins indicating loss.

• Management Effectiveness: Shareholders are keenly interested in management's ability to do more with what has been given to it. Management's effectiveness is measured by the returns generated from the assets under its control, and from the equity invested into the company by shareholders.
For their managerial performance, Fluor's management team delivered the greatest returns on assets and equity, while Granite's team contended with the narrowest, even losing some equity.

• Earnings Per Share: Of all the metrics measuring a company's income, earnings per share is probably the most meaningful to shareholders, as this represents the value that the company is adding to each share outstanding. Since the number of shares outstanding varies from company to company, I prefer to convert EPS into a percentage of the current stock price to better determine where an investment could gain the most value.
Of the three companies here compared, MasTec provides common stock holders with the greatest diluted earnings per share gain as a percentage of its current share price, while Granite's DEPS over current stock price is lowest, even negative denoting loss.

• Share Price Value: Even if a company outperforms its peers on all the above metrics, however, investors may still shy away from its stock if its price is already trading too high. This is where the stock price relative to forward earnings and company book value come under scrutiny, as well as the stock price relative to earnings relative to earnings growth, known as the PEG ratio. Lower ratios indicate the stock price is currently trading at a cheaper price than its peers, and might thus be a bargain.
Among our three combatants, MasTec's stock is the cheapest relative to forward earnings and company book value, where Fluor's is the cheapest relative to 5-year PEG. At the overpriced end of the scale, Granite's stock is the most overvalued relative to earnings and PEG, where Fluor's is the most overpriced relative to company book.

B) Estimates and Analyst Recommendations
Of course, no matter how skilled we perceive ourselves to be at gauging a stock's prospects as an investment, we'd be wise to at least consider what professional analysts and the companies themselves are projecting - including estimated future earnings per share and the growth rate of those earnings, stock price targets, and buy/sell recommendations.
• Earnings Estimates: To properly compare estimated future earnings per share across multiple companies, we would need to convert them into a percentage of their stocks' current prices.
Of our three specimens, Fluor offers the highest percentage of earnings over current stock price for the next quarter, where MasTec offers it for all other time periods. At the low end of the scale, Granite offers the lowest percentage for all periods.

• Earnings Growth: For long-term investors this metric is one of the most important to consider, as it denotes the percentage by which earnings are expected to grow or shrink as compared to earnings from corresponding periods a year prior.
For earnings growth, Granite offers the greatest growth for most time periods, where Fluor offers it over the next five years. At the low end of the spectrum, MasTec offers the least growth over the near term, Fluor offers it throughout 2015's reporting year, and Granite offers it over the next five years.
• Price Targets: Like earnings estimates above, a company's stock price targets must also be converted into a percentage of its current price to properly compare multiple companies.
For their high, mean and low price targets over the coming 12 months, analysts believe MasTec's stock offers the greatest upside potential and least downside risk, while Granite's offers the least upside and greatest downside.
It must be noted, however, that both Fluor's and MasTec's stocks are already trading below their low targets. While this may mean increased potential for sharp moves upward, it may warrant reassessments of future expectations.

• Buy/Sell Recommendations: After all is said and done, perhaps the one gauge that sums it all up are analyst recommendations. These have been converted into the percentage of analysts recommending each level. However, I factor only the strong buy and buy recommendations into the ranking. Hold, underperform and sell recommendations are not ranked since they are determined after determining the winners of the strong buy and buy categories, and would only be negating those winners of their duly earned titles.
Of our three contenders, MasTec is best recommended with 4 strong buys and 5 buys representing a combined 90% of its 10 analysts, followed by Fluor with 9 strong buy and 11 buy ratings representing a combined 80% of its 25 analysts, and lastly by Granite with 3 strong buy and 3 buy recommendations representing 75% of its 8 analysts.

C) Rankings
Having crunched all the numbers and compared all the projections, the time has come to tally up the wins and losses and rank our three competitors against one another.
In the table below you will find all of the data considered above plus a few others not reviewed. Here is where using a company's market cap as a denominator comes into play, as much of the data in the table has been converted into a percentage of market cap for a fair comparison.
The first and last placed companies are shaded. We then add together each company's finishes to determine its overall ranking, with first place finishes counting as merits while last place finishes count as demerits.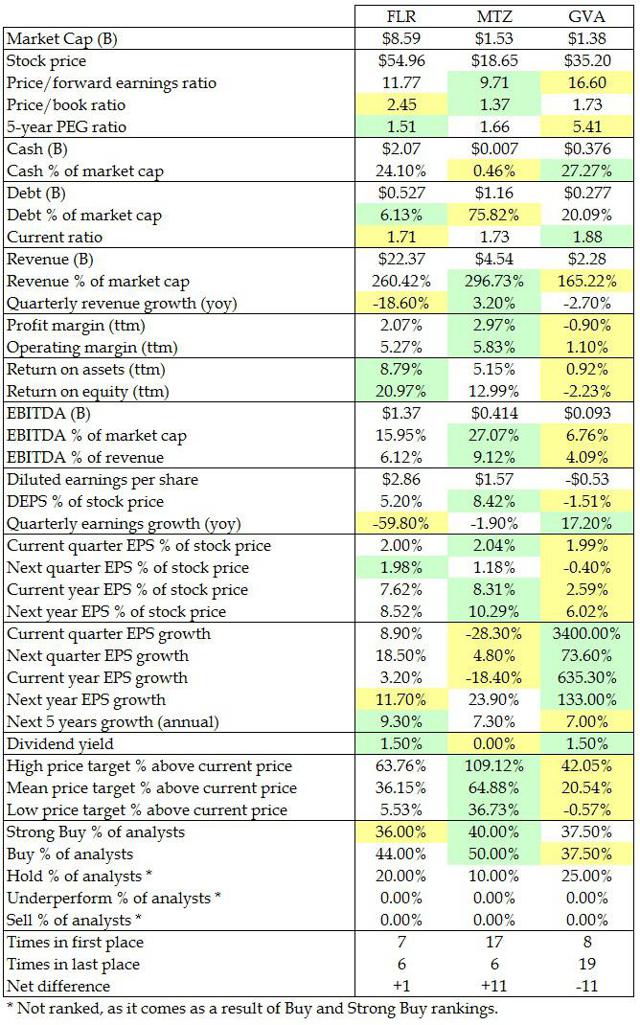 And the winner is… MasTec with an industrial scale lead, outperforming in 17 metrics and underperforming in 6 for a net score of +11, with Fluor not flourishing very well at all, outperforming in 7 metrics and underperforming in 6 for a net score of +1, leaving Granite crumbling into rubble, outperforming in 8 metrics and underperforming in 19 for a net score of -11.
Where the Heavy Construction industry is expected to outperform the S&P broader market substantially this and next quarters, significantly next year, and meaningfully beyond, the three largest U.S. companies in the space are expected to split perform in earnings growth very much in line with their target sectors' state of health - with oil and gas-focused Fluor and MasTec under-growing over the near term and infrastructure-focused Granite growing quite impressively.
Yet after taking all company fundamentals into account, MasTec, Inc constructs the sturdiest financial structure, given its lowest stock price to forward earnings and company book, highest revenue over market cap, highest trailing revenue growth, widest profit and operating margins, highest EBITDA over market cap and revenue, highest diluted earnings over current stock price, highest future earnings over current stock price overall, best price targets, and most strong buy and buy analyst recommendations - decisively winning the Heavy Construction industry competition.