I recently wrote an article on a diversified closed-end fund (CEF) portfolio that included a range of equity funds but had only 28% of the assets allocated to bonds. I realized that many retirees would like to have a higher percentage in bonds, so I wrote this article, which focuses exclusively on bond CEFs.
I chose only funds that were in existence during the 2008 bear market so that I could judge performance during a recessionary period. Other criteria included:
An average daily volume of at least 100,000 shares per day to facilitate liquidity
A distribution of at least 6% without excessive amounts of Return of Capital (ROC)
A market cap of at least $150 million, but the larger the better
A premium of no more than 5%
Using these criteria, I then selected funds that would provide a diversified mix of: government and corporate bonds from both the U.S. and internationally, asset-backed bonds, convertible bonds, and senior loans. The 10 CEFs that I chose are summarized below. There is a large universe of bond CEFs, so I welcome alternative suggestions from readers.
For comparison with other popular high-yield bond funds, I also added the following Exchange Traded Fund (ETF) to my analysis.
iShares iBoxx $ High Yield Corporate Bond ETF (NYSEARCA:HYG): This ETF tracks an index of about a thousand high-yield U.S. corporate bonds across all sectors of the economy. The fund does not use leverage, and has an expense ratio of 0.5%. It yields 5.7% without any ROC. During 2008, the price of this ETF dropped by 17%, but the NAV dropped by 23%. It is unusual for an ETF to have a large difference between price and NAV, but this just illustrates the dislocations that occurred during the 2008 bear market.
Composite Portfolio
If you equal-weight each of the selected CEFs, the resulting composite portfolio has the allocations shown graphically in Figure 1. As you can see, the composite portfolio is well diversified. Numerically, the allocations are: 5% U.S. government, 30% corporate, 16% asset-backed, 11% convertibles, 9% senior loans, 9% foreign government, 16% foreign corporate, and 4% other (cash, preferred issues, etc.). Personally, I would have liked a larger allocation to U.S. government bonds, but it was difficult to find Treasury-focused funds that had distributions exceeding 6%. Overall, this portfolio had 31% investment-grade securities.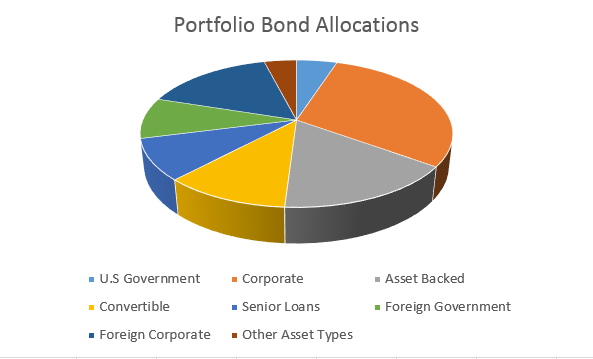 Figure 1: Composition of bond portfolio
The composite portfolio has an average distribution of 8.6%, which certainly meets my criteria for high income. But total return and risk are as important to me as income, so I plotted the annualized rate of return in excess of the risk-free rate (called Excess Mu in the charts) versus the volatility for each of the component funds. I used a look-back period from October 12, 2007 (the market high before the bear market collapse) to 21 January, 2015. The Smartfolio 3 program was used to generate the plot shown in Figure 2.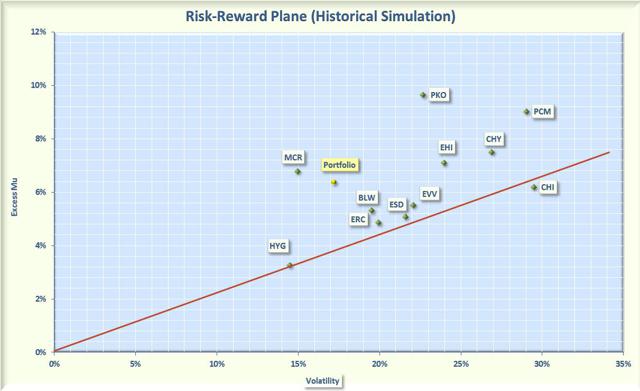 Figure 2: Risks versus rewards over the bear-bull cycle
The plot illustrates that the CEFs have booked a wide range of returns and volatilities since 2007. To better assess the relative performance of these funds, I calculated the Sharpe Ratio. The Sharpe Ratio is a metric developed by Nobel laureate William Sharpe that measures risk-adjusted performance. It is calculated as the ratio of the excess return over the volatility. This reward-to-risk ratio (assuming that risk is measured by volatility) is a good way to compare peers to assess if higher returns are due to superior investment performance or from taking additional risk. In Figure 2, I plotted a red line that represents the Sharpe Ratio associated with HYG. If an asset is above the line, it has a higher Sharpe Ratio than HYG. Conversely, if an asset is below the line, the reward-to-risk is worse than HYG.
Over the bear-bull cycle, all the individual bond CEFs were more volatile than HYG. However, when combined into an equally weighted composite portfolio, the volatility was only slightly more than HYG. This is an illustration of an amazing discovery made by an economist named Markowitz in 1950. He found that if you combined certain types of risky assets, you could construct a portfolio that had less risk than the components. His work was so revolutionary that he was awarded the Nobel Prize. The key to constructing such a portfolio was to select components that were not highly correlated with one another. In other words, the more diversified the portfolio, the more potential volatility reduction you can receive.
Some other interesting observations are evident from the figure.
All the bonds CEFs had a higher volatility than HYG, but in each case, this was coupled with a higher return. All the CEFs except for CHI were above the "red line," which means that the investor was adequately compensated for increased risks.
The best-performing bond CEF on a risk-adjusted basis was MCR, but PKO was not far behind.
The worst-performing bond CEF was CHI, which had a higher return than HYG, but a much larger volatility. This caused the risk-adjusted return associated with CHI to lag slightly behind HYG.
The least volatile bond CEF was MCR, and the most volatile was CHI.
The composite portfolio handily outperformed HYG on a risk-adjusted basis.
I next wanted to assess the diversification of this portfolio. To be "diversified," you want to choose assets such that when some of them are down, others are up. In mathematical terms, you want to select assets that are uncorrelated (or at least not highly correlated) with each other. I calculated the pair-wise correlations associated with the funds. The data is presented in Figure 3. All the CEFs had relatively low correlations with HYG (in the 40%-60% range). This bodes well for including these CEFs in a more traditional high-yield bond portfolio. Among the CEFs, the correlations were also low, with only a few above 70%. Overall, these results were consistent with a well-diversified portfolio.

Figure 3: Correlations over the bear-bull cycle
My next step was to assess this portfolio over a shorter time frame when the stock market was in a strong bull market. I chose a look-back period of 5 years, from January 2010 to January 2015. The data is shown in Figure 4. During this period, the bond CEFs did not fare as well, with many of the CEF booking a risk-adjusted performance less than HYG. Only 3 of the CEFs (CHY, PKO, and PCM) outperformed HGY. However, I was happy to see that the combined portfolio continued to outperform HYG during this bull market period.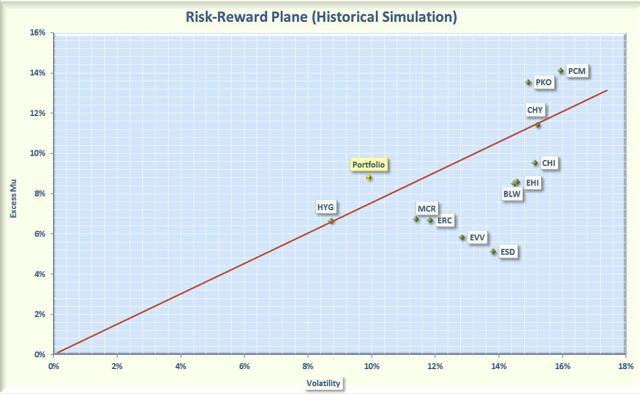 Figure 4: Risks versus rewards over the past 5 years
Based on the above, I wanted to see if the outperformance continued during the more recent past. I next used a look-back period of 3 years, and the results are shown in Figure 5. As you might have expected, HYG had an impressive run during this strong bull period. Only the convertible CEFs (CHI and CHY) were able to keep pace on a risk-adjusted basis. However, as with the 5-year period, the combined portfolio performed well, lagging HYG by only a small amount on a risk-adjusted basis. The major detriment to the portfolio performance was ESD, which has had a horrible 3 years, just barely managing to remain in the black. This was because of a general sell-off in emerging market assets that has only recently abated. Many investors might be tempted to drop ESD from the portfolio, but I am inclined to give it the benefit of the doubt with the expectation that emerging markets may recover in the future. Overall, I continue to be pleased with the portfolio performance.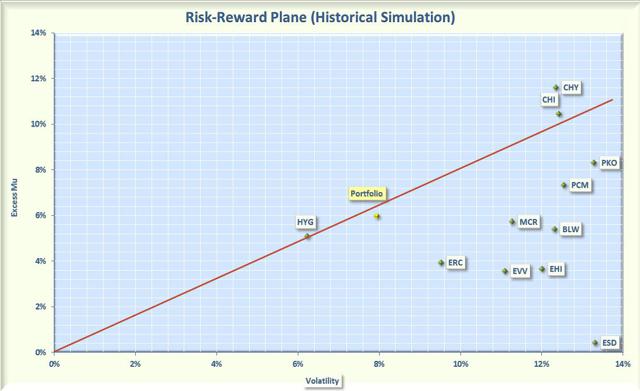 Figure 5: Risks versus rewards over the past 3 years
Bottom Line
The bond CEFs in this portfolio were all volatile, and taken individually, they would not be suitable for a risk-averse investor. As discussed, most of these funds also had substantial losses during 2008. However, if you risk profile allows you to purchase high-yield bonds, the composite portfolio delivered some excellent risk-adjusted performances over the periods analyzed. No one know how this portfolio will perform in the future, but based on past history, I believe it is worthy of consideration for an income investor who is also seeking total return at a reasonable risk.
Disclosure: The author is long BLW, CHI, CHY, EHI, ERC, EVV, ESD, MCR, PCM, PKO. The author wrote this article themselves, and it expresses their own opinions. The author is not receiving compensation for it (other than from Seeking Alpha). The author has no business relationship with any company whose stock is mentioned in this article.