Based on the current stock price, it may appear to have been an uneventful past few months for iBio, Inc. (NYSEMKT:IBIO). Even positive news releases seem to have very little effect on the trading of this heavily manipulated stock on the short side. Aside from the stock price, one other aspect continues to remain relatively unchanged, the short interest. Most recently reported at 937,490 shares short and a short interest ratio of greater than 32.65 days, short interest continues to be rather significant and unaffected by any potential catalysts.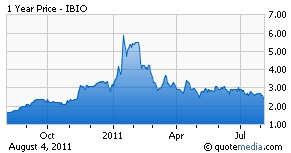 In my opinion, recent news releases have not been received or reflected as well as they should have been. A rather simple, but promising, valuation can be applied to recent iBio developments that may expose the underlying potential of recent news.
The valuation model involves several key assumptions and the valuation reflects production results in terms of added value per share. Each of the following valuations involves the following assumptions:
· Market Size: the market size has been provided in each drug's respected news release and is the annual global market size for the specific drug or disease to be treated.
· Annual Growth: as a result of better diagnostics, we can assume annual growth in the market for these drugs. However, these increases may be countered by decreases in treatment costs due to improved technology such as the iBio platform. In these valuations, I used a 2% growth rate per year.
· Market Penetration: the market penetration is any given drug's ability to gain market share. In each of these cases, I conservatively used a market penetration rate of 20%.
· Royalty Rate: as a platform-driven company, iBio will receive royalty payments for the manufacturing of any biogenic. In this model, I use a royalty rate of 5%. It would be reasonable to expect a higher royalty rate. This rate also does not include milestone payments or any capital received upfront.
· Profit Margin: the profit margin is the profit that iBio can expect to earn as a percentage of the company's royalty payment. In these valuations, I assume a royalty profit margin of 70%, given iBio's low-cost advantage in biogenic production.
· Launch Year and Uptake: in these models, I assume that each product will launch in 2017 and involve an uptake of only 4 years.
· P/E Ratio: the valuation uses a P/E ratio of 10 in order to portray the Net Present Value of future cash flows in terms of price per share. For a typical biotech company, a much higher P/E ratio can be used.
· Discount Rate: in order to determine the Net Present Value of future cash flows, the model assumes a discount rate of 15%.
I truly believe these assumptions are on the conservative side (particularly the market penetration, P/E assigned to biotech companies, and time to launch) and the share price contributions increase significantly with more realistic numbers. According to recent press releases, I applied this model to the following products: Alpha-Gal, Alpha 1-Antitrypsin, C1 Esterase Inhibitor, and the H1N1 vaccination. The H1N1 valuation involves a few different assumptions, explained below, as a result of the greater market size and lower profit margin for vaccines.
It is important to note that these valuations do not include milestone payments, including pre-production payments. These valuations are based solely on royalty payments. It is very reasonable to expect these valuations to be significantly higher with the application of milestone payments.
Alpha-Gal
Annual Market Size: $2,000,000,000 (10,000 patients, $200,000/year)
Net Present Value of Future Cash Flows: $19,982,772
Contribution to Share Price: $6.17
Alpha 1-Antitrypsin
Annual Market Size: $500,000,000
Net Present Value of Future Cash Flows: $4,995,693
Contribution to Share Price: $1.54
C1 Esterase Inhibitor
Annual Market Size: $1,000,000,000
Net Present Value of Future Cash Flows: $9,991,386
Contribution to Share Price: $3.09
H1N1 Vaccine
Annual Market Size: $6,750,000,000
Annual Growth Rate: -1%, due to the nature of the vaccine and expected efficiency improvements
Market Penetration: 5%, should be less optimistic about market penetration due to the size of the market
Launch Year: 2014
Net Present Value of Future Cash Flows: $12,132,680
Contribution to Share Price: $3.75
Note: I have not included H1N1 in the total contributions to share price below. Currently, there are no strong incentives to develop a flu vaccine. Although vaccines such as the H1N1 vaccine are not products to build a company on, the recent success of Phase 1 trials presents credibility to the iBio platform.
These valuations, excluding H1N1, sum up to a total of $10.80 per share. Given the current, undervalued stock price and significant short interest, it is reasonable to expect a shift towards a higher and more accurate share price as the effects of these developments become more apparent.
Disclosure: I am long IBIO and have not received any remuneration from the company.