Amongst all the speculation concerning Apple's (NASDAQ:AAPL) Q1 results to be published Tuesday, recent developments in Asia point to Apple exceeding expectations, even those of some of the more bullish analysts. This article focuses on the iPhone, though Apple's penetration of its full ecosystem of products is gaining rapidly throughout Asia.
In China, as elsewhere in Asia, the larger screen iPhones are the key to success. A report from Counterpoint Research backs up other evidence for this. It shows Apple now has 12% market share in China with sales up 45% year-on-year, putting it in third place behind Xiaomi and Lenovo (OTCPK:LNVGY), with former market leader Samsung (OTC:SSNLF) falling well down the scale and vying with Huawei for the next place in market share. Another report from AppLovin shows the iPhone 6 Plus approaching the same level of usage as the standard 6.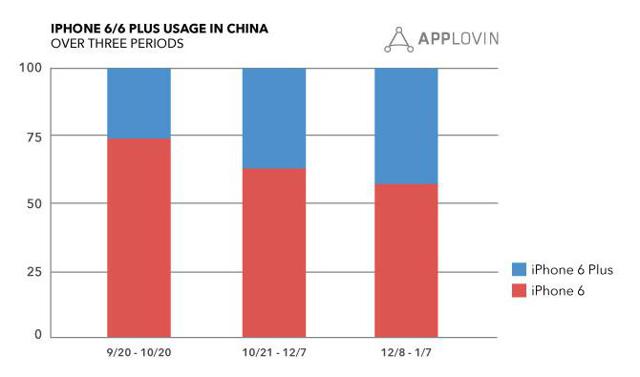 The 6 Plus is believed to have higher margins than the 6 although different analysts have varied substantially in their cost breakdowns of the 6 and 6 Plus. At the same time, the higher memory 64GB and 128GB models are also increasing their share and these undoubtedly have higher margins than lower memory models, so Apple will have the double benefit of higher ASPs (average selling price) and higher unit profitability.
Apple is also expanding rapidly its retail stores in China, with five new stores slated to open before Chinese New Year in late February. This will bring the total to 20, but the company has perhaps been a bit late to open up more stores in China when you consider their total of 448 stores worldwide. At the last quarterly conference call in October 2014, Tim Cook had stated Apple would open 25 new stores in China in the next two years, so the company seems to be making up for lost time in what is now the iPhone's biggest single market.
Shanghai is Apple's busiest retail store anywhere in the world, attracting a remarkable 25,000 customers per day. An extraordinary report in January of how a man was caught trying to smuggle 94 iPhones into the country from Hong Kong strapped to his body indicates that demand in the country is hardly sated! Booming sales in the country have been boosted by China Mobile's 4G roll-out: China Mobile has about 800 million subscribers (India is the only other country which has a greater population than China Mobile has subscribers). The retail drive in China is also seen as a precursor to a marketing blitz in the country for the Apple Watch, and retail chief Angela Ahrendts has been spending time in the country recently. Asia should be fertile ground for this new product, where ownership of branded watches is seen as a must-have factor for the aspiring and growing middle classes, much more so than in North America or Europe. Already low-cost Android smartwatches are being produced by local manufacturers such as Huawei, ZTE (OTCPK:ZTCOY) and HTC.
Japan has long been a jewel in the Apple crown, and now market share is reported by Counterpoint to have reached 51% in November, with Sony (NYSE:SNE), despite its excellent Xperia range, falling from 30% to 17%. This makes Japan the top market anywhere in the world for Apple in terms of market share.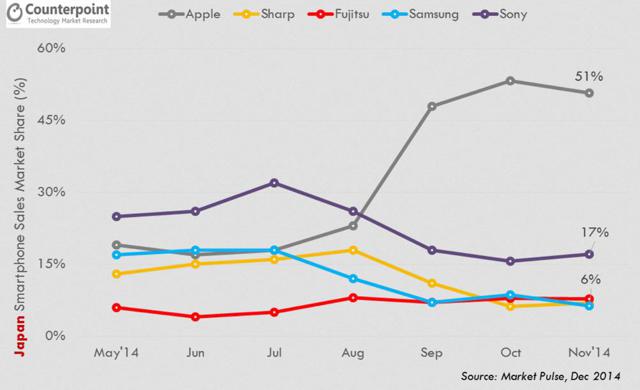 Even better for Apple in Japan, figures for the month of October show that various Apple models took the top six places in terms of sales, and the top two were both 64 GB models, pointing to high ASPs and high margins for Apple in the country.
Most extraordinarily, in South Korea Counterpoint figures show Apple gaining 33% market share in November, behind Samsung at 46% but above LG at 14% and more than doubling the share it had before the iPhone 6 was marketed there. The country's three telecoms operators - SK Telecom, KT, and LG Uplus - have all been offering hitherto unmatched subsidies to buyers of the iPhone 6, putting to rest some Apple bears' arguments about how Apple will be adversely hit by a supposed decline in telecoms' subsidies.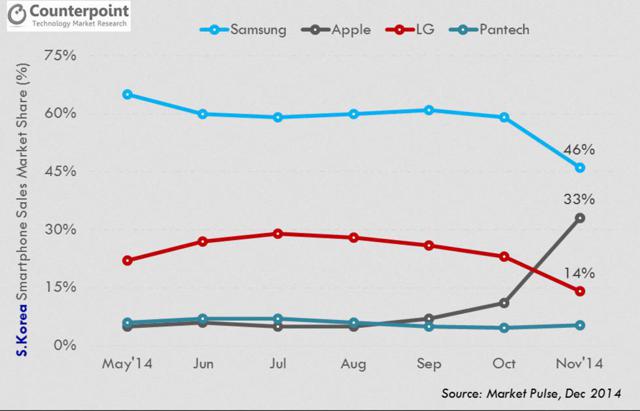 It is not just in these three biggest Asian markets where one can discern the same trend. The AppLovin chart below shows the generalized trend for the higher margin 6 Plus phones elsewhere in Asia, such as the booming markets of Vietnam and the Philippines where the larger screen adoption is greater than anywhere else.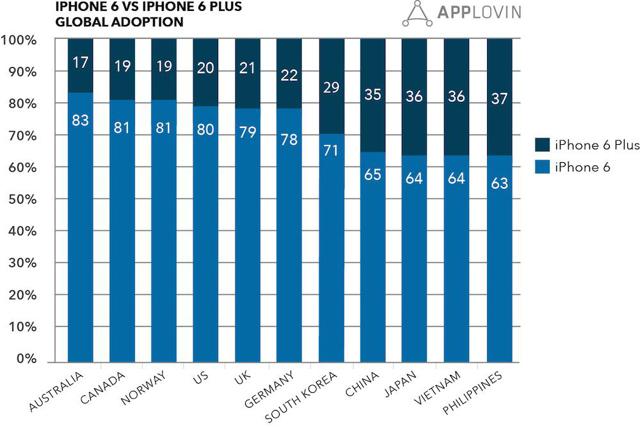 In Singapore, which has an affluent domestic market and strong re-export business, the iPhone 6 launch generated a level of excitement not seen in previous iPhone roll-outs, and the local telecoms providers took advantage of this by upping their mobile subscription rates.
The desire of Asians to have large screen phones is the main driver behind Apple's surge in sales, a desire driven by widespread myopia (supposedly 98% in Singapore, for instance) and by consumers' desire to use phones as gaming devices. A previous article of mine articulated the potential size of the markets in Asia and their growth potential based on GDP growth estimates. Asia's population is about 4.4. billion (or 1.8 billion if you exclude China and India), as compared to 742 million in Europe and 314 million in the USA, and Asia has by far the younger demographic. Other markets apart from China, Japan and South Korea, such as Indonesia, the Philippines and Vietnam have all seen apparently very strong iPhone 6 launches as well, though actual sales figures have not been released yet.
Vietnam (population 90 million) is reported to have had a blow-out launch: On Apple's Q2 conference call, the country was cited as the company's fastest-growing market anywhere in the world, with sales then having tripled there in the quarter under review. The Philippines (population over 100 million) also saw an enthusiastic launch with the two main telcos - Smart Communications and Globe Telecom - rolling out incentives in a country historically dominated by Samsung.
India, which many see as the next big frontier for Apple, has seen a huge percentage spike in sales, but from a low base. Apple shipped in 55,000 phones on launch date there to coincide with the Deepavali holiday, which led to huge enthusiasm and queues to get the product. That is of course a very small quantity compared to other markets in Asia, but may have had the desired effect of ramping up enthusiasm in the country, a market which Cook is believed to be targeting in 2015.
Everywhere in Asia the iPhone 6 seems to have received a great reception (though precise sales figures will have to wait) and this shows long-term promise because of these countries' large populations, young demographics and promising GDP growth rates.
The analyst consensus of revenue of US$67.3 million (up 17%) and EPS of US$2.59 (up 25%) are high considering the base from which Apple is starting and militate against the perceived negativity of the "law of large numbers." With 64% of Apple's sales now outside North America, Apple will feel some negative effect from the high US$ but this will be mostly relevant in Europe, where the euro has seen precipitous falls against the US$, in which currency of course Apple's figures are delineated. However, Asia's booming sales, product mix and high ASPs are a very powerful indicator of the strong Q1 and also Q2 (usually a quiet quarter for sales) that Apple should manage. This is a long-term bullish factor for the company, as Asian economies are enjoying higher growth rates than North America or Europe and the demographics point to faster growing and younger populations, and a hunger for aspirational brands such as Apple.
Disclosure: The author is long AAPL.
The author wrote this article themselves, and it expresses their own opinions. The author is not receiving compensation for it (other than from Seeking Alpha). The author has no business relationship with any company whose stock is mentioned in this article.
Editor's Note: This article discusses one or more securities that do not trade on a major U.S. exchange. Please be aware of the risks associated with these stocks.