While the U.S. economy continues to clip along and the European Central Bank attempts to stimulate the European economies in the form of quantitative easing, more crises in the Middle East rear up. The collapse of the Yemeni government from the Iranian-backed Houthi rebel coup has evicted the Saudi-supported leader of neighboring Yemen, notes Saudi expert Karen House in a Sunday Wall Street Journal op-ed. The counterterrorism efforts by the U.S. in Yemen, and specifically against Al Qaeda Arabian Peninsula (AQAP), have not yielded the intended results where factions upon factions wrestle for power. OPEC producer Libya is collapsing in on itself, a news analyst noted on "Face the Nation" Sunday the 25th.
King Abdullah of Saudi Arabia passed away last Thursday, January 22nd. The 79-year-old brother Prince Salman is now the Saudi king, and 69-year-old Muqrin, another brother, is crown prince. The next in line as deputy crown prince is the 55-year-old Prince Mohammed Bin Nayef, the first of the grandsons of Abdul Aziz, founder of modern Saudi Arabia, writes House.
In regard to oil markets, price movements barely budged Friday on the news, a sign of relative stability. The succession plans of the House of Al Saud were in motion long before, and offered a continuation of Saudi domestic and global foreign policies.
The price revelations of oil's new equilibrium will resume.
Happenings in the Kingdom
In an email exchange with a former Middle East State Department veteran Charles Kestenabum[i], he noted the following regarding the Saudi's staying the course on OPEC policy and the continued alliance with the U.S.:
"Selection of the next generation's first king - Mohammed Bin Nayef - has been in the works for some time, and the recent back and forth between Washington and Saudi royals (including Mohammed Bin Nayef) sealed this selection. The implications are indeed precisely your conclusions - internal stability and security are (the) highest priority and Mohammed Bin Nayef was clearly seen as the one most able to provide such security/control."
So the succession of leadership in the Kingdom is set. The policy framework is to be similar in nature to the past. But the present and future challenges remain - radical forces threaten and surround the Kingdom, and these threats exist within the Kingdom's younger populations itching for employment and a raison d'être that the Caliphate idea conveys.
The politics in the Middle East are increasingly difficult. Additionally, writes Kestenbaum, "Lebanon has been under practical Iran and Shia control for almost a decade. And now the Lebanese-based, Iranian-backed Hezbollah has moved thousands of fighters into Syria to prop up the Syrian regime along with many Iranian intelligence and Revolutionary Guard foot soldiers." What once could be called skirmishes throughout Middle East countries are now movements with larger numbers of followers, money and weapons. This is heightened political risk in the Arab world, a place from which the world expects a stable flow of oil supplies.
Back to Oil
Prices have continued to hit bottom(s). In some analytical camps, a disconnect between market pricing and economic and political realities on the ground are said to exist. But one fundamental observation from Kestenbaum about oil markets rings true, especially today:
"Oil markets are, as usual, largely out of the control of either OPEC or any individual country. With few exceptions, everyone in the business cannot afford to allow others to gain market share, an element the individual producers and consumers have at least some leeway in determining (not always as Europe and Russian gas issues have demonstrated)."
The general contours of producing and consuming countries are largely in plain sight. The following chart from Exxon Mobil's (NYSE:XOM) 2015 outlook offers a view to 2040 of liquids supply and demand in 10-year increments.[ii] They also note in their outlook that after 2025, a greater demand on OPEC supply will be made. Also acknowledged is that OPEC producers, such as Saudi Arabia, Iran and Nigeria, will increasingly consume their own oil and liquids. It is therefore worth remembering that when OPEC does not cut production, they also are chipping away at their own production via domestic demand.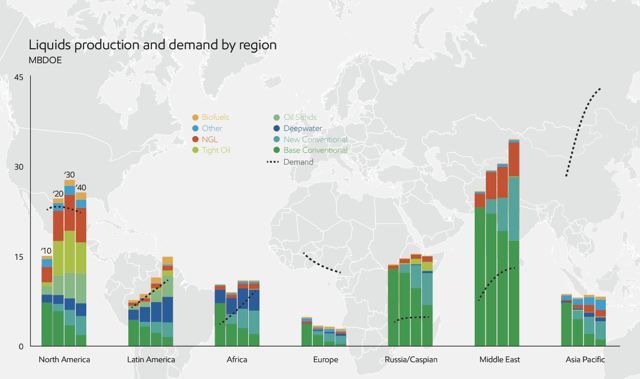 What we likely know
The Paris-based International Energy Agency (NASDAQ:IEA) estimated that one million barrels of excess supply is expected for 2015. This estimate was made prior to the ECB's quantitative easing rollout. Meanwhile, China imported record amounts of crude oil in December, with overall growth for the year as follows:
"China imported 308.38 million metric tons of crude from the global market in 2014, up 9.5 percent from a year earlier...even as import prices fell 7 percent compared with 2013." (The EIA says they consumed 10.116 million b/d in 2013.)
In an earlier article, "OPEC's World Outlook And Pivot To Asia," I emphasized that markets in Asia are a main source of future growth in oil demand. China's imports from Iran, its main import source, rose 19 percent year-on-year in December. And Chinese expert Jing Yongping, from the Beijing Institute of PetroChemical Technology, also noted that "crude imports from Saudi Arabia, Russia, Venezuela and Angola rose by 40 percent to 70 percent, on a year-on-year basis last year." A recent Wall Street Journal report says, "The flow of Russian crude to China will surpass 50 million tons annually by 2020, from more than 30 million tons in 2014, forecasts Wood Mackenzie's Mr. Gupta." Competition for market share is increasingly apparent, and this plot is thickening.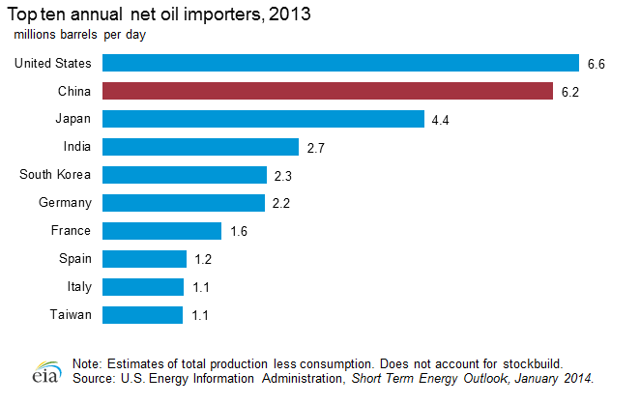 India, currently the fourth-largest global oil importer, is expected to outpace oil importation in relation to China. The U.S. Energy Information Administration expects Indian demand to more than double to 8.2 million bpd by 2040, from petroleum products demand of 3.7 million b/d in 2013.[iii] Due to the lower oil price environment, India's Reserve Bank announced a reduction to interest rates on January 16th, another tailwind to supporting growth in the soon-to-be most-populous economy.
OPEC's outlook and production quota "hold" are a function of their longer view, also noted in one of my earlier articles. In addition to the quest for market share, remember that a number of Middle East countries, particularly the Gulf Cooperation Council (GCC) countries, are growing and consuming more hydrocarbons themselves. Admittedly, the lower oil prices will hit budgets this year. Kestenbaum notes,"(the) Saudis have a much more real problem looming - they already produce 2.2 million BPD that is burned domestically to produce electricity and water, most of which is subsidized and not paid full price for by consumers, commercial and residential. And the demand is growing at rates from below 7% to in some places 10% annually." The following chart from the Institute of International Finance depicts past budget breakeven points: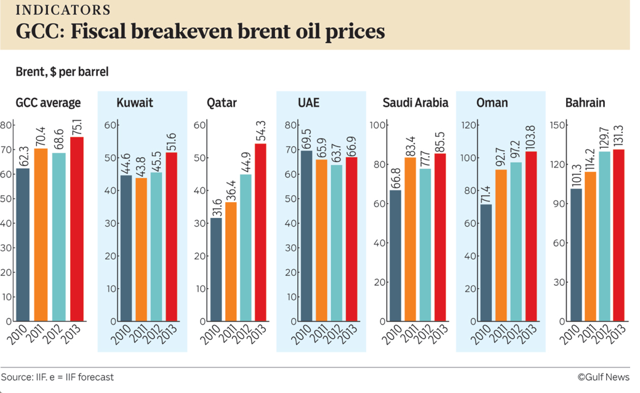 In my mind, the market has not settled on a price that reflects supply and demand fundamentals, meaning the $45-50 level isn't a sustainable short-term price (short-term means one year) even for "low-cost" producers. Incremental supply will come off the market, not only from U.S. shale producers. The U.S. rig counts, reduced permits in the U.S., and U.S. and global players' capital spending reductions are indicating as such. Total (NYSE:TOT), SunCor (NYSE:SU), ConocoPhillips (NYSE:COP), Apache (NYSE:APA), Concho Resources (NYSE:CXO) and numerous other E&P firms, large and small, U.S.-based or global, are cutting back on capital spending. Shell (NYSE:RDS.A) (NYSE:RDS.B) recently shelved a petrochemical plant project in Qatar. Kestenbaum says the Saudis believe the price of oil will rise. In his view, however, "it may take years to move the market deeply and shift the demand/supply curve."
The EIA says that global liquids consumption grew by 900,000 barrels in 2014. In 2015 and 2016, the increase is expected to be one million each year. The EIA short-term outlook chart shows the latest projections, where non-OPEC supply growth shrinks and WTI prices rise after the second half of 2015: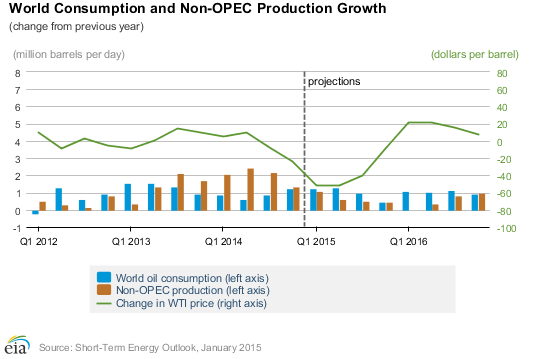 The main drivers of future consumption growth in 2015 are China and the U.S. After that, "other consumption," meaning other Asia, Europe and Japan, add to consumption growth. Other growth economies contribute to demand, as noted in this Chevron (NYSE:CVX) article that looks at longer-term trends. This key growth group includes Brazil, Mexico, South Africa, Nigeria, Egypt, Turkey, Saudi Arabia, Iran, Thailand and Indonesia.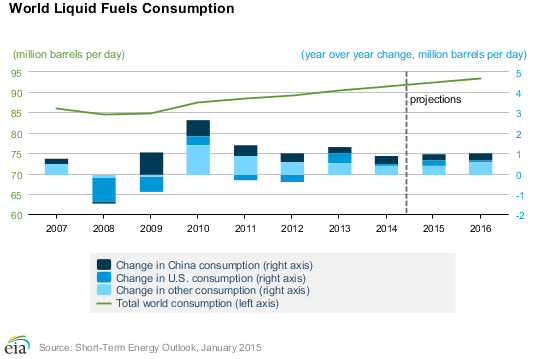 As noted before in earlier articles, the instability in various oil-producing countries, coupled with a low-price environment may produce more fissures ahead. U.S. shale oil production lit the match of excess supply, without the fuse of demand to provide a positive catalyst for its arrival. If oil prices are considered difficult to predict, things have become even more challenging given the addition of U.S. oil, Russia's predicaments and increasing political instability in oil-producing areas.
---
[i] Kestenbaum served 24 years in the U.S. Foreign Commercial Service at U.S. Embassies in Iraq, Saudi Arabia, United Arab Emirates, and Indonesia, and supervised the 1991 Rebuild Kuwait program for the U.S. Department of Commerce.
[ii] Exxon Mobil - The Outlook for Energy: A View to 2040 (December 9, 2014)
[iii] India's economy on the rise as oil price drops (The National)
Disclosure: The author has no positions in any stocks mentioned, and no plans to initiate any positions within the next 72 hours. The author wrote this article themselves, and it expresses their own opinions. The author is not receiving compensation for it (other than from Seeking Alpha). The author has no business relationship with any company whose stock is mentioned in this article.