The Japanese yen benefited from strong export growth in December, but the overall trend in exports is slowing, as well as lower inflation measures, causing anxiety for policymakers regarding possible deflationary conditions. CurrencyShares Japanese Yen Trust (NYSE:FXY) is down over 14% since July, as is seen in the chart below.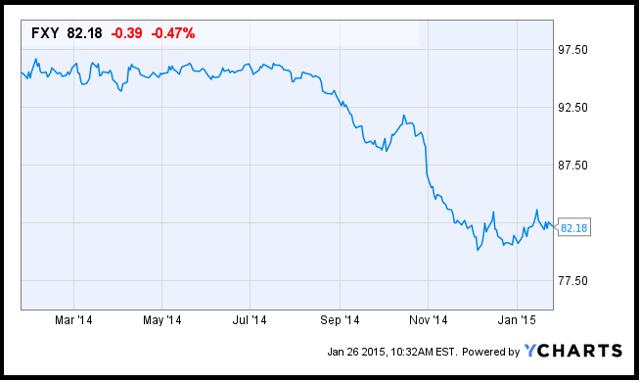 Japanese exports came in better than expected on Sunday night due to a weakening currency, but the overall trend looks to be slowing as uncertainty remains in the global economy. In December, exports grew by an annual pace of 12.9%, above the previous month's figure of 4.9%, as well as exceeding estimates for 11.0%. The one-year average of annual change in Japanese exports, however, continues to decline, as is seen in the chart below. The one-year average showed a reading of a 4.86% annual pace in December, slowing from 9.68% in December of 2013 as a weakening global economy in 2014 weighed on the pace of export growth.
"A recovery in exports, which has been a soft spot in the world's third-largest economy, could be a source of comfort for Prime Minister Shinzo Abe, who is battling to re-kindle growth after an April sales tax hike drove Japan into a recession. While exports may have bottomed out, (it is doubtful) whether they will accelerate from now on due to growing uncertainty over the global economy," according to a report by Reuters.

Data provided by Japanese Ministry of Finance
Similarly, policymakers in Japan worry that declining energy prices and global demand will weigh on inflation growth, potentially pushing the country into yet another disinflationary spiral. In November, the inflation figure grew by an annual pace of 2.4%, below the previous month's reading of 2.9%, as well as missing estimates for 3%. As is seen in the chart below, the annual pace of inflation in Japan steadily declined in 2014. Although the Bank of Japan continues on its path of devaluing the yen, falling oil prices and continually weak wage growth are both weighing on inflation measures.
Japanese exports are improving due to a weakening currency, but remain suppressed as global demand slows. Similarly, inflation measures in the country are declining as energy prices and wage growth remain at a tepid pace. With policymakers' only course of action to correct current trends being to devalue its currency, it is likely the yen weakens further in coming months.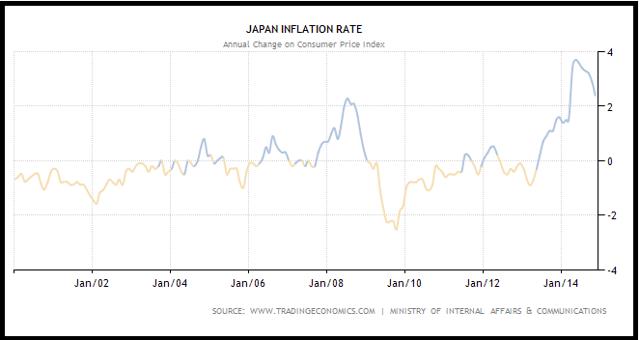 Disclosure: The author has no positions in any stocks mentioned, and no plans to initiate any positions within the next 72 hours.
The author wrote this article themselves, and it expresses their own opinions. The author is not receiving compensation for it (other than from Seeking Alpha). The author has no business relationship with any company whose stock is mentioned in this article.