Buying into NRG Energy's (NYSE:NRG) management team is easy; buying the stock is a little more to stomach. At first glance it appeared that NRG blew away second quarter earnings guidance. Estimates clocked in between 25 and 50 cents per share, and NRG earned $2.53 per share. Dig a little deeper and over 90% of this is due to a one-time tax benefit recorded as a result of an audit. Of NRG's $621 million in second quarter profit, $600 million was from this. Leave out the tax benefit, and earnings fall to a pathetic $0.09 per share. Gauging the market's response was difficult, as the entire market fell heavily Thursday. It is clear, however, that there was initial optimism at the open. This opening bullishness digs past the earnings into the projects NRG pursued in the second quarter.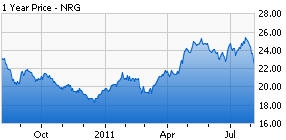 Under the leadership of (now departing) CFO Christian Schade, NRG refinanced a large portion of its debt, extending maturities. While it isn't great to see the second CFO leave in 2 years, NRG's management team is confident in its ability to cope and find a replacement soon. The second major use of capital was $330 million in solar investments. Schade was also enthusiastic that NRG used excess cash to pay down over half a billion dollars in debt in the second quarter, and bought back $180 million in shares. This buyback program has been expanded greatly looking towards the second half of 2011.
NRG's 2011 capital allocation initially called for $180 million in buybacks. That has now been expanded by $250 million to $430 million. $130 million has been completed, and the further $300 million should eliminate around 5.5% of outstanding shares. Management accredited this expansion to NRG's $600 million tax credit in the second quarter, but went on to say that it was only a sign of things to come. David Crain says "to think of this new $250 million share buyback program as a down payment on what may be to come in the first quarter of 2012."
Here are a few other interesting bits picked up from the earnings call:
NRG is investing in solar not only because it is a forward-thinking utility interested in differentiating their product, as I outlined here. Here is what Crain has to say on solar:
A point that I want to re-emphasize about these solar project is the relative lack of risk. In the 20 years that I have been in this business developing, financing and building power plants, never have I been associated with utility-scale projects that feature such a relative absence of risk. When we assess these large-scale solar projects from the point of view of political risk, technological risk, environmental risk, commercial risk, by which I mean off-take risk, and most of all, completion risk, the risk profile is nowhere on the chart even compared to a standard gas-fired combined cycle power plant. So we like this business a lot and think it's an appropriate place to invest our shareholders' capital.
Even as the government issues a new round of budget cuts, solar is a favorite of politicians like California's Jerry Brown. The ever shareholder-friendly NRG management has found a great crossroads of innovation and profitability in solar investments. A final reason to invest in solar is that it is increasingly difficult for NRG to buy traditional power plants.
Coal and gas-fired power plants had two strikes against them when David Crain was asked about acquisitions today on the earnings call. First, new EPA regulation was recently passed restricting air emissions, which puts more pressure on utilities to move into renewables. Second, power plant prices are rising. Although the utilities industry is currently in an extended low swing of the price cycle, there are signs this is ending. Not only are other utilities buying up power plants, investors are now also moving into to make bets that the pricing cycle will soon turn. So although NRG's second quarter results weren't as good as they seemed, the future looks bright for NRG Energy.
Disclosure: I am long NRG.