India's forex reserves reached an all-time high of USD 322 billion, for the week ended 16th January 2015. The reserves were up USD 2.7 bn week-on-week, while it was up USD 30.1 bn year-on-year, as RBI continued to shore up the reserves. The previous high of USD 321 bn was seen on the week ended 2nd September 2011. Despite the reserves being at an all-time high, India has an import cover of around 8.5 months, which is lower than the 10-year average of 11 months.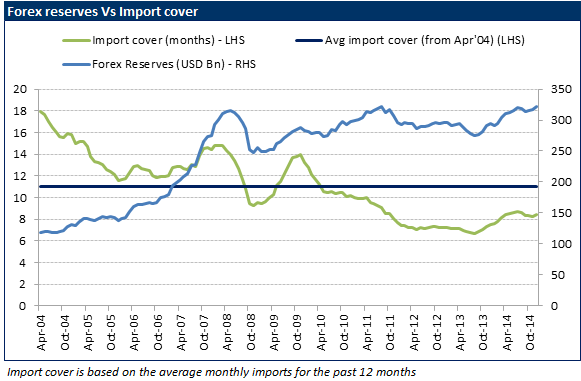 Source: Reserve Bank of India
With oil prices coming down to ~USD 50 per barrel, the fall in import bill will lead to the import cover improving to ~9.5 months, if crude oil prices continue at the current levels. The European Central Bank announced a massive quantitative easing program last Thursday, to buy EUR 60 bn worth of bonds every month. This will attract more funds to emerging markets like India, and will negate the interest rate rises by the US Fed expected at the end of 2015.
India's external debt position also remained at comfortable levels (as per latest data released for the quarter ended Sept 2014), with Forex reserves to Non-Rupee debt ratio at ~90%, and Short term to Total external debt ratio at less than 20%: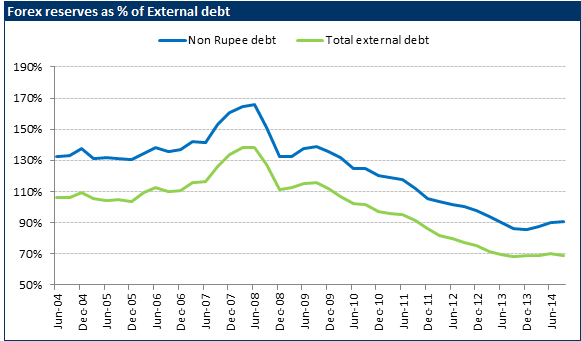 Source: Reserve Bank of India
India currently has the 10th highest forex reserves in the world, in a list topped by China with close to USD 4 trillion in reserves: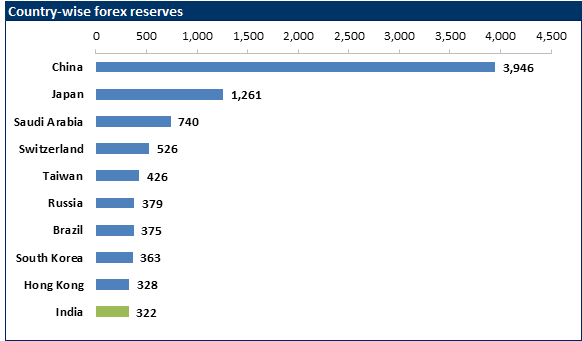 Source: Wikipedia
Despite the dollar strength arising from aversion to risky assets, spurred by a fall in crude oil and other commodity prices, the Rupee strengthened. For the month-to-date (till 23rd January 2015), the Rupee has appreciated ~3% against the US dollar, as foreign investors continued to pour in money into the Indian markets, and crude oil continued to be at low levels. Foreign institutional investors poured in USD 3.4 bn into the equity and debt markets during the month-to-date.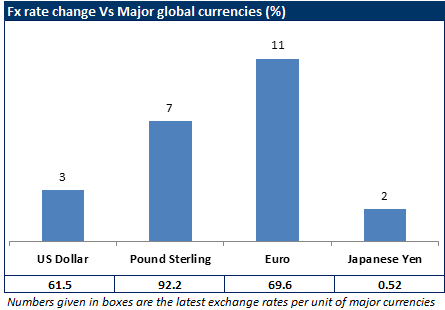 Source: Reserve Bank of India
Our View
We believe that the central bank will continue to shore up the reserves as a war chest to defend the Rupee in the event of a sudden downward pressure on the currency, like that observed in Aug-Sept 2013. With the fears of fund outflows due to US Fed interest rate hikes potentially offset by stimulus programs from Japan and ECB, and crude oil falling to below USD 50/barrel, we believe that India's reserves are adequately hedged against any sudden and unexpected forex outflows and Rupee depreciation.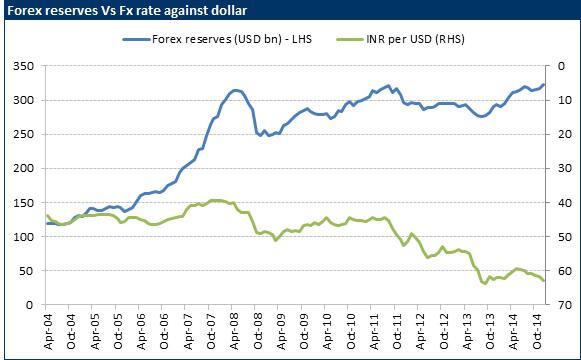 Source: Reserve Bank of India
Disclosure: The author has no positions in any stocks mentioned, and no plans to initiate any positions within the next 72 hours.
The author wrote this article themselves, and it expresses their own opinions. The author is not receiving compensation for it (other than from Seeking Alpha). The author has no business relationship with any company whose stock is mentioned in this article.