This article is a follow up to my previous article entitled "2015 Small And Mid Cap High Conviction Buys". I will lay out my top Shorts for 2015, with most all of them being in the Small and Mid Cap space. On the short side I focus on all market capitalization stocks, as the most radical overvaluation can be found at extremes in the very high capitalization stocks.
I will start with a recap of my results from my Top Conviction Small & Mid Cap Shorts for 2014. Please see a summary table of my picks from last year: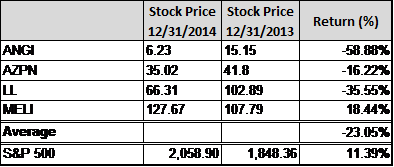 Last year the stocks that I selected were Angie's List (NASDAQ:ANGI), Aspen Technologies (NASDAQ:AZPN), Lumber Liquidators (NYSE:LL), and MercadoLibre (NASDAQ:MELI). 3 out of 4 of my short picks were successful and had a negative return for 2014, while the 4th MercardoLibre had a rough year only to end up by about 20% on rumors of buyout of the company by either Ebay or Alibaba. Overall 2014 was a pretty successful year for my short picks and I expect next year will likely return to the mean somewhat, but I still expect to generate positive alpha and positive overall returns on my short picks.
Here are my top shorts for 2015.
Globalstar (GSAT)
This was brought to my attention by Kerrisdale Capital who proposed a short back in October. The stock has since collapsed from its high of around $4.50. I have little to add to Kerrisdales assessment of the company, which you can find slides here and a full report here. I will try to quickly summarize the short thesis.
Globalstar and its Chairman & CEO Jay Monroe are attempting to develop an exclusive Wi-Fi channel with their spectrum holdings that they call Terrestrial Low Power Service or TLPS. The intent is that they could alleviate Wi-Fi congestion through this TLPS service.
TLPS is currently not approved for use in the US until the FCC rules on a proposed rule change from Globalstar. That rule change is not the only hurdle that Globalstar needs to overcome. They will need to develop the product, find a partner, potentially build out access terminals across the country, and sell it into the market. They need to do all of this in the face of the fact that the spectrum they own is in the 2.4 Gz band which is the "old" standard for Wi-Fi. The new standard for Wi-Fi, which is fast approaching, is the 5 Gz band.
On top of this, Globstar is a money losing enterprise, creating a negative $1.5B of retained earnings over the last 9 years. Their Satellite phone offering is sub par compared to that of Iridium's (NASDAQ:IRDM), which is highlighted by low subscriber growth and in turn low revenue growth. Without several improbable successes occurring I don't see any way that Globalstar can survive without massively diluting its shares (which it has done historically). These hurdles include gaining approval for TLPS from the FCC, developing a product, finding a partner, and launching that product, all of which require capital it does not have. I believe the stock price has been hyped on the back of TLPS hopes and will decline dramatically in 2015.
Market Price 12/31/14: $ 2.75
Intrinsic Value (based on DCF) : $0
Market Price/Intrinsic Value Ratio: NA
Zillow (Z)
Zillow is a website that lists homes for sale. It trades at a Price to Sales ratio of 13.5. I should probably be able to stop there for most investors to realize that Zillow is a good short candidate. But there is a lot more to this story that makes it a great short.
The company is currently growing revenues at a year over year rate of 66%. That is pretty impressive, but will no doubt not continue. They recently agreed to merge with their biggest competitor Trulia in an all-stock deal worth (at the time) $3.5 billion dollars. The deal is currently in the process of being reviewed by the FTC, under concerns over competitiveness. I am not in the business of merger arbitrage, so my short thesis does not hinge on the fact that the deal gets approved or not. Actually I think either way Zillow's stock will trade significantly lower in one year then it does now.
My major issue with Zillow is it has no long term moat. Like many websites before it (Angie's List, Yahoo) it will raise prices and run into competition from those that can do what they do more cheaply. I see their long term margins being very low single digits and growth slowing significantly in the future. 2015 could be a year in which we see Zillow stock get cut in half.
Market Price 12/31/14:: $105.89
Intrinsic Value (based on DCF): $ 35 - $65 (Based on various long term margin assumptions of 7.5-20%, and declining growth over next 5 years)
Market Price/Intrinsic Value Ratio: 1.6 - 3
Healthstream (HSTM)
Healthstream is a health services IT company that passes itself off as a Cloud, SaaS, or (Insert other Tech Buzz Word) company. Healthstream's main product offerings are training, human resources, and surveys provided to the healthcare industry. ICD-10 (International Classification of Diseases, 10th Edition) is a revision to the International coding system that the WHO uses. Healthstream offers a product to train and educate Healthcare organizations on ICD-10 which is part of certifying them in the new process. The ICD-10 deadline was extended last year to October 1st, 2015. This ICD-10 product is all one-time revenue that will go away at the end of 2015. ICD-10 revenue in Q3 of 2014 was $7.4m or 16.6% of total revenues for the quarter. These ICD-10 revenues were also the main driver in the revenue growth that the company has seen in 2014 and 2015. As these ICD-10 Revenues go away at the end of 2015, so will the inflated P/E ratio that Healthsream has of 80.26 TTM and 62.6 Forward. The stock could easily collapse in half as the company will show negative year over year revenue growth in the third and fourth quarters of 2015.
Market Price 12/31/14:: $ 29.48
Intrinsic Value (based on DCF) : $ 17.00 (Based on 20% growth of non ICD-10 Revs and 15% Op Margins)
Market Price/Intrinsic Value Ratio: 1.73
Rice Energy (RICE)
Rice Energy is a Natural Gas upstream and midstream company that was started by former BlackRock fund manager Daniel J Rice III. It is currently run by his three sons, CEO Daniel Rice IV, 34, COO Toby Rice, 32, and Vice President of Exploration & Geology Derek Rice, 29. Family run public companies have a mixed history. Family run companies in which the CEO is 34 have a very limited history.
Rice operates entirely in the Marcellus and Utica Shale basins of Pennsylvania and Ohio. They also own a 50% interest in the recently IPOed Rice Midstream (NYSE:RMP). Rice Energy's acreage has been categorized as "high potential" by many analysts. Rice has had early success with one well (Bigfoot 9H) producing over 14,000 Mcf/d for over 100 days. Based on this early drilling success, the market may think that Rice has hit the gold mine with their acreage and could repeat this success several times. Based on the limited drilling in areas surrounding Bigfoot, it is still unclear if that assumption is correct.
Rice faces regional Natural Gas prices that are lower than broader Natural Gas Henry Hub prices. This wide margin in realized price verse Henry Hub price could take years to dissipate. Rice received $1.11 less in 3Q of 2014 for their natural gas in the Marcellus then the Henry Hub price (although they forecast this will change in the near future).
The three reasons that I am short Rice Energy, are an inexperienced and family run management team, uncertainty about the acreage prospects, and a negative realized price differential that will likely continue into 2015. Overall I am also very bearish on Natural Gas focused E&P companies in the short term, until LNG export facilities are operational in 2016 and 2017.
Market Price 12/31/14:: $ 20.97
Intrinsic Value (based on Sum of Parts): $14.25 (Based on assessment of Pennsylvania Assets, Ohio Assets, Stake in RMP, and IDRs from RMP)
Market Price/Intrinsic Value Ratio: 1.47
Straight Path Communications (STRP)
Straight Path Communications is a retail stock promotion story built on the backs of "Spectrum" and "IP" dreams. Richard Pearson articulated the short thesis very well in his article on November 4th. I have little to add to his analysis. Since that article was published, Straight Path reported Q1 Fiscal 2015 earnings and no new relevant information presented in either the conference call or the 10-Q that changes my mind on my short position.
Market Price 12/31/14:: $ 18.95
Intrinsic Value (based on DCF): $5.85 (Based on 20% rev growth, and limited success of IP portfolio)
Market Price/Intrinsic Value Ratio: 3.23
Notable Mentions for 2014 on the Short side: Nathan's Famous (NATH), Lending Club (LC) and Raxspace (RAX)
Disclosure: The author is short GSAT, Z, HSTM, RICE, STRP.
The author wrote this article themselves, and it expresses their own opinions. The author is not receiving compensation for it (other than from Seeking Alpha). The author has no business relationship with any company whose stock is mentioned in this article.