On June 1, I wrote an article titled, "Medifast (NYSE:MED) Revenue Projections: Doubtful the Sell-Side is Right," where I argued that Medifast's year-over-year revenue growth would continue to decelerate, despite the fact that sell-side analysts estimated that it wouldn't. I said that the growth of these two divisions has been slowing rapidly. Yet the sellside wants us to believe that this decline in YoY Growth for 90% of the business will suddenly be arrested and growth will hold steady at 20+%. Here are some historical revenue figures and sellside consensus projections according to Bloomberg for Medifast as of May 27.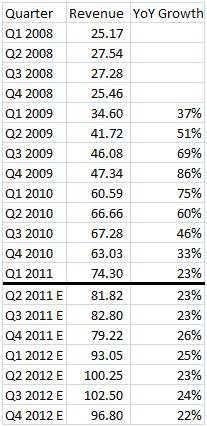 Medifast just posted revenues and, sure enough, growth decelerated further. Its two divisions that we focused on together grew revenues 16%. That is significantly slower year-over-year than the 23% the street wanted to see. Revenues came in at $78.255 vs. analyst estimates at $81.84mm. The analysts were indeed quite wrong.
Why? My guess is that management keeps spouting its "excitement" over future results and how it expects things to get so much better in the future. During last quarter's conference call, management stated, "Overall, trending for the business right now, we're very pleased with everything and the outlook we've got for the rest of the year in front of us." (Listen here.) Who would have known that it was watching the business continue to slow down? Most management teams would see what Wall Street's projections are and warn the street that it would be very tough to achieve those results. Instead, it had no qualms making rosy statements knowing full well that consensus estimates were very likely out of reach. (The conference call was on May 9, so close to half the quarter was already completed.)
The analysts typically take this management rosy-speak at face value. I don't. I am betting that revenues continue to decelerate. Yet on the latest conference call, management had no problems about making more rosy statements about the future, while refusing to offer any concrete numbers of details on exactly how things are going. Instead, it kept referring to the new training platform that it "expected" to create more traffic in the future. Last quarter, it stated, "I can speak to the fact that at the Go Global event that occurred in April, the field leaders left that event just on fire and very excited about the remainder of the year" (Listen here.) That excitement didn't show up in this quarter's results.
Finally, although management is claiming that revenue per health coach in the TSFL business is healthy, I'm not sure that is the case. I saw this posted elsewhere, but the TSFL revenues in the quarter divided by the average number of health coaches (average of coaches beginning of Q and end of Q) is deteriorating significantly. It was down 18% in Q1 and down 13% this quarter. (49.3mm revenues divided by 10150 average coaches) for this Q was 4,857. Last 2Q it did $5,563 per average coach (42mm in revenues divided by 7,550 average coaches). That shows quite a slowdown in this business and probably a significant loss of traction with its direct-marketing salesperson base. In a thriving direct selling business, that number should never be down that much.
The overall message is that you shouldn't be fooled by the rosy-speak coming from Medifast management. It's a recipe for a sick portfolio.
Disclosure: I am short MED.