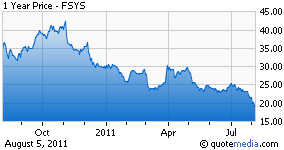 Fuel Systems Solutions (NASDAQ:FSYS) has literally experienced a half off sale, as its shares have imploded from a 52 week high of $43 down to $19 a share. The stock has been beaten beyond recognition, creating quite a bargain, when considering it is now trading at 29 times 2011 estimates of 65 cents and only 15 times 2012 estimates of $1.28 ( yes, earnings are forecasted to nearly double). The main reason for its collapse was a reduction of government subsidies for natural gas vehicle conversions in Italy, while yesterday's 500 point Dow meltdown simply added insult to injury.
The company has been busy the last six months, selling 2 million shares of stock in a secondary offering and jumping on the acquisition bandwagon "big time", by gobbling up three companies (Alternative Fuel Systems, Natural Drive Partners and MTE). Once these companies become fully integrated into the FSYS family, they should quickly help boost the bottom line, unless FSYS runs out of time, by ironically being acquired itself -- stranger things have happened!
The Balance Sheet
To say it is pristine is an understatement; with $118 million in cash and no debt, there are many companies that would covet it. Its shares are selling close to book value (which is not common in tech) and with only 20 million shares outstanding and a low float, they are susceptible to short squeezes. In fact, the two largest shareholders, who happen to be the CEO and Fidelity Magellan, own 25% between them, leaving a significant 20% of its float shorted.
Second Quarter Earnings
The company is scheduled to report Tuesday Aug 9th before the opening bell. Analysts expect FSYS to see their earnings decrease 66% from 39 cents to 13 cents on a 7% reduction in sales to $92.42 million. I have a feeling the company will have no trouble exceeding those very low expectations, as management has a tendency to sandbag guidance by under promising in order to over deliver. Look for the company to earn 21 cents, on sales of $95 million, when they report.
Icing on the Cake
Proponents of The Natural Gas Act, aka the "Pickens Plan", have been trying to get the legislation passed in Congress for over two years without any success. If it ever does pass, the stock could experience an immediate 20% jump on the news, according to Jim Cramer. In the meantime the company will be on the road in "dog and pony show" fashion, when it will be presenting at the Canaccord Genuity Growth Conference on Aug 11. This event could have a nice positive impact on the share price.
Any way you slice FSYS at this juncture, its risk reward scenario favors a bullish stance (the average analyst target price of $29 represents 50% appreciation) offering a compelling 2:1 risk reward ratio.
Disclosure: I am long FSYS.