* All data are as of the close of Friday, January 23, 2015. Emphasis is on company fundamentals and financial data rather than commentary.
With the average lifespan extending much longer than before, seniors are enjoying life after retirement for a great many more years than their parents and grandparents did. In fact, it is becoming more and more common for parents and their children to be enjoying their retirements together.
This growing longevity has resulted in the flourishing of the Long-Term Care Facilities industry, with the demand for assisted living services continually on the rise.
As Evans Senior Investments indicated in a May 27, 2014 article:
The Baby Boomer generation [those born from 1945 to 1964] has finally started to reach retirement age. Over the course of the next 20 years, approximately 10,000 people will reach age 65 in the United States every day. By 2030, there will be about 72.1 million older persons in the U.S., almost twice their number in 2007 and roughly 20 percent of the U.S. population. By the year 2050, there will be 89 million senior citizens in this country.

What does this mean for assisted living and nursing home facilities? There will be a huge demand for space in such facilities in the very near future. For years, there has been talk of the potential effects Baby Boomer retirees will have on the healthcare system and eventually on the need for assisted living facilities and nursing homes. Now it's here and we are about to see how it will play out.
A look at the performance of the three largest U.S. companies in the Long-Term Care Facilities industry - Brookdale Senior Living Inc. (NYSE: BKD), Envision Healthcare Holdings (NYSE: EVHC), and Kindred Healthcare, Inc. (NYSE: KND) - is already giving us a glimpse into the Boomers' effect on the industry. Although, not all companies in the space are moving at the same pace.
Since the economic recovery began in March of 2009 as graphed below, where the broader market S&P 500 index [black] has risen 205% and the SPDR Healthcare Sector ETF (NYSE: XLV) [blue] has risen 225%, Brookdale [beige] has been full of vigor and zest with gains of 1,055%, while Envision has lagged behind with gains of 40%. Kindred, for its part, having been trading publicly for only a year and five months, has gained 30%.
On an annualized basis, where the S&P has averaged 35.14% and XLV has averaged 38.57%, Envision has averaged 6.86%, Kindred has averaged 21.18%, while Brookdale has averaged a spirited 180.86% per year!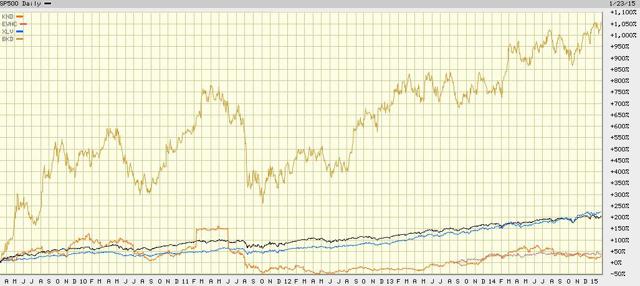 Source: BigCharts.com
Why such a great difference in the three companies' performance? A look at their activities reveals that it isn't so much the types of services they offer that sets them apart, since all three offer pretty much the same. Rather, the segment of the retirement population each caters to is what makes the bulk of the impact.
• Brookdale Senior Living Inc., headquartered in Brentwood, Tennessee, owns or leases communities of independent living and assisted living units primarily designed for middle to upper income senior citizens, and offering housing with 24-hour living assistance including care for residents with Alzheimer's disease, physical disabilities and other health concerns. As of December 31, 2013, the company operates 76 retirement center communities of 14,549 units; 438 assisted living communities of 22,176 units; 26 rental CCRC communities of 6,504 units; 14 entry fee CCRC communities of 5,873 units; and 95 communities of 17,422 units for third parties - totaling 66,524 units.
• Envision Healthcare Holdings, headquartered in Greenwood Village, Colorado, provides physician-led, outsourced medical services to private residences, hospitals, healthcare systems, health plans, and government entities, including hospital-based physician staffing and related management services, recruiting, scheduling, operational improvement assessment, and practice improvement services for emergency departments, anesthesiology, hospital inpatient care, radiology, tele-radiology, and surgery programs. It also offers community-based medical transportation services, including emergency response and non-emergency transportation such as wheelchair and stretcher-car transport services, dispatch services, event medical services, paramedic training, fixed-wing air ambulance services, and onsite and offshore EMS services.
• Kindred Healthcare, Inc., headquartered in Louisville, Kentucky, operates transitional care hospitals for the critically ill and those suffering from organ system failures including cardiovascular, pulmonary, kidney, gastro-intestinal, and cutaneous systems. It also operates inpatient rehabilitation hospitals, nursing centers and assisted living facilities offering a range of medical, nursing, rehabilitative, pharmacy, and routine services including daily dietary, social, and recreational services. As of February 20, 2014, the company operates in 2,280 locations which include 101 transitional care hospitals, 5 inpatient rehabilitation hospitals, 100 nursing centers, 22 sub-acute units, 104 inpatient rehabilitation units, 105 hospice, home health, and non-medical home care locations, as well as a contract rehabilitation services to 1,789 third-party facilities.
For the time being, then, it seems Brookdale has the more profitable business model as it caters to upper income patients. But what Envision and Kindred lack in price-point they should soon make up for through volume as Baby Boomers start moving into their facilities in greater and greater numbers.
Looking at future earnings growth, the Long-Term Care Facilities industry as a whole is expected to outgrow the broader market quite actively for the most part as tabled below, where green indicates outperformance while yellow denotes underperformance.
Over the next two quarters, the industry is seen growing its earnings at some 2.19 to 3.55 times the market's average growth rate, before slowing to a more sustainable but still healthy 1.88 times annually over the next five years.

Zooming-in a little closer, the three largest U.S. companies in the space are expected to split perform between the nearer and longer terms, as tabled below.
Over the current quarter, all three companies are seen outgrowing the market's average earnings quite heartily from 4.09 to 363.13 times its growth rate, with Brookdale topping the list.
Yet all three take a bit of a rest next quarter, with Brookdale and Kindred under-growing the market while Envision still manages an impressive 2.84 times growth rate.
Over the longer term, all three are again expected to outgrow the market, with Envision envisioned to have the best growth rate of the three, beating the S&P's average 2.44 times annually over the next five years.

Yet there is more than earnings growth to consider when sizing up a company as a potential investment. How do the three compare against one another in other metrics, and which makes the best investment?
Let's answer that by comparing their company fundamentals using the following format: a) financial comparisons, b) estimates and analyst recommendations, and c) rankings with accompanying data table. As we compare each metric, the best performing company will be shaded green while the worst performing will be shaded yellow, which will later be tallied for the final ranking.
A) Financial Comparisons
• Market Capitalization: While company size does not necessarily imply an advantage and is thus not ranked, it is important as a denominator against which other financial data will be compared for ranking.

• Growth: Since revenues and expenses can vary greatly from one season to another, growth is measured on a year-over-year quarterly basis, where Q1 of this year is compared to Q1 of the previous year, for example.
In the most recently reported quarter, Brookdale delivered the greatest trailing revenue growth year-over-year by a substantial degree, while Kindred delivered the least.
Since no company's trailing earnings growth rate is available, the metric does not factor into the comparison.

• Profitability: A company's margins are important in determining how much profit the company generates from its sales. Operating margin indicates the percentage earned after operating costs, such as labor, materials, and overhead. Profit margin indicates the profit left over after operating costs plus all other costs, including debt, interest, taxes and depreciation.
Of our three contestants, Envision operated with the widest profit and operating margins, while Kindred contended with the narrowest, even negative profit margins along with Brookdale, indicating losses.

• Management Effectiveness: Shareholders are keenly interested in management's ability to do more with what has been given to it. Management's effectiveness is measured by the returns generated from the assets under its control, and from the equity invested into the company by shareholders.
For their managerial performance, Envision's management team delivered the greatest returns on assets and equity, while Brookdale's and Kindred's teams contended with the narrowest, even losing some equity.

• Earnings Per Share: Of all the metrics measuring a company's income, earnings per share is probably the most meaningful to shareholders, as this represents the value that the company is adding to each share outstanding. Since the number of shares outstanding varies from company to company, I prefer to convert EPS into a percentage of the current stock price to better determine where an investment could gain the most value.
Of the three companies here compared, Envision provides common stock holders with the greatest diluted earnings per share gain as a percentage of its current share price, while Kindred's DEPS over current stock price is lowest, even negative along with Brookdale's denoting losses.

• Share Price Value: Even if a company outperforms its peers on all the above metrics, however, investors may still shy away from its stock if its price is already trading too high. This is where the stock price relative to forward earnings and company book value comes under scrutiny, as well as the stock price relative to earnings relative to earnings growth, known as the PEG ratio. Lower ratios indicate the stock price is currently trading at a cheaper price than its peers, and might thus be a bargain.
Among our three combatants, Brookdale's stock is the cheapest relative to forward earnings and 5-year PEG, where Kindred's is cheapest relative to company book value. At the overpriced end of the scale, Envision's stock is the most overvalued relative to earnings and company book, where Kindred's is the most overpriced relative to PEG.

B) Estimates and Analyst Recommendations
Of course, no matter how skilled we perceive ourselves to be at gauging a stock's prospects as an investment, we'd be wise to at least consider what professional analysts and the companies themselves are projecting - including estimated future earnings per share and the growth rate of those earnings, stock price targets, and buy/sell recommendations.
• Earnings Estimates: To properly compare estimated future earnings per share across multiple companies, we would need to convert them into a percentage of their stocks' current prices.
Of our three specimens, Brookdale offers the highest percentage of earnings over current stock price for all time periods, where Envision offers the lowest percentage for all time periods.

• Earnings Growth: For long-term investors this metric is one of the most important to consider, as it denotes the percentage by which earnings are expected to grow or shrink as compared to earnings from corresponding periods a year prior.
For earnings growth, Brookdale offers the greatest growth in the current quarter, where Envision offers it the rest of the way. At the low end of the scale, Kindred offers the least growth over the near term, where Brookdale offers it over the next five years.

• Price Targets: Like earnings estimates above, a company's stock price targets must also be converted into a percentage of its current price to properly compare multiple companies.
For their high, mean and low price targets over the coming 12 months, analysts believe Brookdale's stock offers the least upside potential and greatest downside risk, while Kindred's offers the greatest upside and Envision's offers the least downside.
It must be noted, however, that all three stocks are already trading below their low targets. While this may mean increased potential for sharp moves upward, it may warrant reassessments of future expectations.

• Buy/Sell Recommendations: After all is said and done, perhaps the one gauge that sums it all up are analyst recommendations. These have been converted into the percentage of analysts recommending each level. However, I factor only the strong buy and buy recommendations into the ranking. Hold, underperform and sell recommendations are not ranked since they are determined after determining the winners of the strong buy and buy categories, and would only be negating those winners of their duly earned titles.
Of our three contenders, Brookdale is best recommended with 7 strong buys and 3 buys representing a combined 90.91% of its 11 analysts, followed by Envision with 7 strong buy and 8 buy ratings representing a combined 83.33% of its 18 analysts, and lastly by Kindred with 2 strong buy and 2 buy recommendations representing 50% of its 8 analysts.

C) Rankings
Having crunched all the numbers and compared all the projections, the time has come to tally up the wins and losses and rank our three competitors against one another.
In the table below, you will find all of the data considered above plus a few others not reviewed. Here is where using a company's market cap as a denominator comes into play, as much of the data in the table has been converted into a percentage of market cap for a fair comparison.
The first and last placed companies are shaded. We then add together each company's finishes to determine its overall ranking, with first place finishes counting as merits while last place finishes count as demerits.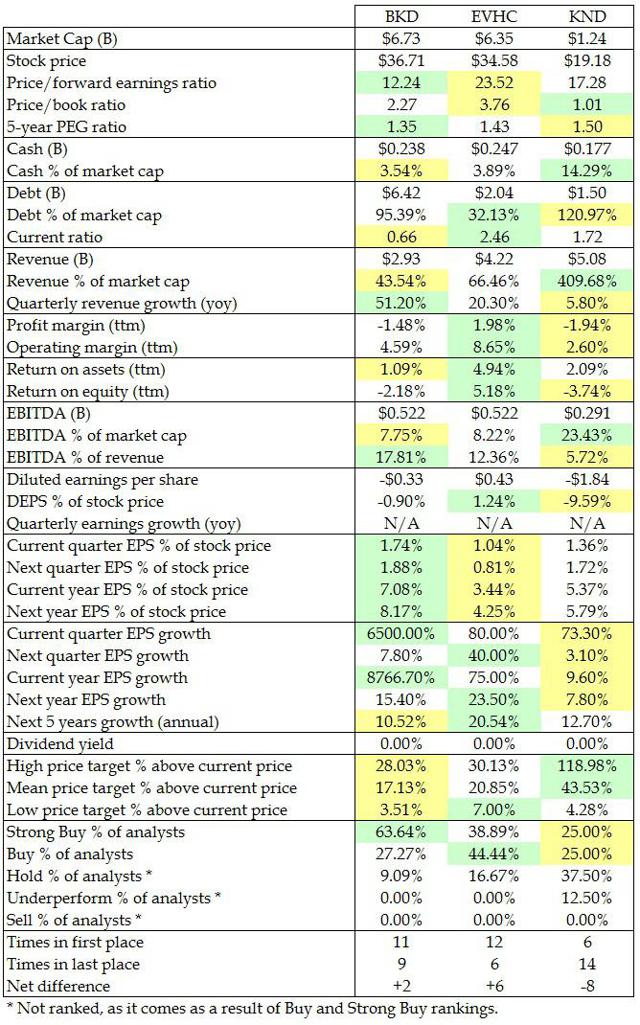 And the winner is… Envision with an inspired victory, outperforming in 12 metrics and underperforming in 6 for a net score of +6, with Brookdale close behind, outperforming in 11 metrics and underperforming in 9 for a net score of +2, leaving Kindred all but retired from the competition, outperforming in 6 metrics and underperforming in 14 for a net score of -8.
Where the Long-Term Care Facilities industry is expected to outperform the S&P broader market significantly this and next quarters and meaningfully beyond, the three largest U.S. companies in the space are expected to outgrow their earnings versus the broader market considerably over the near term and moderately longer term - with Brookdale leading near term and Envision leading longer term.
Yet after taking all company fundamentals into account, Envision Healthcare Holdings Inc. nurses the healthiest financials, given its lowest debt over market cap, highest current ratio, widest profit and operating margins, greatest returns on assets and equity, highest diluted earnings over current stock price, highest future earnings growth overall, best low price target, and most analyst buy recommendations - handily winning the Long-Term Care Facilities industry competition.