Oil and gas equipment and services companies Halliburton Company (NYSE:HAL) and Baker Hughes Incorporated (BHI) both announced 4th quarter 2014 earnings on Tuesday. The two companies, which plan to merge later this year pending regulatory approval, also shared their insights for 2015. By the numbers, Halliburton's 4th quarter EPS were $1.19 beating expectations of $1.10 per share, while full year revenue of $32.9 billion was up 12% over 2013 levels. Similarly, Baker Hughes announced EPS of $1.44, much higher than the $1.07 per share that was expected by analysts. Full year revenue of $24.6 billion were higher than 2013 full year revenue by 10%.
Highlights from HAL & BHI Earnings Calls
Each company held a separate conference call since the merger has not yet been completed. In addition, discussion of merger details was limited due to sensitivities surrounding the approval process. Generally speaking, both companies had a relatively positive outlook for 2015, despite the turbulent energy environment.
Highlights from the two earnings calls:
Halliburton indicated it would take "a couple" of quarters for things to settle out, at which time there'll be less uncertainty and more predictability. Similarly, Baker Hughes said that after the first quarter, they'd probably have a better outlook.
Halliburton mentioned it's not their first downturn. They know what knobs to turn and what levers to pull to stay afloat. Baker Hughes also indicated they would take steps to "right-size" their operations to match expected activity. On that note, Baker Hughes is expecting layoffs of 7,000 employees by the end of the first quarter. (Halliburton had previously announced layoffs on the order of 1,000 employees).
Halliburton should maintain competitive advantage through the downturn. Baker Hughes said it was also well positioned because as customers open less wells, they'll be focused on extracting every last drop from existing wells and BHI has a suite of technologies that will help.
Halliburton mentioned the rig count is down 250 wells or about 15% since the beginning of December. Baker Hughes had similar numbers indicating that average first quarter rig count should be down 15% from average 4th quarter 2014 rig count. They went on to say that in past downturns, rig count reductions of 40-60% within a 12-month period were not uncommon.
Halliburton indicated that the impact on 4th quarter results was limited because many of its customers were allowed to spend the remainder of their 2014 budgets even as oil prices steadily fell. On a related note, Baker Hughes indicated that many of its customers are continuing to revise their budgets down for 2015 with lower activity expected.
Halliburton expects an increase in oil demand of 900 thousand barrels per day in 2015, in line with other growth projections of about a million barrels per day.
Baker Hughes expects the negative impact on 2015 revenues to be on par with the rig count reductions (i.e., on a percentage basis), plus an additional amount due to its customers having pricing negotiating power due to lower demand for oil equipment and services.
Halliburton mentioned the possibility (but not the expectation) of a rapid v-shaped recovery in oil prices while Baker Hughes mentioned being prepared for lengthy period of lower oil prices.
Latin America had the strongest operating margins of any region for Baker Hughes and that strength is expected to continue.
Baker Hughes admitted it was hard to predict the future based on the many unknowns, but also indicated it did not expect this downturn to be as bad as the 2009 downturn in the energy sector.
BHI recently raised its dividend while Halliburton expects to have capital expenditures of $2.4 billion in 2015 indicating that it is continuing to invest for the future. Both of these can be taken as positives as they reflect a belief of financial strength within each company.
The Importance of Rig Count
Based on the Baker Hughes North American rig count summary as of 1/23/15, most of the US rig closures are on land (because most of the rigs are on land) vs offshore. This is not shocking. However, on a percent basis, there have been more closures in Canada than the US and the Golf of Mexico.
| | | | |
| --- | --- | --- | --- |
| Rig Count by Region | 1/23/15 | 1/23/14 | Change, % |
| Gulf of Mexico | 53 | 56 | -5.4 |
| Canada | 432 | 590 | -26.8 |
| United States | 1633 | 1777 | -8.1 |
It's also interesting to note that the rig closures are spread out across many states. Generally, the more rigs, the more closures. Closures also span all drilling types: horizontal, vertical and directional.
Baker Hughes also shares international rig count summary information.
Baker Hughes International Rig Count by Region

| | | | |
| --- | --- | --- | --- |
| Region | Peak '14 | Year End | Change, % |
| Latin America | 410 | 369 | -10.0 |
| Europe | 153 | 148 | -3.3 |
| Africa | 154 | 138 | -10.4 |
| Middle East | 432 | 403 | -6.7 |
| Asia Pacific | 260 | 255 | -1.9 |
| Canada | 626 | 375 | -40.1 |
| United States | 1930 | 1862 | -3.5 |
| Worldwide | 3736 | 3570 | -4.4 |
Again, compared to the 2014 peak rig count, Canada is seeing the greatest decline in the number of rigs compared to the peak, with a drop of more than 40%. Note the numbers in the peak column do not add up because the regions did not all achieve their peak rig counts in the same month. It's also important to note that 2014 began with a worldwide rig count of 3598. So the drop over the course of the full year was minimal. However, based on the North American numbers for the first three weeks of January, it appears the number has dropped from 2237 to 2065. At this rate, North America should see a rig count drop of more than 200 in January alone. It thus appears that the rig count decline is accelerating into 2015.
What's more interesting is the historical rig count data going back several years (i.e., in the same summary referenced above). The pre-financial crisis peak worldwide rig count of 3557 occurred in September 2008 just as the crises was beginning to unfold. In May 2009, the rig count bottomed out at 1983, a worldwide drop of more than 44% in only 8 months. Interestingly, the average drop in rig count over this time period was roughly 200 per month (i.e., equivalent to the expected drop in January 2015.) The nugget that can be gained from all of this is that when the rig count started increasing again in June 2009, it was a great time to get back into the both stocks, HAL and BHI. This also roughly corresponds with the timeframe in which HAL and BHI both regained their 150-day moving averages. (See chart below). Furthermore, monthly rig count numbers don't appear to jump up and down like stocks. They decline for a period, bottom out and then begin to incline, which means its much easier to find a exact bottom if you're looking at monthly rig count data.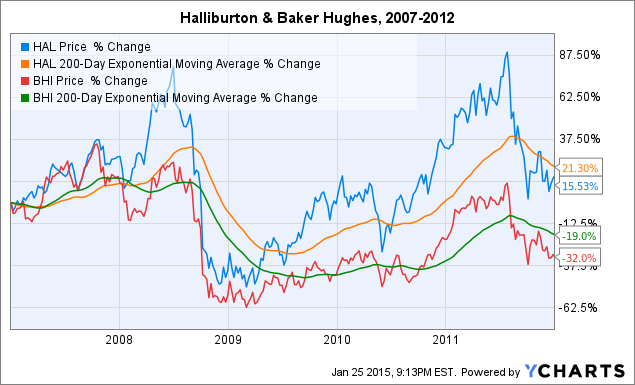 Conclusion
Based on the above highlights, as well as Schlumberger's (NYSE:SLB) recent outlook, it's clear that the oil equipment and services companies believe they can weather the current downturn by adjusting their operations to match expected customer activity. There's also a definite expectation from all three companies of reduced activity in 2015, certainly with regard to drilling new rigs. When combined with the expectation from several sources of demand growth in 2015, the supply-demand imbalance may be resolved relatively quickly (i.e., later this year) resulting in oil price stability, if not moderate price increases. Keeping a close eye on monthly rig count numbers will give savvy investors a possible leading indicator on stock pricing. It's also not unreasonable to think that the companies still standing at the end of this downturn will emerge stronger as a result of it.
Disclosure: The author has no positions in any stocks mentioned, and no plans to initiate any positions within the next 72 hours.
The author wrote this article themselves, and it expresses their own opinions. The author is not receiving compensation for it (other than from Seeking Alpha). The author has no business relationship with any company whose stock is mentioned in this article.