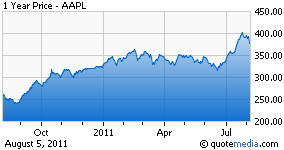 Tim Cook made it clear during the last conference call that China represents a huge strategic opportunity for Apple (NASDAQ:AAPL), and now the company is making its next big play in the country: signing on with China Mobile (NYSE:CHL) to bring the iPhone 4 to its subscribers this fall.
The market seems preoccupied with the correction it just got clobbered with and doesn't seem to be paying any attention to this new development. Make no mistake: this is a major step for Apple. When it first went into China to do business, all the heavy hitters in the telecom industry scoffed at its terms. I don't blame them. Apple is a tough negotiator. Some of the deals it ended up cutting with domestic operators were downright draconian.
Apple eventually partnered up with China Unicom (NYSE:CHU), which was the third largest Chinese telecom operator at the time. It probably wasn't Apple's first choice, but hey, you work with what you got. Apple's come a long way since then. The brand equity it has built in the country over the last two years has given it the pull to bring China's telecom barons back to the negotiating table, and this time, they know that they're going to end up losing out if they walk away.
Apple gets a lot of kudos for the success of its retail stores, but retail is secondary to the company's business model. The iPhone will always live or die by Apple's partnerships in the telecom industry. The whole tradition of cell phone subsidies is an enormous boon to Apple and other handset manufacturers, like Research in Motion (RIMM), Motorola (NYSE:MMI) and Nokia (NYSE:NOK). When you have a middleman subsidizing your product, you get the massive consumer base of a low priced product and the massive revenue stream of a high price product at the same time. It's the best of both worlds, and the more expensive your product is, the more you benefit from this arrangement. As the leading producer of high end smart phones, this is a dream come true for Apple.
This is why the company has been so slow to introduce a more affordable iPhone, because such a move, if not flawlessly executed, would end up cutting into the sales of its more expensive iPhone. Yet Apple's management knows that it has to eventually start offering a cheaper iPhone, because the majority of cell phone users in the emerging economies prefer prepaid phones over contracts. These consumers simply cannot afford a $600-$1,000 phone without a subsidy. However, Apple must ensure that it has milked the subsidized model for all its worth before taking this step.
That's why Apple's deal with China Mobile is so significant. China Mobile has 611 million subscribers and controls more than two thirds of the wireless market in China. Depending on what kind of deal Apple works out with China Mobile, if it can get the iPhone to Chinese consumers at a sufficiently subsidized price, Apple stands to make a lot more money from its expensive iPhone before it's forced to release a cheaper model. Apple's failure to strike a deal two years ago shows that the country's telecom companies were not receptive to the idea of subsidies - its success now shows that things have changed.
Even though we're running a trade deficit, America has been pretty successful at exporting our culture to other countries, to say the least. If we can successfully export the subsidized model of our phone industry to countries like China, Apple and its brethren have much to gain. Apple is already pushing hard for this, and its deal with China Mobile shows that its efforts are beginning to bear fruit.
To say that it's hard for foreign companies to do business in China is an understatement. Google (NASDAQ:GOOG) was exiled because it wouldn't bow to the Chinese government. Microsoft (NASDAQ:MSFT) found out that the Chinese customer is more likely to steal its products than buy them. Of all its competitors, Apple has made the most headway in the country, but it's not resting on its laurels yet. There's still much to do, and Apple's leadership is hard at work forging the relationships with its Chinese partners that are necessary for it to find the same success abroad as it has found at home.
Disclosure: I am long AAPL.