In this volatile and dangerous market, investors are craving higher yielding investments. The interest rate banks now offer for cash and CDs is nearly zero. Additionally, short and intermediate term U.S. Treasuries aren't much better. Worse yet, U.S. debt is facing downgrade fears. As a result, many investors are avoiding the bond markets and potential depreciation there, and instead looking for stable large-cap equities that can fill the fixed income portion of their portfolio.
There are literally thousands dividend paying equities and funds (of the mutual, closed-end and exchange traded varietals). At least a few must be terrible investments (such as those funds that have fees at or around their yield), and do keep in mind that dividends get taxed-- so it isn't necessarily the best use of corporate income that has already been taxed at the corporate level. Nonetheless, several of the oldest, most well-recognized and respected organizations are paying sizable dividends.

The "Dogs of the Dow" theory presumes that investing in the 10 Dow Industrial components that enter a calendar year with the highest yields is a prudent investing strategy. The theorists note that these components should all be relatively strong companies, and that their high yields indicate that they could possibly appreciate to a higher price and also pay out the above-average dividend.
In a flight to safety, the Dogs of the Dow are often likely to outperform the broader market. These companies are generally large, relatively safe, and likely to be reasonably fairly valued, or at least not terribly overvalued. These companies probably exhibit many of the characteristics you have heard experts and advisors stress as the investments to make right now. Additionally, none of the names is among the financials, which appear to house some of the greatest present collateral risks.
The following are the 10 DJIA components that started 2011 as dogs, their current yields, and the 5-year dividend growth performance for each equity:
1. AT&T (NYSE:T)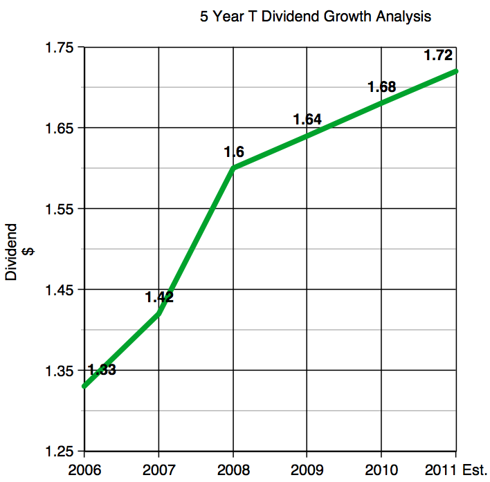 2. Verizon (NYSE:VZ) -
(click charts to expand)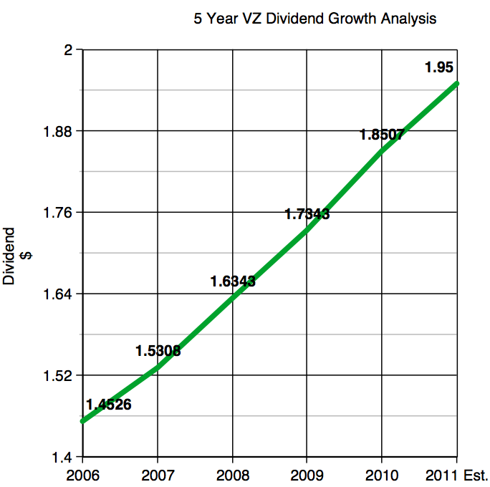 3. Pfizer (NYSE:PFE)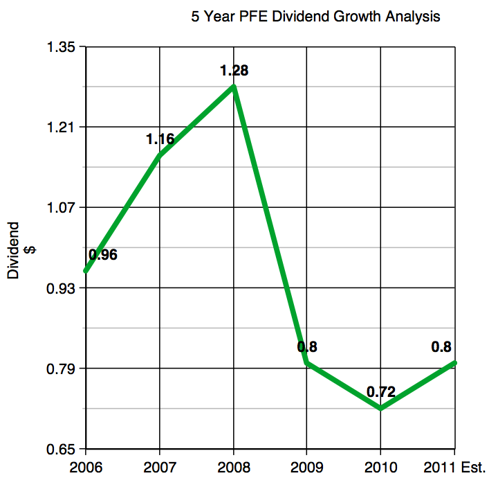 4. Merck (NYSE:MRK)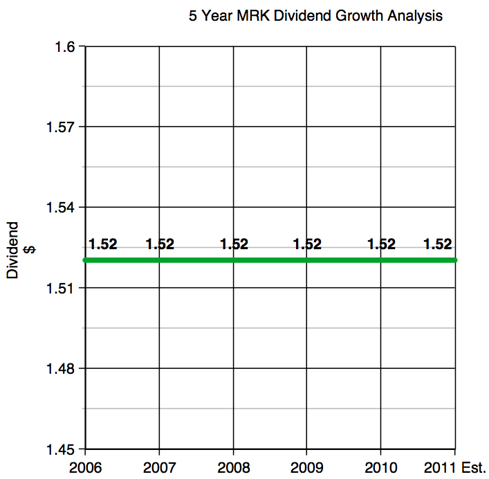 5. Kraft (KFT)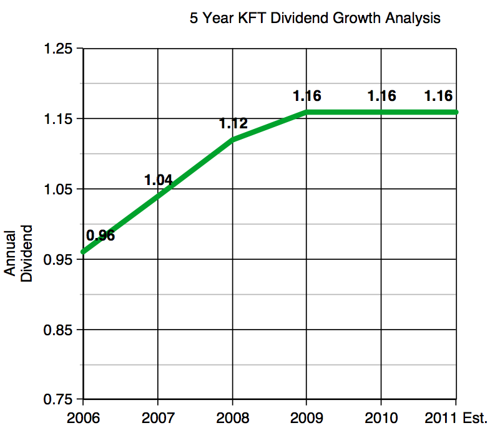 6. Johnson & Johnson (NYSE:JNJ)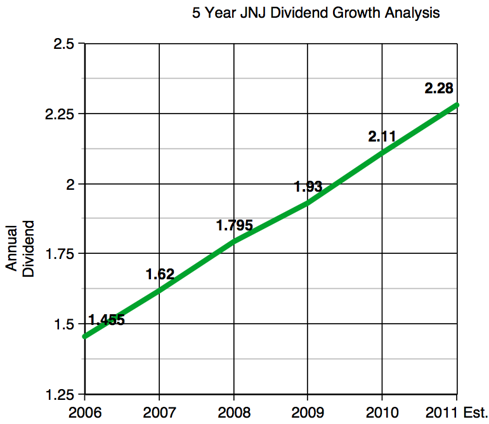 7. Intel (NASDAQ:INTC)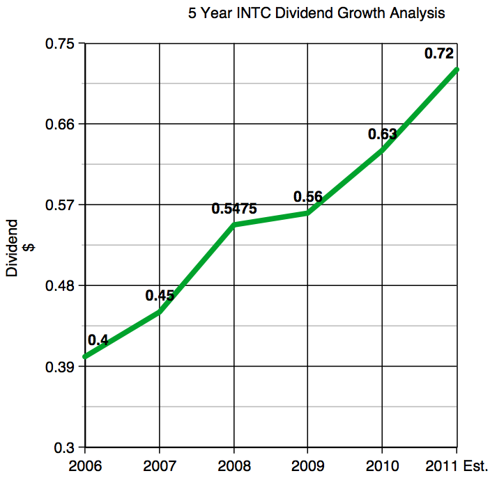 8. Dupont (NYSE:DD)
Start of '11 Yield: 3.42%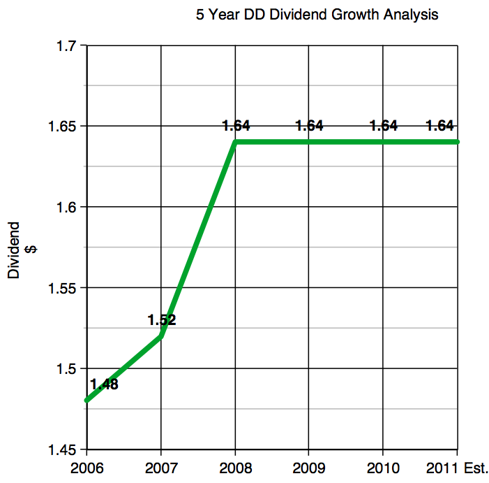 9. McDonald's (NYSE:MCD)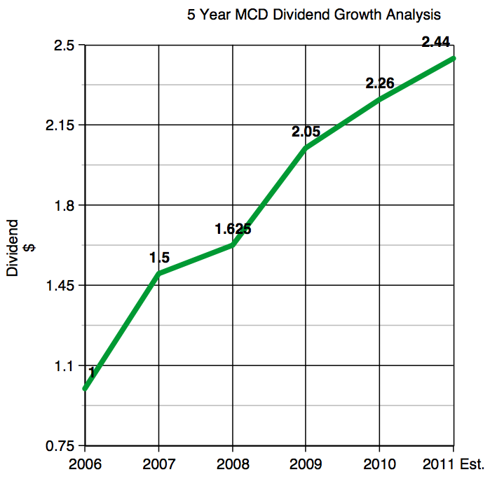 10. Chevron (NYSE:CVX)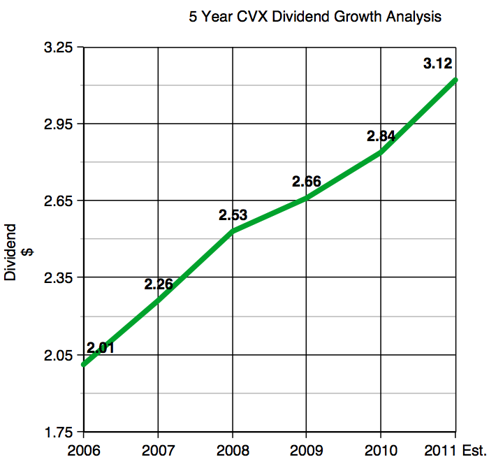 Another great thing about the Dogs of Dow theory is that the companies are usually familiar to American consumers, and they will find it easy to obtain news and information on them. Further, the companies are highly liquid, and investors probably do not have to fear being unable to sell their shares at a fair market price. You may also find that the 10 combine to make a reasonably diverse, yet conservative portfolio, with a strong domestic, international and emerging market profile, though any year's dogs will not be a perfectly diverse or complete portfolio.
Disclosure: I am long KFT.
Disclaimer
: This article is intended to be informative and should not be construed as personalized advice as it does not take into account your specific situation or objectives.