Why China's Missed GDP Target Is No Reason To Panic
On January 20th, China released economic data indicating their economic growth had slowed to 7.4% for the year 2014 - a rate of growth, pointed out by many pundits, not seen in a quarter century. It's further suggested that China's high-growth era has ended and it is settling into a more measured period of economic growth often associated with more developed economies around the world. This concept has caused market consternation in a multitude of sectors that in recent years are seen to be heavily dependent on China's continued massive growth rate.
A more normalized growth rate would seem a natural progression considering that China is now either the largest or the second largest economy in the world, with only the U.S. battling for the top spot. Because it is difficult to directly compare GDP calculations between countries there is some disagreement as to who holds the top position as the world's largest economy currently. The IMF declared it to be China as of December 2014, while many other analysts disagree. Regardless of who is number one, it is clear that China is now a developed economic powerhouse that should no longer be classified as an emerging market with the associated growth expectations that normally go along with that designation.
That being said China's 7.4% growth rate today, and even the IMF's projected 6.8% rate for 2015, does not tell the entire story nor necessarily paint a bleak picture moving forward. As recently as 2010, China's growth rate was a much higher 10.4%. The country's total Gross Domestic Product for that year was $5.931 trillion according to the World Bank. That 10.4% growth through 2010 would have added $593.1 billion to China's economy. Compare that to last year when China's total GDP output was an estimated $10.355 trillion, a 7.4% growth on that total comes to $766.27 billion in economic growth, a 30% increase in just the past 5 years. The point is, that while the rate of growth may be slowing the nominal growth in terms of dollars is still increasing at an impressive rate and makes me question whether the fear over lower demand expectations out of China might be overblown.
Last year saw a rout in commodity prices nearly across the board as a result of these slower growth fears.
Crude Oil: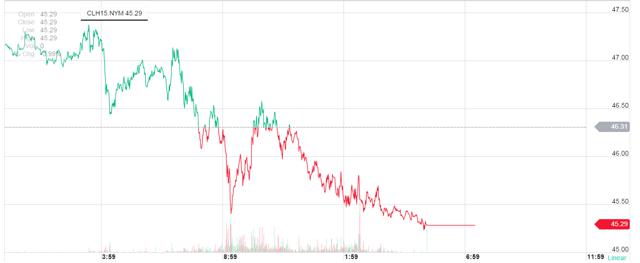 Oil's collapse has been well documented and while not entirely attributable to the perception of lower demand from China, it has certainly played a contributing role in the 60% + decline.
Copper down 23%: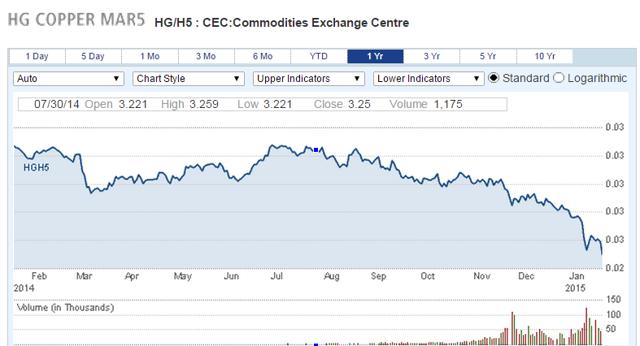 Iron Ore down 49%: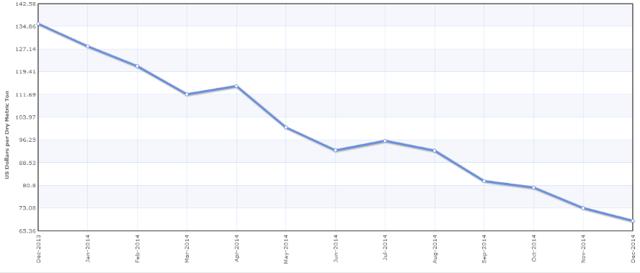 Coal down 26%: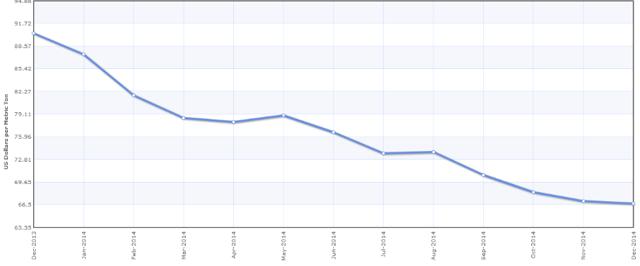 Copper, Iron Ore, and Coal are much more highly correlated to the demand from China and provide a good visual of market participant's general malaise toward China's growth prospects moving forward. I've already pointed out where I think this concern over growth is overblown but there are additional factors to consider as well. The first being precisely the charts displayed above. China is the single largest importer of commodities on the planet. These lower input prices are a huge boon for the Chinese economy as a whole. Consider that every company importing raw materials into China currently is experiencing multi-year low input costs for their respective businesses - cheaper coal for electricity generation and smelting, lower iron ore and copper costs for construction and manufacturing, and decreased transportation and delivery costs across the board with oil's fall. China imported 6.17 million barrels of oil per day in 2014, an import cost that is now 60% lower.
All of these cost savings are an obvious net positive for the economy in general, less obvious is a coming influx of foreign investment. The Chinese government has recently begun to open up the country's financial markets. Near the end of 2014, the Hong Kong Shanghai Connect began operations. This exchange allows for the first time investors in Hong Kong to purchase shares in Shanghai, previously reserved for Chinese citizens only, and vice versa. The government has consistently made moves to open its markets to the world. While the introduction of retail investors into the Shanghai exchange opens up the possibility of eventual asset bubbles, it also provides an eager source of liquidity to companies that will contribute to economic growth and increase demand for commodities.
One final factor that cannot be overlooked is Beijing's ability to manipulate its economy on a scale that most countries cannot. Should growth continue to decline toward a rate the government isn't comfortable with they have a number of options available at their disposal to boost growth. China's primary interest rate currently sits at 5.6% with a December inflation rate of just 1.5%. While the interest rate is considered high compared to the world's low interest rate environment, their inflation rate is trending lower. The government has the option to lower rates to increase growth but could also be forced to lower rates at some point to avoid the deflationary pressures caused by lower commodity prices. In addition to interest rate cuts, increased spending on infrastructure projects offer another opportunity for growth. Eventually such policies can lead to additional asset bubbles and subsequent collapses but I see none overly concerning now or in the very near future.
It seems to me that the world's investors have uniformly accepted the idea that a slower growth rate from China is the worst thing to happen to commodities since 'The Great Recession' as prices are in a similar range today. While there are certainly headwinds around the world I don't have the same calamitous outlook and would expect prices to establish a bottom soon and begin to recover in 2015. One way to position for this move is through the miners and producers of these commodities. I've written before here: BP a Buy After the Rout in Oil Prices about BP (NYSE:BP). Peabody Energy Corporation (NYSE:BTU) is an option for any recovery in coal: Is Coal a Dead Commodity?. Teck Resources Limited (TCK) is a strong play for both copper and coal.
Disclosure: The author is long BP, BTU, TCK. The author wrote this article themselves, and it expresses their own opinions. The author is not receiving compensation for it (other than from Seeking Alpha). The author has no business relationship with any company whose stock is mentioned in this article.