We all know that oil prices have experienced a precipitous plunge over the past few months. The big question is: where is the bottom? There are obviously many very bearish predictions out there that suggest oil could drop to $30 or $40 per barrel. However, it is important to remember that these predictions could be excessively bearish just as predictions for oil to reach $200 per barrel were excessively bullish a few years ago. It's also worth noting that oil price predictions are very tough to get right because there are so many "moving parts" such as geopolitical risks and other factors that can lead to surprise moves in either direction. Nonetheless, there are a number of recent signs that indicate oil prices may have hit rock-bottom levels. Let's take a closer look at these signs:
1) Relatively recent history could be a smart place to start to look for clues. I find it hard to believe that oil will go much lower because it did not drop far beyond current levels even during the 2008 Financial Crisis. At one point, oil traded for about $32 per barrel in December of 2008. However, even in that worst period, oil averaged about $40 per barrel during the month of December 2008 and that is not much further below where it trades today. However, there is a huge difference between the global economy today and the events seen during the Financial Crisis which includes the Lehman failure, bank seizures, major layoffs, and waves of foreclosures, etc. These factors led to a contraction in the global economy and caused oil demand to slump. However, the main issue today does not appear to be a demand issue, but rather some excess supply from increased production. The International Energy Agency or "IEA" recently issued a report that indicates a rebound in oil is going to occur eventually based on the rig shutdowns and the forecast that oil demand will rise by nearly 1 million barrels per day in 2015.
2) John Gilluly makes an excellent point in a recent article by showing us that the current oil/gold ratio is now at historically extreme levels. His article provides very interesting analysis and charts that give us one more major point of reference that suggests oil is quite possibly at a bottom now. The article details where we are at in terms of the gold to oil ratio and it states:
"We are at Financial Crisis lows (2008-09); and the deep devaluations of the late-1980s are the only levels remaining to be pierced. The oil/gold ratio has been at this level three times in the last two decades, and each time it rallied. The current comparison clocks in at $45/bbl. How cheap is oil? Early this morning you could buy 28 barrels of oil with a single oz. of gold, the most in the modern era (excepting 1988)."
3) By looking at a number of charts, it could also lead to the conclusion that oil might now be at or near the bottom. The chart of the United States Oil Fund (NYSEARCA:USO) shows the plunge in oil over the past few months, but it also shows that oil prices have begun to stabilize and possibly even form a base over the last three weeks: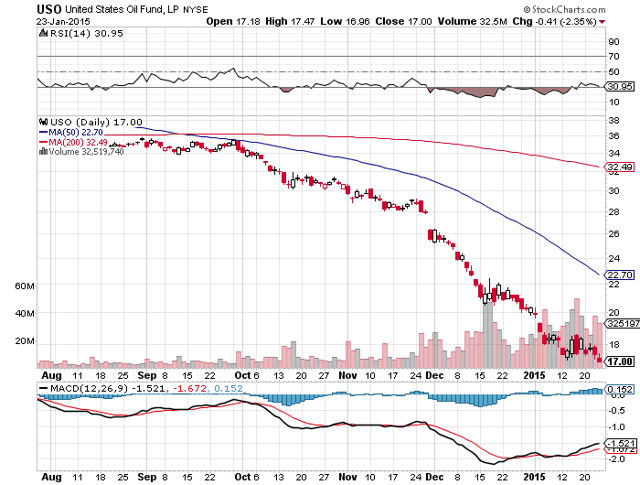 Another possibly large clue is being offered by looking at the charts of a few major oil sector stocks and ETF's. Let's look at the Energy Select Sector SPDR (NYSEARCA:XLE) which shows that it has hit the $72.50 price level twice and bounced off those levels both times, which now creates a potentially bullish double bottom formation on the chart. Also, note that the charts of major oil companies like ConocoPhillips (NYSE:COP) and Exxon Mobil (NYSE:XOM) also shows a similar double bottom formation on the charts as shown below: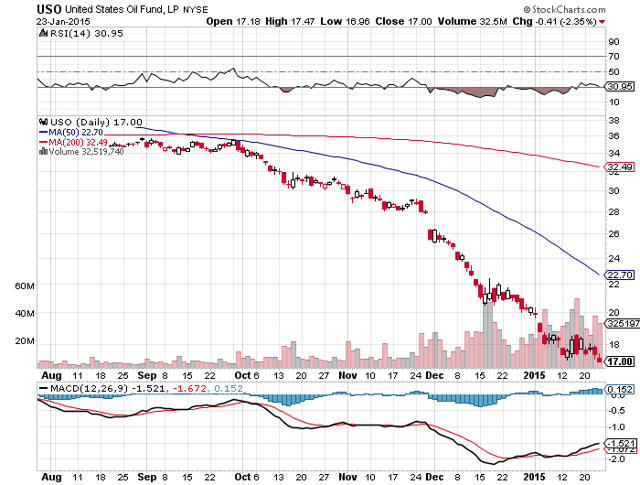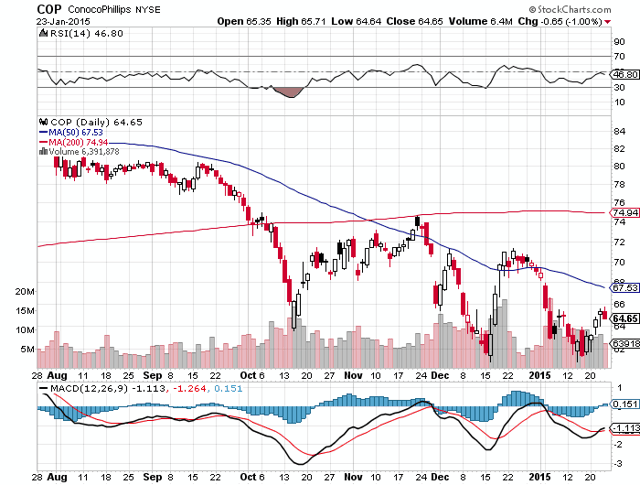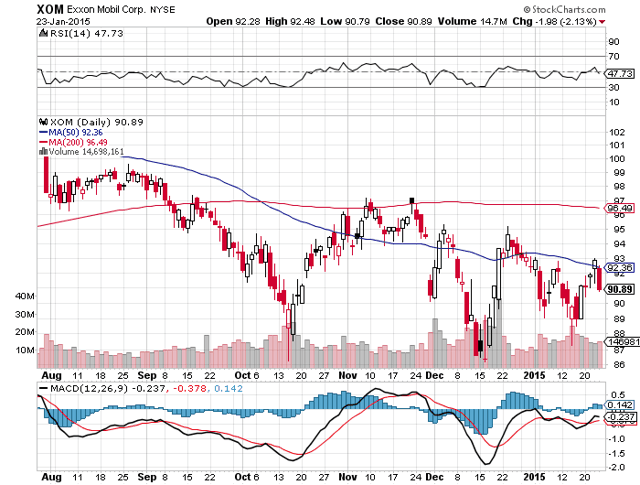 4) There are a few other significant signs that suggest oil has possibly bottomed out. One recent concern about the global economy has been slowing growth in Europe. However, the European Central Bank recently announced a 60 billion Euro per month bond buying program. This is similar to the quantitative easing measures that the U.S. Federal Reserve used to boost the economy. This means more demand for oil could be coming from Europe in the near future. The strength of the U.S Dollar has put pressure on oil and part of that strength has come from the expectation that the Fed will raise rates in 2015. However, the global economy is not as strong as many would have expected by now and the strength of the Dollar is a growing problem for many U.S. corporations that export overseas. The U.S. jobs data could also soon soften because of recent layoffs in the oil sector. All of this could lead to a "lower for longer" interest rate policy whereby rates are not raised at all in 2015. In a recent Barron's Roundtable interview, Felix Zulauf predicted the Fed won't raise rates in 2015 and that the Dollar will see a correction when the market realizes this. A Dollar correction is likely to boost oil prices. Finally, it's worth noting that since 1980, we have experienced five declines in the price of oil that were more than 50% and that all five times, the price of oil had rebounded by an average of 52% within six months. That is a historically significant data point that is very hard to ignore.
5) Energy industry executives appear to be positioning their companies and stock portfolios for an oil rebound. Recent reports indicate that insider buying in the energy sector has increased significantly in the past several weeks. That could be a sign that the valuations are just too compelling to ignore now and that these insiders might be feeling that oil is near a bottom. Also, company executives are taking action to come out even stronger than before when oil prices rebound. Halliburton (NYSE:HAL) has a pending transaction to acquire Baker Hughes (BHI) which is a nearly $35 billion deal that should close in the second half of 2015. General Electric (NYSE:GE) has been increasing its exposure to the energy sector for the past few years and in spite of oil's weakness, it recently announced it would form a new joint venture company called "IO Oil & Gas Consulting". This deal is with McDermott International (NYSE:MDR) which is an engineering and construction company that now trades for just about $2.50 per share due to the plunge in oil sector stocks. McDermott happens to be my top pick for 2015 in terms of buying beaten down small cap oil stocks that could have significant upside when oil rebounds. A recent NY Times article points out that Apollo Global Management just announced it will raise capital to buy energy sector debt, and that Blackstone Group (NYSE:BX) is expecting to launch a new fund with over $4 billion in assets in order to invest in this sector. Blackstone's CEO recently described energy as "one of the best opportunities we've had in many, many years." With many insiders, corporations, and private equity funds buying the energy sector now, this could be another sign that the "smart money" sees a bottom and a rebound coming for the oil sector.
Data is sourced from Yahoo Finance. No guarantees or representations are made. Hawkinvest is not a registered investment advisor and does not provide specific investment advice. The information is for informational purposes only. You should always consult a financial advisor.
Disclosure: The author is long GE, MDR.
The author wrote this article themselves, and it expresses their own opinions. The author is not receiving compensation for it (other than from Seeking Alpha). The author has no business relationship with any company whose stock is mentioned in this article.