What a bunch of yutzes. America doesn't merit a AAA rating? What the blankety-blank is S&P talking about? We're the only big country in the the world that will still have taxpayers when a newly-issued 30 year bond matures. America's working-age population is growing. Europe's and Japan's are disappearing. And S&P says that WE have a problem?
Working-Age Population, By Region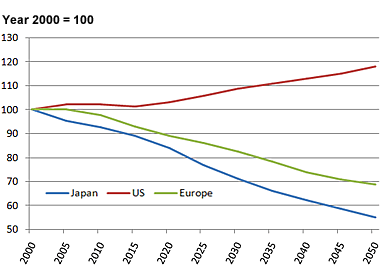 Remember, S&P is the rating agency that sold its soul to Wall Street for structured-product ratings business. Why aren't those guys in jail for fraud, given the exhumation of emails showing that S&P employees knew exactly what they were doing? The answer is that S&P's lawyers take the position (which no one has challenged) that S&P's ratings are Constitutionally-protected free speech, like a newspaper editorial. After the shocks of 2008, no one wanted to make more waves by going after these self-appointed arbiters of the credit system.
What hooey. The US government should sue them for their malfeasance during the structured credit bubble. There are still securities rated AAA by S&P trading at 40 cents on the dollar.