San Francisco-based Thomas Weisel Partners is a growth focused U.S. investment banking firm heavily focused on technology. It prospered in the dot-com rise, but hit turbulent times in the post-bubble years that then led to the firm's diversification into the healthcare and consumer sectors. Weisel Thomas Partners Asset Management LLC fund has $275 million invested in the U.S. equity markets, mostly in small-capitalization companies in the technology and healthcare sectors.
The fund holds a moderately diversified portfolio of 109 equity positions, about two-thirds of that in small-caps, 25% in mid caps and the remaining 5%-10% in large-capitalization equities. The portfolio turnover is high at 135%, implying an average holding period of nine months. Based on the most recent SEC 13-F filing for the June 2011 quarter, we determined that its portfolio is over-weight in the technology (40%), services (25%) and healthcare (13%) sectors, and it is under-weight energy (8%), basic materials (2%) and consumer (3%) sectors, compared with the weighting of these sectors in the overall economy. The following summarizes the fund's most significant picks and pans in the latest reported 13-F filing for the June 2011 quarter, updated based on any 13-G filings since the end of the quarter:
Technology sector: Weisel cut $13 million from its $122 million holding in the technology sector, including cutting their position in Internap Network Services (NASDAQ:INAP), a provider of internet services to businesses to help optimize their mission-critical internet-based applications; and Solarwinds Inc. (NYSE:SWI), a developer of network management software. Furthermore, they hold a large $81 million position or about 29% of their portfolio in Webmd Health Corp. (NASDAQ:WBMD), a provider of healthcare-related content to consumers via webmd.com, and to healthcare professionals via medscape.com.
Healthcare sector: Weisel added $1 million to its $36 million holding in the healthcare sector, including adding to their position in Jazz Pharmaceuticals Inc. (NASDAQ:JAZZ), a biotech company developing drugs that target neurology and psychiatry conditions. Also, Weisel cut its position in Alexion Pharmaceuticals (NASDAQ:ALXN), a biotech company that develops drugs to treat cancer, autoimmune disorders, hematologic and neurologic diseases. Furthermore, Weisel also holds large positions in the healthcare sector in Map Pharmaceuticals Inc. (NASDAQ:MAPP), a developer of drugs to treat migraine, diabetes, asthma and chronic obstructive pulmonary disease; Hansen Medical Inc. (NASDAQ:HNSN), a developer of medical robotics for accurate positioning, manipulating and control of catheter and catheter-based technologies; and Trans1 Inc. (TSON), a developer of minimally invasive implants and instruments for the treatment of degenerative lumbar disc disease.
Service sector: Weisel cut $6 million from its $74 million holding in the service sector, including cutting their position in TW Telecom Inc., an integrated telecom services company; RSC Holdings Inc. (NYSE:RRR-OLD), a provider or non-residential and industrial construction equipment rentals via over 450 stores in the U.S. and Canada; and Netflix Inc. (NASDAQ:NFLX), a provider of online movie rental subscription services via Netflix.com. Also, they added to their position in the quarter in Cinemark Holdings Inc. (NYSE:CNK), an operator of movie theaters in the U.S. and Latin America; Cash America International Inc. (NYSE:CSH), an operator of pawn, consumer lending and cash checking centers; and Caseys General Stores (NASDAQ:CASY), an operator of convenience stores. Furthermore, Weisel also hold large positions in Republic Services Inc. (NYSE:RSG), a provider of non-hazardous solid waste collection services for commercial, industrial, residential and municipal customers.
Consumer sector: Weisel cut $16 million from their $22 million position in the consumer sector, including cutting their $10 million position in Tesla Motors Inc. (NASDAQ:TSLA), a manufacturer of high-performance electric vehicles for consumers, and electric vehicle power-train components for other OEMs; and Diamond Foods Inc. (NASDAQ:DMND), a manufacturer of nuts and other snack products.
Table
Click to enlarge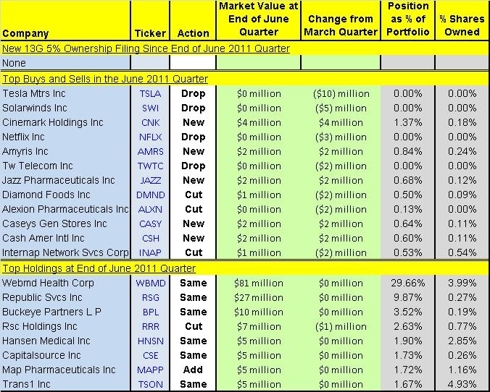 Credit: Historical fundamentals including operating metrics and stock ownership information were derived using SEC filings data, I-Metrix® by Edgar Online®, Zacks Investment Research, Thomson Reuters and Briefing.com. The information and data is believed to be accurate, but no guarantees or representations are made.
Disclosure: I have no positions in any stocks mentioned, and no plans to initiate any positions within the next 72 hours.
Disclaimer: Material presented here is for informational purposes only. Nothing in this article should be taken as a solicitation to purchase or sell securities. Before buying or selling any stock you should do your own research and reach your own conclusion. Further, these are our 'opinions' and we may be wrong. We may have positions in securities mentioned in this article. You should take this into consideration before acting on any advice given in this article. If this makes you uncomfortable, then do not listen to our thoughts and opinions. The contents of this article do not take into consideration your individual investment objectives so consult with your own financial adviser before making an investment decision. Investing includes certain risks including loss of principal.