Outlook: The downgrade of the United States of America by S&P was an odds-on-favorite as S&P telegraphed as much in congressional hearings indicating anything less than a $4.0 trillion 10 year deficit reduction plan would be considered inadequate. Rumors of a downgrade swirled around trading floors late Friday precipitating the selling into the close.
Is This News? The question is: Hasn't this already been baked into the cake? Or will it finally hit home? Will it cause interest rates on government securities to increase setting off a chain reaction on securities that are priced off the treasury yield curve? Is the best we can hope for a continuing crisis in the Euro Zone?
Never One Cockroach: The downgrade of U.S. sovereign debt will further result in the credit downgrades of its agencies as well public entities built around the credit of the U.S. Additionally, one thing to keep in mind is that large drops in the equities markets, which we have recently experienced, typically come in groups. During the stock market meltdown in 2008, there were two months of weekly drops in equity prices—punctuated with small relief rallies.
Fear of the Unknown: Given the novelty of the U.S. credit downgrading, I think that investors "shoot first" and then take names latter. We're in for a very interesting week.
CEF Weekly Review: On average the 13 closed-end fund (CEF) types registered a share price decrease of 3.0% for the week ending 8/5/11. The high-low spread registered this week was an unusually wide 8.7% versus +2.6% on an average price change of -3.0% versus -3.2%, respectively. On an aggregate unweighted basis, the weekly average price change for the 600 plus CEFs in the GrowthIncome database was down 1.8%.
The PowerShares CEF Income Composite (NYSEARCA:PCEF), an ETF that invests in taxable income CEFs, decreased 3.6% for the week. The S&P 500 ended the week down 7.2% on the twin concerns of a global economic slowdown and the eurozone debt crises. The last time the S&P 500 was down on a weekly percentage basis greater than this week's 7.2% was in November of 2008 when it dropped 8.4%. The S&P 500 is now solidly in the red YTD with a 4.6% decline.
Trading Volume: The average daily volume for the S&P 500 (GSPC) was 4.6 billion shares, an uptick of 4.3% from its previous week's. Volume has been "hotter" in the last several weeks as the equity market has accelerated to the downside. (See, "Uptick, Downtick" below. Click here for YTD CEF Performance.)
The Eqcome CEF Fear Index again increased for the week on the downside. The average CEF unweighted price declined 1.8% and the related NAV decreased 1.1%. The VIX having surged 44.1% last week tacked on another 30.2% to finish the week at 32.87.
CEF Weekly Fund Type Performance: As opposed to last week when there were no CEF fund types generating an average weekly price advance, this week both national and single state muni CEFs posted average positive results as investors fled equities.
image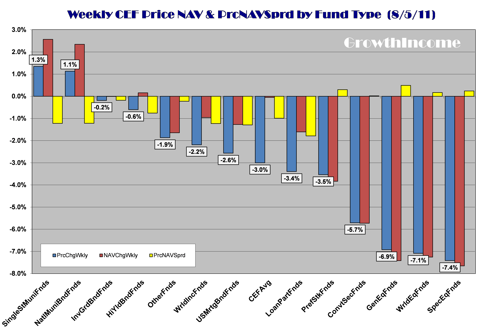 The drop in equity-oriented CEFs not only lagged but lagged by a wide margin. On average, GenEqFnds, WrldEqFnds and SpecEqFnds posted price declines of greater than 7.0%. After a powerful performance YTD, SpecEqFnds real estate CEFs experienced sharp declines. The real estate ETF (NYSEARCA:VNQ) was down 12.3% this week. WrldEqFnds were also taxed. Both fund types appeared to be laboring under the prospects for a global economic slowdown with many of the resource-oriented countries such as Russia, Chile and Australia being negatively impacted.
Many of the fixed-income CEFs share prices rose less than their related NAVs. The largest negative spread related to the LoanPartFnds with their prices declining 3.4% while related NAVs declined a more modest 1.6%. However, this all becomes moot with the S&P downgrade of U.S. sovereign debt.
Economic & Earnings Outlook: (Click here for next week's economic calendar; click here for earnings' announcements and estimates.)
ETFs: For a more detailed EFT performance by sectors, click here.
Insider Trading: After a very active month of July, the first couple of days in August experienced little insider trading.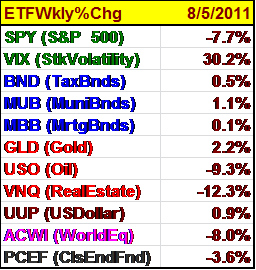 There were two separate insiders at Tortoise Capital Resources (TTO) to purchase shares. Terry Matlack, CFO, purchased 1,250 shares at $8.70 per share to bring the CFO's holdings to 10,297 shares and one of the directors, Conrad Ciccotello, purchased 1,000 shares at $8.76 per share for a total holding of 4,317 shares. Morgan Stanley has filed with the SEC a 10.9% interest in TTO.
There was also insider buying the previous month in TTO. The CEO purchased an additional 1,500 shares while another separate director acquired 1,000 shares.
The only other insider trade was in Source Capital (NYSE:SOR) where its president and CIO acquired 100 shares at $49.89 per share upping his holding to 1,600 shares.
(Click here for a hyperlink to the Joe Eqcome's CEF Weekly Insider Report—see, "Research" Menu; "CEF Weekly Information" tab.)
CEF Distribution Announcements This Week: The following is a link to a table of CEF distribution announcements this week as well as the previous week's with yet expired ex-dividend dates. The list is not intended to be inclusive. (Click here for Joe Eqcome's Weekly CEF Distribution Announcements—see "Research" Menu; "CEF Weekly Information" tab).
Significant CEF Corporate Events: None.
Joe Eqcome (Owns a diversified portfolio of CEFs and ETFs and is long stocks in the CEFBig10™, CEFMuni10™ and CEFDisc10™.)
The first is a balanced equity-income portfolio (CEFBig10™), the second a tax-exempt income portfolio (CEFMuni10™) and the third a portfolio whose objective is capital gains with a secondary objective of current income (CEFDisc10™).
---
[*] All things being equal, price and NAV should move in tandem. A price movement greater than the NAV generates a positive PrcNAVSprd and may be interpreted as negative on a near-term basis and indicate that the stock is overvalued relative to its NAV which in theory is the stock's intrinsic value. The opposite would be true for a negative PrcNAVSprd.
Disclosure: I am long PCEF.